Trailer Talk: This Week In Movies - 'The Rite,' 'The Mechanic,' & More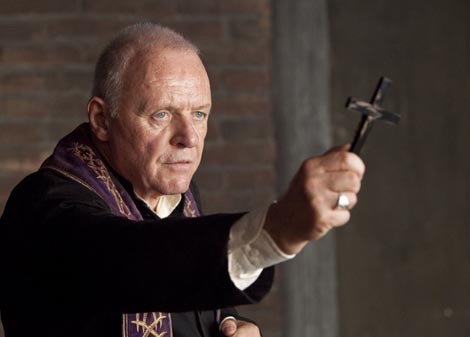 Last week I did not have an opportunity to watch any additional Oscar contenders from 2010, but this week I have "Winter's Bone" and "The Town" arriving from Netflix so I'm excited to catch them. Aside from those, the only other major films from 2010 that I still need to see are "The Fighter" and "The King's Speech."
Arriving in theaters this week are the Jason Statham hitman flick "The Mechanic," the Anthony Hopkins exorcism tale "The Rite," the Javier Bardem Spanish drama "Biutiful," and the Latin romantic comedy "From Prada to Nada." I will be attending screenings of "The Rite" and "The Mechanic" so look out for reviews later this week. 
This thriller focuses on a discouraged American seminary student (Colin O'Donoghue) who attends exorcism school at the Vatican, and his brush with demonic forces.
"1408" director Mikael Håfström lends his creative vision to this exorcism tale featuring Anthony Hopkins as an instructor to the aspiring priest. The writer for the latest "Chronicles of Narnia" film, Michael Petroni, pens the screenplay for this thriller. Petroni's screenplay is based on a book authored by Matt Baglio.
WHO SHOULD SEE IT: Horror junkies obsessed with the exorcism genre should see this movie. If you think Anthony Hopkins will shine in his role then you should view "The Rite."
Arthur Bishop (Jason Statham) is a "mechanic," an elite assassin with a knack for eliminating targets in a manner that makes their deaths seem like accidents. When his mentor and friend Harry (Donald Sutherland) is murdered, Bishop sets out on the war path to avenge his death. Harry's son Steve (Ben Foster) approaches Arthur with the same vengeful attitude, and reluctantly Arthur takes Steve on as his apprentice, as the two chase down those responsible for Harry's killing.
The director of action movies like "Lara Croft: Tomb Raider" and "Con Air," Simon West, helms this hitman flick. Richard Wenk modernizes a Charles Bronson film by the same name, originally penned by Lewis John Carlino.
WHO SHOULD SEE IT: Followers of action star Jason Statham should be the first in line for this movie. If you like stories about hitmen who turn against the organization that employs them, then you should watch "The Mechanic."
 Uxbal (Javier Bardem) is a devoted husband and father, whose ability to read the minds of the recently deceased allows him to eke out a living in Barcelona. He struggles to cope with his gift and his connection to the afterlife, while still performing his fatherly duties.
Mexican filmmaker Alejandro González Iñárritu, known best for "Babel" and "21 Grams," directs this drama. He also writes the screenplay with the assistance of newcomers Armando Bo and Nicolás Giacobone.
WHO SHOULD SEE IT: Foreign film aficionados interested in a weighty drama should see this movie. If you are a fan of Javier Bardem's previous work then you should catch "Biutiful."
 Two overindulged sisters (Camilla Belle and Alexa Vega) are left broke after their father's sudden death, which forces them to move in with their estranged aunt in East Los Angeles.
Angel Garcia directs this coming of age story. Fina Torres, Luis Alfaro, and Craig Fernandez co-write this Latin spin on Jane Austen's novel Sense and Sensibility.
WHO SHOULD SEE IT: Latin audiences will appreciate the perspective that the filmmakers bring to this Jane Austen adaptation. If you like fish out of water type comedies then you should check out "From Prada to Nada."