Trailer Talk: This Week in Movies - 'The Other Guys,' 'Step Up 3D' & More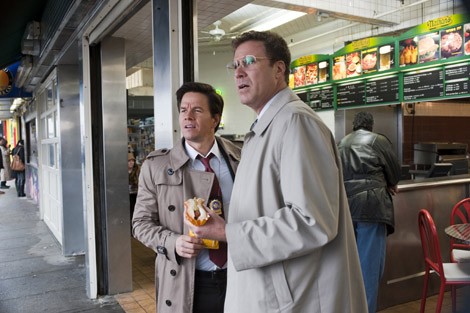 I caught two of last week's films in theaters: "Dinner for Schmucks" and "Charlie St. Cloud."  Both of which I found to be pretty average films.
As a comedy "Dinner for Schmucks" is incredibly twisted in the way that makes you laugh because you don't know how else to react.  It takes Judd Apatow-esque raunchy humor and blends it with "Meet the Parents" style awkward situations.  Steve Carell effortlessly causes train wrecks wherever he turns in the effort to help Paul Rudd's character.  While I enjoyed it as a story, it did not make me laugh to the degree I hoped it would.  My Grade: C+
"Charlie St. Cloud" is a tender drama that has Zac Efron stretching his wings as an actor.  The combination of Efron and Burr Steers who worked with him on "17 Again," is a solid one.  Steers knows how to shoot Efron in a way to make his stare more brooding and his tears seem legitimate.  There are some minor attempts to create dialogue that is more realistic and less cliché however these attempts do not have enough follow through.   My Grade: C 
Arriving at the box office this week is the Will Ferrell/Mark Wahlberg comedy "The Other Guys," the dance epic "Step Up 3D," the Internet-based tale "Middle Men," the racy teen drama "Twelve," the romantic period piece "Flipped," and the biographical story "Mao's Last Dancer." 
THE OTHER GUYS
Two misfit New York City (Will Ferrell and Mark Wahlberg) detectives take advantage of an opportunity to step up like the macho cops they idolize, but nothing really goes according to their plan.   
Will Ferrell's close friend and frequent collaborator Adam McKay, helms this buddy cop comedy.  McKay co-writes the screenplay for the film with Chris Henchy, who penned Ferrell's "Land of the Lost."    
WHO SHOULD SEE IT:  Fans of Will Ferrell and Adam McKay's zany humor in "Talledega Nights" and "Anchorman" will want to catch this entry into the buddy cop genre.  If you believe the unorthodox combination of Ferrell and Wahlberg could be a recipe for success, you should see "The Other Guys." 
STEP UP 3D
The kids from the Maryland School of the Arts travel to Paris for an international dance competition, however when Moose (Adam G. Sevani) misses his flight home, he is introduced to the city's underground dance scene, which is poised for its own contest.   
Jon Chu, the man behind "Step Up 2: The Streets," returns to direct the third film in this series.  Newcomers Amy Andelson and Emily Meyer pen the screenplay for this 3D dance off. 
WHO SHOULD SEE IT:  Dance enthusiasts looking for some eye-popping entertainment should go out to see this movie.  If you appreciate the previous films in this series then you should check out "Step Up 3D." 
MIDDE MEN
In 1995, businessman Jack Harris (Luke Wilson) partners with two cunning scalawags (Giovanni Ribisi and Gabriel Macht) to hock adult entertainment over the emerging Internet. 
The creative mind responsible for 2008's "Homeland Security," George Gallo, writes and directs this film based on real life events.  Gallo receives help with the movie's screenplay from Andy Weiss, a writer who worked on MTV's prank show "Punk'd."   
WHO SHOULD SEE IT:  Audiences that enjoy gritty films based on actual events should see this picture.  If you want to know the inside story about the rise of Internet pornography then you should watch "Middle Men."    
TWELVE
The life of a young drug dealer (Chace Crawford) in New York's Upper East Side begins to fall apart after his cousin is murdered and his best friend is arrested for the crime.
Veteran filmmaker Joel Schumacher directs this racy teen drama set in New York City.  Jordan Melamed pens his first screenplay with "Twelve," which is based on a novel by Nick McDonell.    
WHO SHOULD SEE IT: Viewers who appreciate dark stories about teenage angst should see this film.  If you like Schumacher's 80s tales about troubled youngsters "The Lost Boys," and "St. Elmo's Fire," then you should give "Twelve" a chance.    
FLIPPED
Despite their obvious differences, romance develops between 8th grader Juli Baker (Madeline Carroll) and the boy she has pined for since elementary school, Bryce Loski (Callan McAuliffe). 
Master storyteller Rob Reiner writes and directs this tender coming of age love story.  Reiner receives help with the screenplay from his longtime producer Andrew Scheinman.  The two base the characters off a novel by Wendelin Van Draanen. 
WHO SHOULD SEE IT: Those who enjoy romantic period pieces should see this film.  If you love Rob Reiner as a filmmaker and appreciate his work no matter what the genre, then you should go see "Flipped." 
MAO'S LAST DANCER
This biographical film chronicles the story of ballet dancer Li Cunxin, from his humble origins and study in Beijing to his American defection and eventual move to Australia. 
Bruce Beresford, known best for his direction of "Driving Miss Daisy," brings his seasoned touch to this drama.  Jan Sardi adapts Li Cunxin's autobiographical novel for the big screen. 
WHO SHOULD SEE IT: People who love biographical films that encompass decades of a subject's life should see this movie.  If you read Cunxin's novel or if you are interested in him as a historical figure then you should watch "Mao's Last Dancer."