Trailer Talk: This Week in Movies - 'The Lucky One,' 'Think Like A Man' & More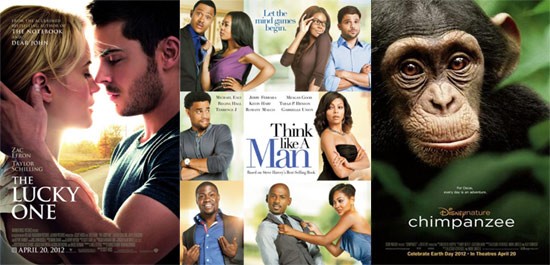 If you missed my interview with Fran Kranz and Kristen Connolly from "The Cabin in the Woods," definitely be sure to give it a read.  They both had some amusing stories to share about their experience working with Drew Goddard and Joss Whedon on the movie.  Also last week, I had the opportunity to visit Washington DC for an exciting espionage adventure in honor of the blu-ray release for "Mission Impossible: Ghost Protocol," which I chronicled here.      
Arriving in theaters this week are the Zac Efron romantic drama "The Lucky One," the African American comedy "Think Life a Man," the primate documentary "Chimpanzee," the polar bear documentary "To the Arctic 3D," the Diane Keaton martial drama "Darling Companion," the teen horror flick "The Moth Diaries," the Bob Marley music doc "Marley," and the coming-of-age dramedy "Jesus Henry Christ."
MY PICK FOR THE WEEK: The Cabin in the Woods
I'm keeping my pick from last week since nothing this week looks nearly as exciting.  If you still haven't seen it yet, seek it out!  It's my favorite film of 2012 so far.