Trailer Talk: This Week In Movies - 'The Hunger Games,' 'The Raid: Redemption,' & More
Honestly I didn't have high hopes for the Jonah Hill/Channing Tatum comedy "21 Jump Street," but I was very pleasantly surprised last week.  I laughed my ass off at the antics of the two hapless cops sent back to high school on an undercover mission.  Equal parts parody and homage, it simultaneously mocks buddy cop movie clichés and celebrates them.  Hill and Tatum are the perfect team, thoroughly convincing you that they're best buds.  My Grade: B+
Things have quieted down a bit at the box office this week in terms of the number of films coming out, but I think a lot of that has to do with the highly anticipated release of "The Hunger Games."  Given all of the fan fever surrounding it, I get the feeling not too many other studios wanted to compete against it.  If "The Hunger Games" isn't your cup of tea though, you'll get the chance to see the Indonesian action flick "The Raid: Redemption," the Rachel Weisz romantic drama "The Deep Blue Sea," and the pro-life drama "October Baby."     
MY PICK FOR THE WEEK: The Raid: Redemption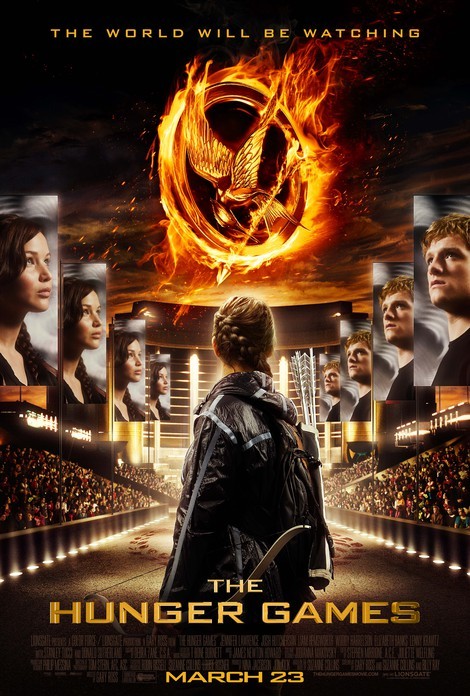 In a not-too-distant future, a weakened North American has been divided into a nation called Panem, comprised of the Capital and 12 districts.  Every year two young people from each district are chosen by lottery to compete in The Hunger Games, a brutal television competition to the death.  When her 16-year-old sister is chosen to participate, Katniss Everdeen (Jennifer Lawrence) volunteers to take her place.  After joining forces with her male counterpart Peeta (Josh Hutcherson), the two must fight against bigger, stronger opponents who have trained their whole lives for this event. 
Director/Writer: Gary Ross ("Seabiscuit," "Pleasantville")
Co-Writers: Suzanne Collins (The Hunger Games), Billy Ray ("State of Play," "Breach")
Based On: The popular novel by Suzanne Collins
Notable Supporting Actors: Stanley Tucci, Wes Bentley, Liam Hemsworth, Elizabeth Banks, Woody Harrelson, Toby Jones, Lenny Kravitz, Donald Sutherland
ORIGINALITY RATING: Medium.  I can't say the concept for this story is super original since it very closely mimics the Japanese tale "Battle Royale," in which high schoolers are forced to kill one another until only one is left standing.  However this trailer differentiates the picture with its highly stylized future, filled with larger than life characters like Casear Flickerman (Tucci) and Effie Trinket (Banks).  This trailer gives people who love the book a taste of the visual styles and an introduction to the actress playing their beloved Katniss without giving too much away.  Alternatively it also provides you enough to understand what's happening even if you haven't really read The Hunger Games.  Given the involvement of Suzanne Collins and the passionate commitment to the project by director Gary Ross, I have high hopes for this flick.                 
WHO SHOULD SEE IT: Fans of Suzanne Collins' book series should be the first in line to see this film.  If you haven't read the novels, but you appreciate situations where children are forced to kill on another for survival like in the movies "Battle Royale" and "Lord of the Flies," then you should watch "The Hunger Games."             
WHEN TO SEE IT: Opening night.