Trailer Talk: This Week In Movies - 'The Green Hornet,' 'The Dilemma' & More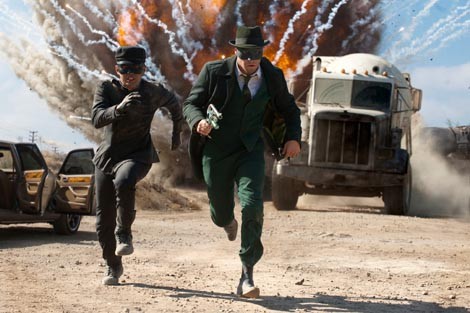 In preparation for the rapidly approaching Academy Awards in February, I'm trying to see all of the films that I missed in 2010, which are receiving Oscar buzz.  Last week I saw the Coen brothers' western "True Grit," starring Jeff Bridges, Matt Damon, and Hailee Steinfeld.  Normally the Coens can be hit or miss with me, but their latest movie is right on target.
The story follows a 14-year-old girl named Mattie Ross (Hailee Steinfeld), whose father has been murdered by an outlaw named Tom Chaney (Josh Brolin).  Mattie believes the authorities will do little to capture and punish of Tom Chaney, so she hires rough and tumble U.S. Marshall Rooster Cogburn (Jeff Bridges) to track him down.  Determined to keep an eye on her investment, she petitions Cogburn to join his hunt, to which he reluctantly agrees. 
Steinfeld is impressive as the quick-tongued Mattie, a shrewd businesswoman who is wise and tough beyond her years.  Bridges brings a hilarious crotchety quality to Cogburn, that's strangely balanced by a soft side he has for the young girl.  Matt Damon is also enjoyable as an uptight Texas Ranger named LaBoeuf who joins them in their manhunt.  The Coen brothers craft a true western that feels as dirty and dusty as the time period it's set in.  What's unique about the film though, is their trademark dark sense of humor that is present in dialogue throughout.  My Grade: A                            
This week you'll have the chance to check out the Seth Rogan superhero movie "The Green Hornet," the Vince Vaughn/Kevin James buddy comedy "The Dilemma," and the showbiz drama "Barney's Version." 
The death of newspaper mogul Britt Reid's (Seth Rogen) father causes him to realize that he has been wasting his potential in life.   Donning a mask as The Green Hornet, Reid vows to fight crime at night with his sidekick Kato (Jay Chou), a martial arts expert and gifted mechanic.   
French director Michel Gondry, the man responsible for 2008's "Be Kind Rewind," helms this action-packed crime thriller.  Seth Rogen, the film's leading man, co-writes the screenplay for the movie with his frequent collaborator Evan Goldberg.  Goldberg and Rogen base their story on characters from the 1960s television series also called "The Green Hornet."  
WHO SHOULD SEE IT:  Viewers that dig Michel Gondry's playful visual style should be the first in line to see this movie.  If you appreciate Seth Rogen as an actor and you believe his writing will do this superhero justice then you should catch "The Green Hornet."          
Ronny Valentine (Vince Vaughn) and Nick Brannen (Kevin James) have been best friends since their college days.  When Ronny catches Nick's wife (Winona Ryder) cheating with another guy though, he struggles to decide if it's his place to tell Nick.          
Academy Award winning filmmaker Ron Howard directs this buddy comedy.  Allan Loeb, the scribe for last year's comedy "The Switch," and "Wall Street: Money Never Sleeps," pens the screenplay for this movie. 
WHO SHOULD SEE IT:  Fans of the comedians Vince Vaughn and Kevin James should definitely see this.  If you have enjoyed Ron Howard's direction through his 30 plus years behind the camera, then you should watch "The Dilemma."                    
Impetuous and irritable TV-show producer Barney Panofsky (Paul Giammati) ponders his life's successes and failures in this drama.  The film follows him through his three failed marriages, and the unsolved disappearance of his best friend, Boogie (Scott Speedman).
Richard J. Lewis, one of the creative minds behind the television series "CSI: Crime Scene Investigation" directs this showbiz drama.  Made for TV movie scribe Michael Konyves adapts a novel by the late Mordecai Richler for the screen. 
WHO SHOULD SEE IT: Audiences that love stories about the drama that happens off-screen in Hollywood, should see this film.  If you enjoy Paul Giammati no matter what role he's in, then you should view "Barney's Version" wherever you can find it playing.