Trailer Talk: This Week in Movies - 'The Company Men,' 'No Strings Attached,' & 'The Way Back'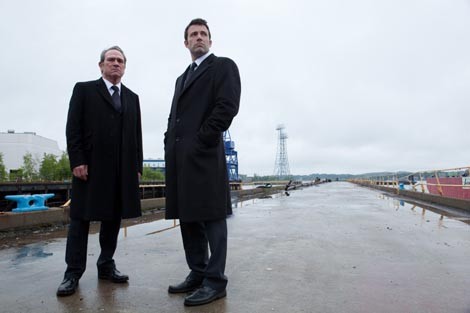 Keeping with my plan from last week, I had the chance to see another film this week from 2010 receiving Oscar buzz: "The Kids Are All Right."  Honestly I was surprised that the movie has received such high acclaim, because it failed to hook me. 
"The Kids Are All Right," tells the story of an alternative family with lesbian parents named Nic (Annette Benning) and Jules (Julianne Moore).  Their children Joni (Mia Wasikowska) and Laser (Josh Hutcherson) become curious about their biological father, so they contact the fertility company their mothers used to find their sperm donor.  They find the donor, Paul (Mark Ruffalo), who is a single restaurant owner, and latch onto him immediately.  Nic and Jules are disturbed by the interest their children take in this stranger and drama ensues as they try to determine what place Paul has, if any in their lives. 
As the writer, Lisa Cholodenko creates a convincing portrait of marriage, proving to skeptics that gay couples face the same challenges as heterosexual ones.   Cholodenko's direction uses close-up shots to amplify emotional reactions of her characters.  These moments are further captivating by the realistic acting of Benning and Moore.  The instances are sporadic though, and where the film falters though is that it fails to establish a rhythm, so it's hard to get into the characters.  In addition, "The Kids Are All Right" seems to be pushing some sort of important lesson to be learned by the characters that it never really reaches.  My grade: C+           
Dropping into theaters this week are the economically themed drama "The Company Men," the romantic comedy "No Strings Attached," and the World War II prison break movie "The Way Back." 
This drama focuses on a year in the lives of three businessmen (Ben Affleck, Chris Cooper, and Tommy Lee Jones) who try to figure out next steps after being laid off by their company. 
Television scribe John Wells directs his first feature length film with this movie, which he also writes unassisted.           
WHO SHOULD SEE IT: Those who were struck by the poignant messages about struggle during a tough economy in "Up in the Air" are the type that should see this movie.  If you think that Ben Affleck is a talented actor and you believe the supporting cast of Chris Cooper and Tommy Lee Jones is solid, then you should definitely check out "The Company Men."        
When best friends Adam (Ashton Kutcher) and Emma (Natalie Portman) end up in bed together, they struggle to keep their relationship purely physical without falling for each other. 
Ivan Reitman, the director of Bill Murray classics like "Stripes" and "Ghostbusters," helms this romantic comedy.  Relative newcomer Elizabeth Meriwether pens her first feature length screenplay with this film.      
WHO SHOULD SEE IT:  Fans of the romcom genre, who like stories about friends complicating things by sleeping together, will appreciate this movie.  If you think Ashton Kutcher and Natalie Portman will have great on-screen chemistry then you should see "No Strings Attached." 
A young soldier (Jim Sturgess) leads an escape from a brutal gulag in Soviet-occupied Poland during World War II.  He makes a pact with five other men to embark on a daring mission across Asia where they hope to find safety in India. 
Veteran filmmaker Peter Weir, known best for "Master and Commander" and "Dead Poets Society," directs this historical drama based on an incredible true tale.  Weir and Keith R. Clarke adapt the story from a memoir by Slavomir Rawicz.  Colin Farrell, Ed Harris, Saoirse Ronan, and Mark Strong co-star alongside Sturgess. 
WHO SHOULD SEE IT: World War II buffs that appreciate movies set during the time period should see this movie.  If you like epic journeys that place the main characters of the film at risk, then you should catch "The Way Back."