Trailer Talk: This Week In Movies - 'The A-Team,' 'The Karate Kid,' & More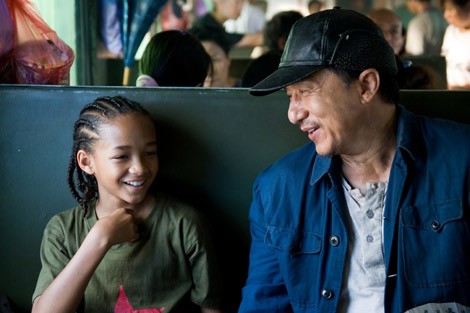 Last week's "Get Him to the Greek" turned out to be much funnier than I expected it would be.  Jonah Hill plays a naïve record company intern tasked with watching the wild rock star Aldous Snow, portrayed by Russell Brand.  It's clear right from the beginning that Hill's character is unable to fathom the mess he has gotten into taking care of Snow, and he quickly gives in to Snow's party lifestyle. 
Most of the film's humor is based in the awkward interactions between Hill's Aaron and Brand's Aldous, with typical lowbrow laughs.  However this formula just seems to fit very well for the movie.  The surprise scene stealer is P. Diddy, who stars as Hill's hilariously insane boss.  My Grade: B+
This week brings us the action adventure "The A-Team," a remake of the 80s movie "The Karate Kid," the humorous documentary "Joan Rivers: A Piece of Work," and the indie drama "Winter's Bone." 
THE A-TEAM
A group of Iraq War veterans framed for a crime they did not commit embarks on a mission to clear their name with the U.S. army. 
The writer/director for 2006's "Smokin' Aces," Joe Carnahan, helms this action adventure.  Carnahan assists actor Brian Bloom and fellow writer Skip Woods in penning the screenplay for this big screen adaptation of the 80s TV series.  Liam Neeson, Bradley Cooper, Sharlto Copley, and Patrick Wilson play the movie version of the famous A-Team.    
WHO SHOULD SEE IT:  Fans of the television show "The A-Team" will be the most interested to see this film adaptation even if it is 20 years late.  If you appreciate action movies with light hearted sense of humor then you should see "The A-Team."    
THE KARATE KID
The pressures of work prompt a single mother (Taraji Henson) to move to China with her son (Jaden Smith).  In this strange new land, the boy is picked on and put down by bullies, but he learns to embrace karate when he encounters master of martial arts (Jackie Chan). 
Dutch filmmaker Harald Zwart directs this remake of the 80s film that starred Ralph Macchio.  The screenplay for this film is the writer Christopher Murphey's second movie credit.      
WHO SHOULD SEE IT:  Parents looking to introduce their children to an updated version of the 80s classic should bring their families to see this.  If you love Jackie Chan and you think he will make a good replacement for the character of Mr. Miyagi then you should see "The Karate Kid."
JOAN RIVERS: A PIECE OF WORK
This documentary focuses on the life and career of comedienne Joan Rivers as she turns 75-years-old. 
Frequent collaborators Ricki Stern and Anne Sundberg team up again, to direct this glimpse into the life of Joan Rivers. 
WHO SHOULD SEE IT:  Followers of the famous funnywoman should definitely see Joan Rivers at her finest in this documentary.  If you are interested in seeing the film that won Sundance's Documentary Film Editing award and was nominated for the Grand Jury Prize, then you should watch "Joan Rivers: A Piece of Work."
WINTER'S BONE
A determined Ozark Mountain girl (Jennifer Lawrence) navigates dangerous terrain as she attempts to find her drug-dealing father, in order to keep her family together. 
Independent filmmaker Debra Granik directs this gritty drama.  Granik has help from Anne Rosellini in adapting the story from a novel by Daniel Woodrell.    
WHO SHOULD SEE IT: Independent film aficionados should try to find this movie wherever it is playing.  If you want to see the winner of the Sundance Grand Jury Prize in drama, then you should check out "Winter's Bone."