Trailer Talk: This Week In Movies- 'Tangled,' 'Burlesque' & More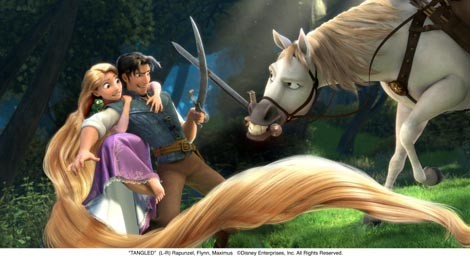 I caught "Harry Potter and the Deathly Hallows: Part 1" last Monday, which turned out to be largely uneventful.  While there are moments in the beginning and end that are quite stimulating, most of the movie involves tedious set up for the final film.  If you have not seen my review yet definitely check it out here. 
In addition to "Deathly Hallows: Part 1" I had the opportunity to see the Paul Haggis thriller "The Next Three Days," starring Russell Crowe.  Crowe is surprisingly believable as an everyman character forced to make tough choices to save his family.  That's why it's so surprising that once his plans unravel, they reveal a complex scheme that will leave you guessing right into the film's climax.  Kudos must be given to Haggis for penning such a thorough screenplay which plays things close to the chest until the right moment.  My Grade: B+
 Leading into Thanksgiving you will have the chance to see the Disney animated adventure "Tangled," the saucy musical "Burlesque," the Edward Zwick romcom "Love and Other Drugs," the fast-paced revenge flick "Faster," and the historical drama "The King's Speech."            
TANGLED
Princess Rapunzel (voiced by Mandy Moore) has been shut away for years in a tower high above her kingdom.  In an effort to break free, she makes a deal with Flynn Rider (voice of Zachary Levi), a handsome thief who picks her tower as a hide-out.   
Byron Howard, the director of 2008's "Bolt," helms this animated adventure with the assistance of Nathan Greno.  Howard also provides some additional voices for the film.  The scribe for 2006's Disney hit "Cars," Dan Fogelman, adapts this fairy tale by The Brothers Grimm for the screen.     
WHO SHOULD SEE IT:  Parents looking for something family friendly should take their children to see this.  If you prefer computer animation to classical style, then you should check out "Tangled."    
BURLESQUE
A small-town girl (Christina Aguilera) journeys to Los Angeles, where she finds her place in a burlesque club run by a former dancer (Cher).     
Former child actor Steve Antin steps behind the camera to write and direct this musical.  In addition to performing and playing the lead role, Christina Aguilera writes two of the songs in the movie.  Other veteran stars joining Cher and Aguilera include Alan Cumming, Peter Gallagher, Kristen Bell, and Stanley Tucci.        
WHO SHOULD SEE IT:  Audiences excited about the concept of Cher and Christina Aguilera performing together should see this movie.  If you are a fan of sultry musicals like "Cabaret" then you should catch "Burlesque."          
LOVE AND OTHER DRUGS
This romantic comedy, which pokes fun at the pharmaceutical industry, focuses on a charming Viagra salesman Jamie Reidy (Jake Gyllenhaal) and his relationship with the free-spirited Maggie Murdock (Anne Hathaway).   
Edward Zwick, the man behind intense dramas like "Defiance" and "Blood Diamond," makes a change in genres to direct this romantic comedy.  Zwick teams up with frequent collaborator Marshall Herkovitz and Charles Randolph to pen the screenplay for this film.  The trio bases their writing on the book Hard Sell: The Evolution of a Viagra Salesman by Jamie Reidy.     
WHO SHOULD SEE IT:  Romcom fans should be the first in line to see this movie.  If you like Jake Gyllenhaal and Anne Hathaway then you should watch "Love and Other Drugs."         
FASTER
Years ago, an ex-con (Dwayne "The Rock" Johnson) was forced to watch his brother die, after they were double-crossed during a heist.  The angry criminal has spent years tracking those responsible so that he can exact violent revenge.  When he sets his plan in motion though, he finds himself tracked by a veteran cop (Billy Bob Thornton) and an egocentric hit man who are both looking to stop him.   
African American filmmaker George Tillman Jr. directs this action packed thrill ride.  Brothers Tony and Joe Gayton pen the screenplay for the film.         
WHO SHOULD SEE IT: Action movie junkies yearning for shootouts and high speed car chases should see this.  If you prefer action where the plot is straightforward then you should see "Faster."         
THE KING'S SPEECH
This biopic chronicles King George VI's (Colin Firth) efforts to overcome his nervous stutter with the assistance of speech therapist Lionel Logue (Geoffrey Rush). 
Emmy winning British director Tom Hooper helms this historical drama set during the World War II era.  Veteran television scribe David Seidler pens the screenplay for the film. 
WHO SHOULD SEE IT: Viewers that appreciate historically based period pieces should definitely go see this movie.  If you have a fascination with the British royal family or you like dramatic actors like Colin Firth and Geoffrey Rush then you should see "The King's Speech."