Trailer Talk: This Week In Movies - 'Takers,' 'The Last Exorcism,' & More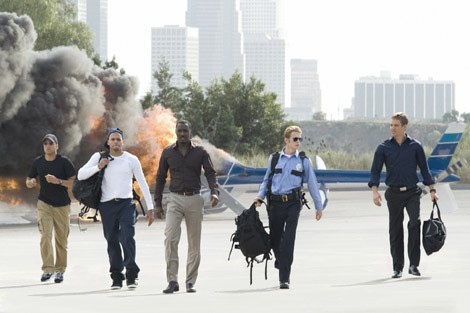 I took a breather from the theaters last week to catch some movies on DVD that I had not seen yet.  I was quite impressed with last year's indie drama "Uncertainty" starring Joseph Gordon-Levitt.  The film focuses on a couple (Levitt and Lynn Collins) that is unsure how to spend their 4th of July.  They flip a coin to determine their fate, and after the coin hits the ground, they run in opposite directions into separate stories. 
Both tales include the couple attempting to reach a critical decision while grappling with the potential repercussions of this choice.  In the first storyline, Bobby and Kate struggle with whether they should tell Kate's family about her pregnancy.  The second plot involves the pair deciding what to do about a mysterious cell phone that they find.  Admittedly the cell phone involves infinitely more excitement and intrigue, but it's the parallels between the two different parts of the film that make it so fascinating.  My Grade: B+
Things are a little quieter at the box office this week, as the summer movie season nears a close.  Films premiering include the action-packed heist story "Takers," the documentary style horror movie "The Last Exorcism," and the gritty period piece "Centurion."     
TAKERS
This group of bank robbers always manages to elude the cops, pulling off spectacular heists.  When faced with one last job that exceeds all other paydays, they are unable to resist, but there is one thing that none of them have counted on: a hard-boiled detective (Matt Dillon) seeking to take them down so he can claim a $20 million bounty. 
John Luessenhop, the man behind 2000's drama "Lockdown," writes and directs this crime thriller.  Lueseenhop receives assistance on the screenplay from Peter Allen, as well as from newcomers Gabriel Casseus and Avery Duff.  Notable actors in the film include rappers Chris Brown and T.I., Hayden Christensen, Matt Dillon, Zoe Saldana, and Paul Walker.    
WHO SHOULD SEE IT:  Fans of the heist movies like "Ocean's Eleven" and "Heat" should the first people in line to see this story.  If you crave the uncertainty that comes with waiting to see if the criminals will survive unscathed, then you should see "Takers."     
THE LAST EXORCISM
An evangelical minister (Patrick Fabian), troubled by his shady dealings and false promises, agrees to have his last exorcism captured by a documentary film crew.  What he does not realize though is that this excursion will actually take him face to face with the devil himself.     
The filmmaking team Huck Botko and Andrew Gurland, who did 2004's "Mail Order Wife," pen the screenplay for this horror film, which is directed by Daniel Stamm.  Stamm helmed 2008's   "A Necessary Death." 
WHO SHOULD SEE IT:  Horror junkies that appreciate stories involving exorcism should catch this movie.  If you like low-budget horror that uses documentary style shooting to create heightened suspense through realism, then you should watch "The Last Exorcism."     
CENTURION
Roman soldiers led by Quintus Dias (Michael Fassbender) attack an enemy camp in an effort to save their captured general (Dominic West).  Doing this however, attracts the attention of the Picts, the Roman Empire's most formidable enemy.  With the Picts stalking them, the soldiers' only hope of survival is a tracker (Olga Kurylenko) bent on revenge. 
Known best for his entries in the horror genre "Doomsday" and "The Descent," Neil Marshall takes things back to the dark ages, directing and writing this action epic.      
WHO SHOULD SEE IT:  Audiences that dig underdogs using nothing but their bravery and cunning to survive are the type that should see this film.  If you enjoy the epic battles in films like "300" and "Gladiator" then you should check out "Centurion."