Trailer Talk: This Week In Movies - 'Super 8, 'Judy Moody And the Not Bummer Summer,' & More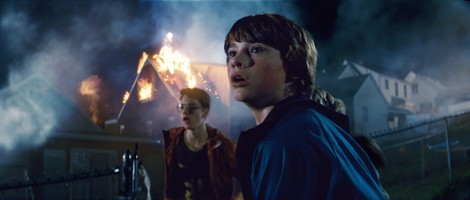 This weekend, I finally had the opportunity to see the Paul Feig comedy "Bridesmaids" starring Kristen Wiig and Maya Rudolph.  Because the trailers just made it seem like a female version of "The Hangover," I was not incredibly enthused to see it at first.  When I actually watched it though, I was thoroughly impressed by the strength of the story (written by Wiig and Annie Mumolo) and the universal appeal of the humor despite the dominance of female characters.
Wiig's Annie, is a down-on-her-luck character: her dream bakery failed in the struggling economy and as a result, she can barely afford to pay her bills.  The ensuing depression from her financial hardships has caused her to not only work a job that she hates, but to allow men to take advantage of her.  Annie's primary support during these difficult times has been her childhood best friend Lillian (Rudolph), a perpetually single woman like herself. 
When Annie receives news that Lillian is engaged to be married, she unwittingly agrees to be Lillian's maid of honor, unaware of the nightmare that will ensue from the responsibility.  Tasked with organizing dress fittings, the wedding shower, and the bachelorette party, the broke Annie is overwhelmed by all of the expenses, not to mention competition for Lillian's favor from the wealthy bridesmaid Helen (Rose Byrne).  The two women commence an all out war for Lillian's affection that threatens to overshadow the actual wedding ceremony itself. 
Throughout it all, Wiig's nervous smile and uncanny ability to pull off self-deprecating humor will keep you laughing.  You'll also be entertained by her interactions with the quirky collection of bridesmaids, especially the unapologetically brash Megan (Melissa McCarthy), who is hilariously over-the-top.  In no time at all, you'll find yourself rooting for Annie, the scrappy underdog, in the hope that she'll escape her rut and find happiness again.  My Grade: A- 
Arriving in theaters this week are the J.J. Abrams sci-fi thriller "Super 8," the family friendly "Judy Moody and the Not Bummer Summer," the Norwegian documentary style horror film "Trollhunter," and the British road comedy "The Trip." 
During the summer of 1979, a group of children in a small Ohio town witness a train crash while making a super 8 movie. However they soon come to suspect that the incident was not an accident, because an unusual string of disappearances and inexplicable events begin to occur.  With the assistance of the local Deputy (Kyle Chandler), they try to uncover the truth, though they stumble onto something more terrifying than any of them could have envisioned. 
J.J. Abrams, the creative mastermind behind "Lost," "Fringe," and the 2009 Star Trek reboot, writes and directs this science fiction thriller.  Abrams has backing from veteran filmmaker Steven Spielberg, who serves as a producer for the film.    
WHO SHOULD SEE IT:  Audiences that appreciate science fiction movies reminiscent of Spielberg's classics "E.T.: The Extra-Terrestrial" and "Close Encounters of the Third Kind," should see this.  If you love just about any creative project that writer/director J.J. Abrams churns out, then you should watch "Super 8." 
JUDY MOODY AND THE NOT BUMMER SUMMER
When her parents leave her to embark upon an unexpected trip to California, third-grader Judy Moody (Jordana Beatty) concocts as series of dares in the hopes of having the most thrilling summer of her life.  Thankfully her whimsical Aunt Opal (Heather Graham) and her little brother Stink (Parris Mosteller) are more than willing to come along for the ride.   
John Schultz, the director of the family-friendly 2009 film "Aliens in the Attic," returns to the genre to helm this comedy based on a popular book series by Megan McDonald.  McDonald assists Kathy Waugh adapting her novels for the screen.    
WHO SHOULD SEE IT:  Parents seeking a safe comedy to take their children to this weekend should check this film out.  If you or your kids enjoyed the Judy Moody books, then you should definitely see "Judy Moody and the Not Bummer Summer." 
After a group of Norwegian film students learn that the existence of trolls has been shielded for years by government cover-up, they set out on a journey to capture the creatures on camera.    
Norwegian filmmaker André Øvredal writes and directs this horror tale, which marks his second feature length movie. 
WHO SHOULD SEE IT: Independent film fans with a preference for foreign horror should see this.  If you appreciate horror with documentary-like flair to it, then you should seek out "Trollhunter."      
When The Observer asks actor Steve Coogan (playing himself) to tour Northern England's finest restaurants, the actor's idyllic vacation soon morphs into a frustrating assignment when his best friend and professional rival Rob Brydon (also playing himself) joins him. 
British director Michael Winterbottom fashions his television show, also called "The Trip" into a film.  Footage from the six episode series, starring actors Steve Coogan and Rob Brydon as fictional versions of themselves, is cut up to tell the tale in a feature length format. 
WHO SHOULD SEE IT: British humor aficionados should be the first in line to see this film.  If you find Steve Coogan and Rob Brydon hilarious, then you should see them together in "The Trip."