Trailer Talk: This Week in Movies - 'Sucker Punch,' 'Diary of a Wimpy Kid 2' & More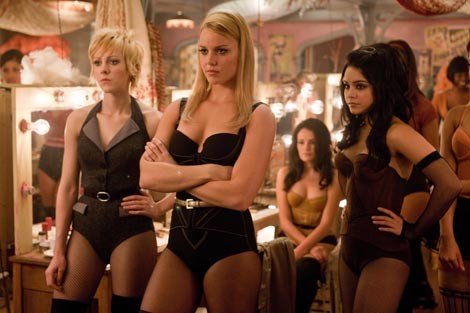 Things were pretty busy for me last week, since I had the chance to see three of the films premiering and interview the writer and director for one of them.  I saw "Paul," "Limitless," and "The Lincoln Lawyer," all of which were reasonably enjoyable. 
Check out my reviews of "Paul" and "Limitless" if you have not already and definitely read my interview with writer Leslie Dixon and director Neil Burger, for their movie "Limitless."    
I haven't posted a review of "The Lincoln Lawyer" yet, so I'll summarize my thoughts for you as usual.  Even as a shyster attorney, who makes a living defending thugs and hooligans, Matthew McConaughey manages to make the character Mick Haller charming.  He's street smart, he knows how to handle people, and he's got a decent sense of humor which makes for some amusing dialogue.  The film keeps your attention, though as a thriller it's relatively generic and predictable.  My Grade: B
This week you'll have the opportunity to catch the Zack Synder action flick "Sucker Punch," the young adult comedy "Diary of a Wimpy Kid: Rodrick Rules," the Israeli drama "Miral," the French comedy "Potiche," the independent comedy "Peep World," and the period piece drama "White Irish Drinkers." 
A young woman (Emily Browning) is thrown into an institution by her evil stepfather, where she retreats to an alternate world as coping strategy.  While inside this separate reality, she devises a plan which will help her escape the facility she's being held in. 
Zack Snyder, the director of epic films like "300" and 'Watchmen," helms this visually stylized action thriller.  Snyder also pens the screenplay assistance from first time writer Steve Shibuya.  A colorful cast joins Browning on screen, including Abbie Cornish, Jena Malone, Vanessa Hudgens, Jamie Chung, Jon Hamm, and Scott Glenn.       
WHO SHOULD SEE IT:  Audiences that dig Synder's comic-book-like visual style should definitely see this.  If you like stories with strong female protagonists that know how to wield heavy weapons, then you should see "Sucker Punch."       
DIARY OF A WIMPY KID: RODRICK RULES
Greg Heffley (Zachary Gordon) is back in middle school after summer vacation.  He's working desperately to keep a secret safe, though his older brother Rodrick (Devon Bostick) knows everything that happened, and he's eager to spill the beans.           
David Bowers, a collaborator on a number of animated films, tries his hand at directing this live action sequel to 2010's "Diary of a Wimpy Kid."  Gabe Sachs and Jeff Judah, scribes on the previous movie, return to pen the screenplay.  Once again, they adapt the story from Jeff Kinney's popular book which bears the same name. 
WHO SHOULD SEE IT:  Fans of Jeff Kinney's novels should be the first in line to see this comedy.  If you enjoyed the previous film, then you should watch the latest entry in the series: "Diary of Wimpy Kid: Rodrick Rules."        
A Palestinian girl (Freida Pinto) is placed in the Dar Al-Tifl orphanage in the wake of the Arab-Israeli war, where she bonds with Hind Husseini (Hiam Abbass) the orphanage's founder.  As she matures, she's drawn closer into the conflict, where a connection with an Israeli socialist opens a door to a new life.      
Julian Schnabel, the man behind movies like "Basquiat" and "Before Night Falls," directs this drama.  Rula Jebreal adapts her own novel for the screen with this tale.          
WHO SHOULD SEE IT: Viewers searching for a more serious drama should watch this.  If you appreciate Schnabel's previous films "Basquiat" and "Before Night Falls," you should check out "Miral."             
After her husband is taken hostage by striking employees, a trophy wife (Catherine Deneuve) takes charge of the family business, proving to be an effective leader.  Professional and personal complications arise for her however, when she encounters an ex-lover (Gérard Depardieu), who is a former union leader.   
French filmmaker François Ozon, known for 2003's mystery "Swimming Pool," helms this comedy about women's liberation.  Ozon adapts the story from a play by Pierre Barillet and Jean-Pierre Grédy.        
WHO SHOULD SEE IT: Foreign film aficionados should seek out this comedy.  If you enjoy the dry wit of the French sense of humor, then you should find "Potiche" wherever it is playing.          
During their father's 70th birthday party, tensions mount between four siblings, because the youngest of them has authored a best-seller which exposes the family's most intimate secrets. 
Barry W. Blaustein, the writer of popular Eddie Murphy comedies like "Coming to America" and "The Nutty Professor," directs this zany take on a dysfunctional family.  Newcomer Peter Himmelstein pens the screenplay for the film.  Michael C. Hall, Sarah Silverman, Rainn Wilson, and Ben Schawartz portray the aforementioned siblings.      
WHO SHOULD SEE IT:  Independent film lovers should go see this wherever it's available.  If you appreciate comedies about dysfunctional families and their antics, then you should catch "Peep World."        
In Brooklyn in 1975, two brothers (Nick Thurston and Geoggrey Wigdor) searching for a way out of their rough neighborhood, devise a plan to rob a local theater on the night of a Rolling Stones concert. 
Made-for-TV-movie filmmaker John Gray writes and directs this crime drama.  Gray's last movie which made it to theaters was the 1996 Steven Seagal flick "The Glimmer Man."    
WHO SHOULD SEE IT: Crime drama junkies that like period pieces set in the 1970s should see this.  If like to see the complications that arise between family members when they turn to crime, then you should see "White Irish Drinkers."