Trailer Talk: This Week In Movies - 'Source Code,' 'Insidious' & More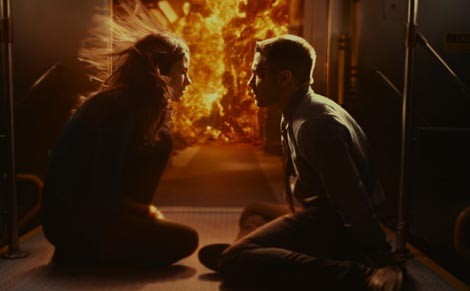 Given the strength of director Zack Snyder's previous films "300" and "Watchmen," his first original work "Sucker Punch" is a surprising disappointment.  From a visual standpoint the movie is rock solid, with excellent art direction and an intense soundtrack to buttress it. 
However Snyder claims that one of the story's major goals is to comment on the objectification of women, which frankly it fails at in major ways.  If you have not done so already, check out further thoughts in my review of "Sucker Punch." 
Arriving in theaters this week are the Jake Gyllenhaal thriller "Source Code," the horror film "Insidious," the indie comedy "Super," the goofy Easter themed family flick "Hop," and the action oriented tale "Cat Run." 
Colter Stevens (Jake Gyllenhaal) is a soldier sent back in time as part of an experimental government program.  Waking up in the body of a commuter who is about to witness a train bombing, he's presented with just 8 minutes to determine who is responsible.  His objectives are further complicated though by the feelings he develops for another passenger (Michelle Monaghan). 
Duncan Jones, David Bowie's son and the man behind 2009's "Moon," directs this science fiction thriller.  Ben Ripley, the author of "Species III" and "Species: The Awakening," pens the screenplay for the film.    
WHO SHOULD SEE IT:  Viewers that appreciate Jones' sci-fi tale "Moon," will most likely enjoy this movie.  If you enjoy tales where the hero has a chance to alter the future, like in "Deja Vu," then you should catch "Source Code."   
After moving into a new home, two parents (Patrick Wilson and Rose Byrne) are terrified when their son falls into a mysterious coma.  At first all signs point to their house as the culprit, however they soon discover that the evil spirits haunting their son aren't part of the house, and they embark on a desperate quest to free him of his possession by dark forces. 
The director of the original "Saw" movie, James Wan, helms this horror film about possession.  Leigh Whannel, a frequent collaborator with Wan and a fellow "Saw" writer, pens the screenplay for the movie. 
WHO SHOULD SEE IT:  Horror junkies, who like stories about frightened parents frantically trying to free their children of possession, should see this.  If you thought the first couple "Saw" films were the best, then you should watch "Insidious."            
An average guy (Rainn Wilson) transforms himself into a goofy superhero called the Crimson Bolt after his wife leaves him for Jacques (Kevin Bacon), a smooth drug dealer.  Joined by a teenage sidekick (Ellen Page), the two wage war against crime and seek to take down Jacques' empire.       
Indie filmmaker James Gunn, the man responsible for 2006's "Slither," writes and directs this action comedy.  Starring alongside Wilson and Page are Liv Tyler, Michael Rooker, and Nathan Fillion.           
WHO SHOULD SEE IT: Audiences that prefer non-traditional super hero films should see this.  If you get a kick out of James Gunn's movies and you think the combination of actors in this movie will be hilarious, then you should check out "Super." 
E.B. (voice of Russell Brand), the Easter Bunny's teenage son, leaves home for Hollywood, because he is set on becoming a drummer in a rock band.  Once he arrives in LA, he is taken in by Fred (James Marsden), an out-of-work slacker, who accidentally hits E.B. with his car.   
Nickelodeon writer Tim Hill, who has worked on hits like "SpongeBob SquarePants" and "Rocko's Modern Life," directs this goofy comedy.  Cinco Paul and Ken Daurio, scribes for "Despicable Me," join forces with Brian Lynch to write the screenplay.          
WHO SHOULD SEE IT: Parents seeking a family friendly comedy with minimal rude humor should look no further than this film.  If you particularly enjoy the dialogue in "Despicable Me" then you should seek out "Hop."            
When a high-end escort (Paz Vega) discovers evidence of a scandalous government cover-up, she goes on the run.  Two inept young detectives become her unlikely guardians from a ruthless assassin brought in to silence her. 
Returning from a film hiatus of three years, John Stockwell directs this action comedy.  Newcomers Nick Ball and John Niven write the screenplay for the story.         
WHO SHOULD SEE IT:  Those who appreciate previous Stockwell movies like "Touristas" and "Into the Blue," should catch this.  If you like watching unlikely heroes stumbling through situations where they are over their heads, then you should see "Cat Run."