Trailer Talk: This Week In Movies - 'Shrek Forever After,' 'MacGruber,' & More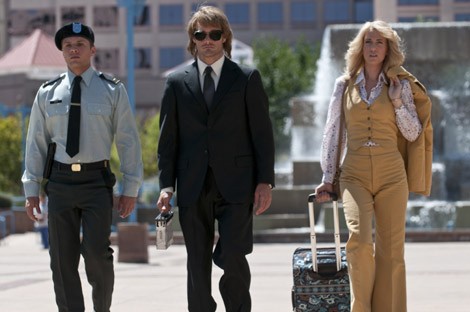 A lot of other critics have blasted Ridley Scott's "Robin Hood," but honestly I found it to be pretty interesting.  It is slightly long winded and its action scenes are a bit frenetic, however it dares to be different in how it approaches the Robin Hood tale which I appreciate. 
As a narrative "Robin Hood" operates like a prequel, covering the events leading to Robin's branding as an outlaw.  This Robin is serious, more like a solider commanding his friends in battle, than the lighthearted rogue whose archery and skills with a sword are so well known in the legend.  While he believes in equal rights for men under the crown, he's not an outright champion of the poor, rather a victim of betrayal by the royal family. 
In many ways the character of Marion greatly departs from the usual as well, which is fascinating.  Cate Blanchett portrays her as a strong woman, just as willing as Robin to take up the sword to fight for her people.  This makes her less of a damsel in distress and more like Robin's equal.  My grade: B        
Comedy is in the pipeline this week with the release of "Shrek Forever After" and the Saturday Night Live film "MacGruber."  Making a limited opening as well is the crime drama "Holy Rollers."       
Bored with domesticated life, Shrek (Mike Myers) makes a pact with Rumpelstiltskin, so that he can have a day of freedom from his current existence.  Shrek soon discovers however that he has been sent to a twisted version of Far Far Away where Rumpelstiltskin is king, ogres are hunted, and he has never met Fiona (Cameron Diaz).  He realizes that to defeat Rumpelstitskin, he must reclaim Fiona's heart.
This film, touted as the last film in the "Shrek" franchise, is directed by Mike Mitchell, the man behind 2005's "Sky High."  Joshua Klausner, one of the scribes for "Shrek the Third," returns to pen this movie with the help of Darren Lemke.  The usual voices from the series return for this outing including Mike Meyers, Cameron Diaz, Eddie Murphy, Antonio Banderas, Julie Andrews, and John Cleese.    
WHO SHOULD SEE IT:  Parents, who want a film that's family friendly, yet still contains some mature humor, should take their children to see this comedy.  If you have a soft spot for the Shrek and his silly friends then you should watch "Shrek Forever After."
Ex-special operative MacGruber (Will Forte) is called out of retirement to take on his nemesis Dieter Von Cunth (Val Kilmer), a super villain with enough nuclear firepower to take out Washington, D.C.  It's up to MacGruber to avoid a nuclear disaster and to save the day in grand style. 
This MacGyver spoof is helmed by Saturday Night Live writer/director Jorma Taccone, known best for his roles in the SNL digital shorts.  Taccone developed the screenplay for this comedy with the help of actor Will Forte, and fellow SNL scribe John Solomon.   
WHO SHOULD SEE IT:  Audiences that appreciate the current cast SNL should be the first ones in line for this movie.  If you think Will Forte is hilarious as the character MacGruber and you find Kristen Wiig funny as well, then you should check out "MacGruber."   
A young man (Jesse Eisenberg) from an Orthodox Jewish community in Brooklyn is seduced into the world of drug smuggling by a friend with ties to an Israel drug cartel.  His involvement in this illegal trade challenges the religious ideals he has been raised to believe in and irrevocably changes his life.    
Newcomer Kevin Asch directs this crime drama penned by Antonio Macia.  "Holy Rollers" features the talents of Jesse Eisenberg from "Zombieland," Justin Bartha from "The Hangover," Ari Graynor from television's "Fringe," and the musician Q-Tip.       
WHO SHOULD SEE IT:  Moviegoers interested independent films and unconventional crime dramas should watch this movie.  If you want to see one of the films nominated for the Grand Jury Prize at this year's Sundance Film Festival then you should view "Holy Rollers."