Trailer Talk: This Week In Movies - 'Shark Night 3D,' 'The Debt,' & More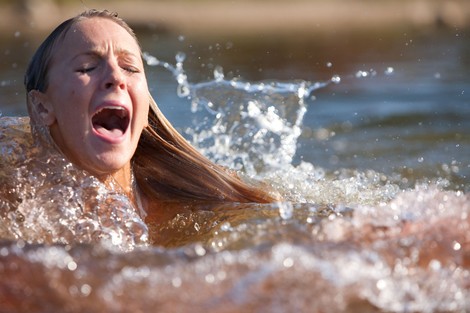 Hopefully everyone is liking the new additions to the Trailer Talk column. You may have noticed, over the last couple of weeks I haven't been releasing reviews. This mostly due to an upcoming move, which has kept me busy packing. I have still been seeing new movies though. In the last couple of weeks I've seen the British horror/comedy "Attack the Block" and the Seth Rogen/Joseph Gordon-Levitt drama "50/50."
While I'm not allowed to comment yet on "50/50," I absolutely loved "Attack the Block." The film, which is from the producers of "Shaun of the Dead" and "Hot Fuzz," has the same level of lighthearted humor, combined with Guy Ritchie style gangster slang. It may be a bit hard to understand at points, and it leans more horror than you'd expect, but it's one of my favorite movies so far this year. My Grade: A+
A random smattering of films hit theaters for Labor Day weekend, including the monster movie "Shark Night 3D," the espionage thriller "The Debt," the documentary style alternate history "Apollo 18," the raunchy comedy "A Good Old Fashioned Orgy," and the Mexican exploitation flick "Saving Private Perez."
MY PICK FOR THE WEEK: "A Good Old Fashioned Orgy"
 SHARK NIGHT 3D
An innocent weekend getaway turns into a horrific nightmare, after a group of vacationers discover that their freshwater lake is somehow infested with man-eating sharks.
He established himself in the kitschy horror genre, by helming the ridiculous "Snakes on a Plane" and 2009's "The Final Destination." Former stuntman David R. Ellis continues the trend, directing this cheesy 3D monster movie. Television scribe Will Hayes teams up with newcomer Jesse Studenberg to pen the screenplay.
ORIGINALITY RATING: Extremely low. We've seen monsters terrorizing lakes in 3D before, even as recently as last year's "Piranha." You should expect formulaic horror and tons of clichés like the black man being killed of first, as this trailer distastefully demonstrates.
WHO SHOULD SEE IT: Horror junkies that crave schlocky films where young, dumb people fall prey to freakish animals. If you never tire of outlandish monster movies like "Anaconda" and "Piranha," then you should watch "Shark Night 3D."
WHEN TO SEE IT: Opening weekend if you really dig this genre of films and you're exceptionally bored over Labor Day weekend. Otherwise, wait for it to hit budget theaters.
WHERE TO SEE IT: Your local multiplex.
 THE DEBT
Back in 1966, the young Mossad agent Rachel Singer (Helen Mirren) participated in a top secret mission to capture the Surgeon of Birkenau, a Nazi war criminal responsible for the mutilation and deaths of countless Jews. Haunted by her experience, her present day life takes a curious turn, when a man claiming to be the actual killer surfaces in Ukraine. The now retired Singer, travels there in search of the truth.
John Madden, the man most famous for directing "Shakespeare in Love," directs this espionage thriller which shifts between the 1960s and the late 1990s. "Kick Ass" director Matthew Vaughn and his writing partner Jane Goldman pen the screenplay with assistance from Peter Straughan. The young versions of Singer and her fellow agents are played by Jessica Chastain, Sam Worthington, and Martin Csokas, while the older versions are portrayed by Mirren, Cirán Hinds, and Tom Wilkinson respectively.
ORIGINALITY RATING: Low. The film is a remake of an Israeli one called "Ha-Hov." Additionally, it's reminiscent of "Munich" since it involves Mossad agents, takes place in almost the same time period, and also stars Cirán Hinds. Though perhaps its shorter running time, will make it more fast- paced.
WHO SHOULD SEE IT: Audiences that appreciate international spy thrillers with stories that take place over the span of multiple years. If you thought Helen Mirren was fantastic as a retired spy in "Red," and you think both sets of agents (young and old) were expertly cast, then you should check out "The Debt."
WHEN TO SEE IT: Wait a week so that you don't have to fight the crowds.
WHERE TO SEE IT: Your local multiplex.
 APOLLO 18
Recently recovered footage from NASA's top secret Apollo 18 mission, reveals exactly why the United States has never returned to the moon.
Spanish filmmaker Gonzalo López-Gallego helms this documentary style horror movie. "Priest" scribe Cory Goodman writes the screenplay with help from newcomer Brian Miller.
ORIGINALITY RATING: Medium. We've seen horror in the same surveillance camera style before, but filmmakers have not previously combined this with the frightening isolation of outer space.
WHO SHOULD SEE IT: Horror fans who reject goofy films like "Shark Night 3D," and prefer more realistic scares. If you can't get enough documentary-eque horror movies like "Paranormal Activity," and you like this year's cinematic trend of alternate history, then you should seek out "Apollo 18."
WHEN TO SEE IT: Opening weekend, if you want to remain immune to spoilers leaking online. Additionally this may be worth seeing in theaters, where the big screen and a dark theater, will create more intensity than watching at home.
WHERE TO SEE IT: Your local multiplex.
 A GOOD OLD FASHIONED ORGY
Eric (Jason Sudeikis) has been throwing epic shindigs at his father's lake house since high school. When he learns that his dad plans to sell the house, the party animal talks his 30-something friends into having an orgy as part of their last major blowout.
Television scribes Alex Gregory and Peter Huyck co-direct and co-write this raunchy comedy.
ORIGINALITY RATING: Medium. Plenty of comedies have explored the humor that comes from friends reuniting and rehashing the past, while equally as many dramas have focused on the problems that come up with friends try to have sex. Not many comedies have explored both sides of that though.
WHO SHOULD SEE IT: People who aren't afraid of raunchy gags and awkward sex jokes. If you like reunion films which cause old friends to confront new challenges together, and you enjoy Jason Sudeikis on SNL, then you should catch "A Good Old Fashioned Orgy."
WHEN TO SEE IT: Opening weekend. Since the film's major party takes place over Labor Day weekend, its themes will be more timely.
WHERE TO SEE IT: Your local multiplex.
 SAVING PRIVATE PEREZ
At the demand of his mother, a Mexican drug lord recruits a group of thugs to sneak into Iraq to rescue his brother, who has been captured by the enemy.
Beto Gómez writes and directs this adventure film which takes a lighthearted approach to the subject matter. Gómez receives help on the screenplay from Francisco Payó González, a frequent collaborator of his.
ORIGINALITY RATING: High. A gang of Mexican henchmen sneak into Iraq so that they can rescue one of their own? Don't think I've heard of that before! It will be interesting to see how they make it into Iraq, and how they go about finding the man they need to rescue.
WHO SHOULD SEE IT: Grindhouse aficionados that love low budget, exploitation style movies like the ones that made Robert Rodriguez famous. If you like watching random indies with fresh stories, and you have a preference for Latino films, then you should view "Saving Private Perez."
WHEN TO SEE IT: This one seems like it will be hard to find, so if you can't catch it at your local art house theater, definitely see it when it arrives on DVD.