Trailer Talk: This Week In Movies - 'Scream 4,' 'Rio,' & More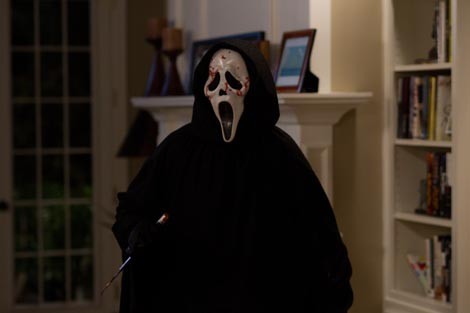 After seeing both "Arthur" and "Your Highness" last week, I could not believe how many other critics assigned them either the same score, or gave "Your Highness" a better grade.  I found "Arthur" to be quite enjoyable, playing to Russell Brand's strengths as my review states; while I thought "Your Highness," was an immature comedy which fails to use raunchy humor effectively. 
This week you'll have the opportunity to see the long-awaited Wes Craven horror sequel "Scream 4," the Carlos Saldanha animated adventure "Rio," the off-beat Keanu Reeves comedy "Henry's Crime," and "The Conspirator" which focuses on the chaotic moment in history directly following President Lincoln's assassination.
Self-help author Sidney Prescott (Neve Campbell) returns to her hometown of Woodsboro after a ten year absence, so that she can reconnect with family and friends.  However her arrival brings about the appearance of a figure she has long since forgotten about: the killer Ghostface.   
Horror movie mastermind Wes Craven, the director of the previous "Scream" films, returns to helm this new entry in the series.  Kevin Williamson, the scribe "Scream" and "Scream 2," also comes back to pen the screenplay.  Courteney Cox and David Arquette reprise their roles from as Sidney's friends, joined by a new group of victims played by Alison Brie, Hayden Panettiere, Rory Culkin, and Emma Roberts to name a few.        
WHO SHOULD SEE IT:  Horror junkies that have been anxiously awaiting a new entry in the "Scream" series should see this.  If you like the sarcasm with which its predecessors mock horror genre clichés, then you should watch "Scream 4."       
After the domesticated macaw from Minnesota, Blu (Jesse Eisenberg), meets Jewel (Anne Hathaway), the bird of his dreams, he takes off on a wild voyage to Rio de Janeiro with her.      
Carlos Saldanha, a main creative mind behind the "Ice Age" films, directs this computer animated adventure.  Saldanha originally came up with the story as well, which writer Don Rhymer developed into the screenplay.    
WHO SHOULD SEE IT:  Parents looking for a family friendly movie should take their kids to see this.  If you appreciate other Carlos Saldanha animated projects like "Ice Age" and "Robots," then you should check out "Rio."    
Henry (Keanu Reeves) has just been released from prison after serving time for a crime that he didn't commit, but now that he's out, he's determined to steal from the same bank he was sent away for robbing. 
Malcolm Venville, the man responsible for 2009's "44 Inch Chest," directs this comedy.  Brit Sacha Gervasi, who penned "The Terminal," writes the screenplay with assistance from David N. White.  Keanu Reeves is joined on screen by some entertaining co-stars including Vera Farmiga, James Caan, and Fisher Stevens.        
WHO SHOULD SEE IT: Audiences that dig heist movies where the thieves are comically bumbling should see this.  If you prefer Keanu Reeves in films where he is not taking his characters too seriously then you should catch "Henry's Crime."      
Due to her relationship with one of the men involved in Abraham Lincoln's assassination, Mary Surratt (Robin Wright) becomes the lone female charged as a co-conspirator in the plot to kill the President.  As those around her begin to turn against her, she is forced to rely on her reluctant defense lawyer (James McAvoy) to find out the truth and prevent her conviction. 
Veteran filmmaker Robert Redford directs this period piece drama.  James D. Solomon pens his first film screenplay, based on a story that he developed with Gregory Bernstein.  A number of prominent actors appear alongside McAvoy and Wright in this film including Evan Rachel Wood, Alexis Bledel, Justin Long, Danny Huston, Norman Reedus, Kevin Kline, and Tom Wilkinson. 
WHO SHOULD SEE IT: History buffs that enjoy stories set during the Civil War era should be first in line to see this.  If you believe Robert Redford is a talented director and you appreciate his extensive catalog of movies, then you should view "The Conspirator."