Trailer Talk: This Week in Movies - 'Scott Pilgrim vs the World,' 'The Expendables,' & More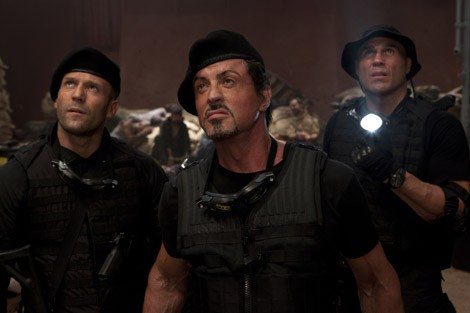 Last week I had the amazing opportunity to interview Edgar Wright, the director of Scott Pilgrim vs. the World, as well as cast members Michael Cera, Jason Schwartzman, and Anna Kendrick.  Michael and Jason are very funny in person and had some hilarious thing to say about their physical training for the film.  Definitely check out the story here if you have not already.  A review will be posted later this week on the movie's release date.   
"Scott Pilgrim vs. the World"hits the box office this week with Sylvester Stallone's action epic The Expendables, the Julia Roberts drama "Eat Pray Love," the Australian crime film "Animal Kingdom" and the anime adventure "Tales from Earthsea."  I'm excited to say I will be attending a screening of "The Expendables" tonight.    
Lackluster musician Scott Pilgrim (Michael Cera) falls for the new girl in town Ramona Flowers (Mary Elizabeth Winstead); however he discovers that the catch to winning her heart is that he must defeat her seven evil exes in combat. 
Edgar Wright, the genius behind British comedies such as "Shaun of the Dead" and "Hot Fuzz," writes and directs this adaptation of a graphic novel series by Brian Lee O'Malley.  Wright receives assistance with the screenplay from actor/screenwriter Michael Bacall. 
WHO SHOULD SEE IT:  Gamers and comic book fans should be the first in line to see this film, which mixes comic book style action scenes with video game references and rock music.  If you love Edgar Wright's previous genre bending comedic efforts then you should see "Scott Pilgrim vs. the World." 
The courageous commander Barney Ross (Sylvester Stallone) leads a team of mercenaries on an assignment to South America, where their objective to overthrow a ruthless dictator becomes more treacherous than they imagined.   
Seasoned action hero Sylvester Stallone, helms this epic film that promises mega stars from the genre.  Stallone pens the screenplay with the help of Dave Callaham, the author of 2005's video game adaptation "Doom."  This movie's all-star cast includes Stallone himself, Bruce Willis, Arnold Schwartzenegger, Jet Li, Jason Statham, Dolph Lundgren, Randy Couture, Steve Austin, Mickey Rourke, and Terry Crews.
WHO SHOULD SEE IT:  Action movie enthusiasts that get their kicks watching tons of explosions and epic gunfights should see this film.  If you are thrilled to see all of these legendary actors in one film then you need to see "The Expendables."   
Even though she is happily married, Elizabeth Gilbert (Julia Roberts) takes a dramatic turn in her life by enduring a painful divorce and embarking on a globe hopping quest for self-enlightenment. 
The creator of television's popular musical show "Glee," Ryan Murphy, directs and writes this film adapted from a book that carries the same title.  Assisting Murphy in the adaptation is Jennifer Salt, who produced the series "Nip/Tuck" with him.     
WHO SHOULD SEE IT:  Audiences that appreciate romantic dramas about self-discovery should see this film.  If you liked reading Elizabeth Gilbert's book Eat Pray Love then you should check out its movie version.
Following the death of his mother, young J (James Frecheville) is sent to live with his relatives, who are some of Melbourne's most dangerous criminals.  J is quickly pulled into this precarious world; however a cop (Guy Pearce) tries to offer him a way out. 
For Australian filmmaker David Michôd, "Animal Kingdom" is his first feature length film as a director and writer.  His movie was honored as a Grand Jury Prize winner at this year's Sundance Film Festival.     
WHO SHOULD SEE IT: Viewers, who like gritty crime dramas where characters' loyalties are torn between the law and their families, should see this film.  If you want to see one of the Sundance Film Festival's acclaimed pictures then you should see "Animal Kingdom."       
Ged, the rambunctious son of a blacksmith, uncovers his destiny to become the greatest sorcerer ever known in Earthsea, a mystical world composed of hundreds of islands. 
Goro Miyazaki, son of the great animator Hayao Miyazaki, makes his debut writing and directing this anime adventure.  Keiko Niwa works with Goro Miyazaki to adapt Ursula K. Le Guin's novel for the big screen.  Voices for the English dub of the movie include Willem Dafoe and Timothy Dalton. 
WHO SHOULD SEE IT: Anime aficionados looking for something in the same vein as last year's "Ponyo" should catch this film.  If you would like to see what the next generation of the Miyazaki family has to offer to the genre then you should watch "Tales from Earthsea."