Trailer Talk: This Week In Movies - 'Sanctum' & 'The Roommate'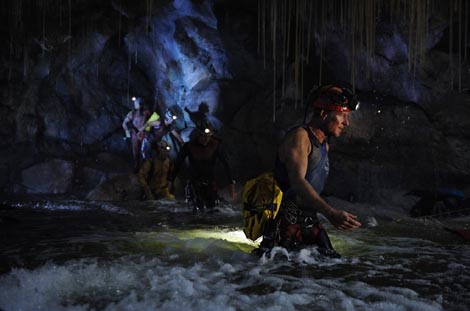 I caught screenings of two movies that opened last week: "The Rite" with Anthony Hopkins and "The Mechanic" with Jason Statham.  My first impression was that I would like "The Rite" better than "The Mechanic" however the reverse was actually the case.  If you haven't already read my review of "The Rite" check my gripes about it.
While "The Mechanic" is not a thinking man's movie, it's a mindless action flick that knows how to cater to its target audience.  There are some entertaining fight sequences and a few great one-liners which is all you can really ask for from this type of film.  My Grade: B                       
Opening in theaters this week are the James Cameron produced adventure film "Sanctum" and the Leighton Meester thriller "The Roommate."         
A team of divers becomes embroiled in a life-threatening situation when a flood blocks their exit from a system of caves they are exploring. 
Australian filmmaker Alister Grierson directs this adventure film produced by James Cameron.  Andrew Wight pens the screenplay with the assistance of John Garvin.  Wight bases the story on his real life experience of being trapped in a cave with other explorers.            
WHO SHOULD SEE IT:  Audiences that appreciate the frantic pace of disaster movies should check this out.  If you trust the projects that James Cameron produces then you should see "Sanctum."          
The young college student Sara (Minka Kelly) finds her life in jeopardy after she's assigned to live with a psychotic new roommate (Leighton Meester) in her dorm.     
Christian E. Christiansen helms this college based thriller.  Producer Sonny Malhi earns his first writing credit by penning its screenplay. Cam Gigandet, Alyson Michalka, and Billy Zane star alongside Kelly and Meester.       
WHO SHOULD SEE IT:  Viewers that find cheesy thrillers enjoyable should see this movie.  If you think the combination of Minka Kelly and Leighton Meester in the lead roles will be a winning combination then you should watch "The Roommate."