Trailer Talk: This Week In Movies - 'Salt,' 'Valhalla Rising,' & More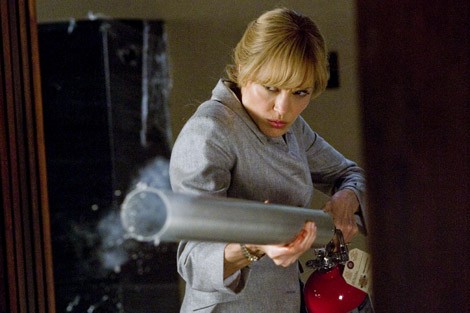 I saw both the "The Sorcerer's Apprentice" and "Inception," which premiered last week.  Personally I thought "Inception" is the best movie that I have seen all year.  "The Sorcerer's Apprentice" was fun, but in no way does it even reside on the same level of filmmaking.  If you're interested in reading my thoughts on each, check out my reviews here. 
Angelina Jolie's action thriller "Salt" arrives in theaters this week, as well as the dark age adventure "Valhalla Rising," the dramedy "Life During Wartime," the family film "Ramona and Beezus," and the documentary "Countdown to Zero."
SALT
When CIA operative Evelyn Salt (Angelina Jolie) is accused of being an enemy spy by a Russian defector, she is forced on the run, where she puts all of her skills to use in order to elude capture.  Salt has to stay alive long enough to learn the truth of her identity and to clear her name with the U.S. government. 
He made a name of himself during the 1990s directing the Tom Clancy movies "Patriot Games" and "Clear and Present Danger," and now Philip Noyce returns to the genre to helm this action thriller.  Kurt Wimmer, the scribe for "Law Abiding Citizen," pens the screenplay for this film.     
WHO SHOULD SEE IT:  Angelina Jolie admirers who can't get enough of her as an action heroine should be the first in line for this movie.  If you appreciate stories about rogue spies on the run from their former agency of employment, then you should see "Salt."           
VALHALLA RISING
One Eye (Mads Mikkelsen) is a mute warrior traded as a slave in the Scottish highlands.  Freed from his bondage through a brutal escape plan, he and Are, a boy slave, decide to join Viking crusaders on their way to the Holy Lands.    
Danish filmmaker Nicolas Winding Refn, the man behind 2008's "Bronson," directs this gritty adventure set in the dark ages.  Refn assists newcomer Roy Jacobsen in writing the screenplay for the movie. 
WHO SHOULD SEE IT:  Viewers seeking a violent narrative set during an age of war and savagery should see this film.  If you think Danish actor Mads Mikkelsen has a strong on-screen presence then you should check out "Valhalla Rising."
LIFE DURING WARTIME
Ten years have passed since the Jordan family was stunned by a series of shocking events.  Now the family works to find love, forgiveness, and meaning in their unstable lives.
Todd Solondz writes and directs this semi-sequel to his 1998 movie "Happiness."  This film reconnects with some of the same characters from "Happiness" although they are played by different actors.  The cast includes Shirley Henderson, Allison Janney, Ally Sheedy, and Paul Reubens.
WHO SHOULD SEE IT:  Independent film aficionados looking for something different at the box office should see this dark comedy.  If you enjoy Paul Reubens as an actor and you're happy to see him working more regularly then you should watch "Life During Wartime."       
RAMONA AND BEEZUS
When grade-schooler Ramona Quimby (Joey King) realizes that her family's home is in danger, she uses her endless energy and zeal to save the day.
Elizabeth Allen directs this family comedy which is based on a popular children's book series by Beverly Cleary.  Laurie Craig and Nick Pustay adapt the Ramona series for the big screen.
WHO SHOULD SEE IT: Children who love the character Ramona Quimby in Beverly Cleary's novels should seek out this movie.  If you are looking for a family friendly film this week, then you take your kids to see "Ramona and Beezus."
COUNTDOWN TO ZERO
This documentary chronicles the escalating nuclear arms race from the Cold War to modern-day crises. 
Documentarian Lucy Walker directs this poignant film produced by some of the people who brought us "An Inconvenient Truth." 
WHO SHOULD SEE IT: Audiences that like to see thought provoking features rooted in real life should catch this film.  If you are someone that likes "An Inconvenient Truth," then you should see "Countdown to Zero."