Trailer Talk: This Week In Movies - 'Safe House,' 'The Vow'& More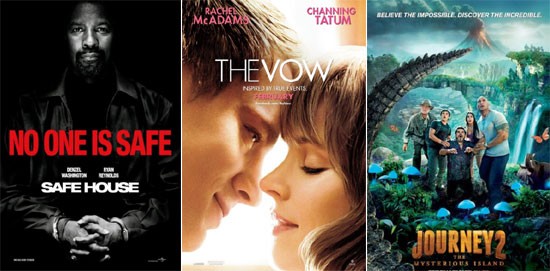 It turned out that my initial optimism about "The Woman in Black" last week was for naught. Unfortunately it is a ridiculous horror movie that made me laugh much more than it actually scared me.  For more on why I thought it was silly, check out my review.   
This week in theaters, there will be a nice mix of action, romance, adventure, and drama.  You'll have the chance to see Denzel Washington's action thriller "Safe House," the tragic Rachel McAdams romance picture "The Vow," the lighthearted adventure film "Journey 2: The Mysterious Island," the Woody Harrelson Los Angeles cop drama "Rampart," the Ewan McGregor romantic drama "Perfect Sense," and the foreign film "Tourin House."       
MY PICKS FOR THE WEEK: Safe House and Rampart
*I am aware that "Star Wars: Episode I – The Phantom Menace" is being re-released in 3D this week, however I don't feel like old films coming out again in theaters deserve note here.  The idea is to talk about what's new, rather than rehash what we already know.