Trailer Talk: This Week in Movies - 'Robin Hood,' 'Letters to Juliet,' & More

Last week "Iron Man 2" totally blew my expectations out of the water, to be equally as enjoyable as its predecessor.  It reuses the same formula as the original to achieve success: lighthearted banter, eye-popping special effects, and exciting action sequences.  That being said, it's not a boring carbon copy of the original because it introduces new characters and new challenges for the character Tony Stark.  For further comments, check out my review.
May's second week delivers just three new films to theaters: Ridley Scott's action epic "Robin Hood," the romantic dramedy "Letters to Juliet," and the latest comedy with Queen Latifah "Just Wright."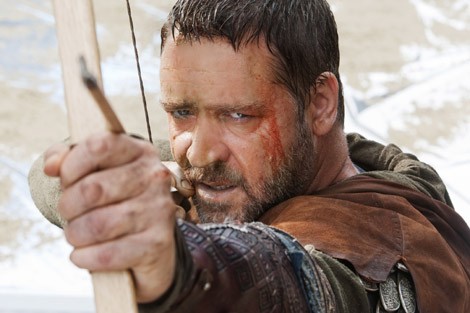 This fresh take on the Robin Hood tale has Russell Crowe portraying the legendary crusader.  In the town of Nottingham, acts of a tyrannical sheriff (Matthew Macfadyen) and the presence of a beautiful widow (Cate Blanchett) move Robin to assemble a gang of mercenaries bent on robbing the upper class as a way to right the sheriff's wrongs. 
Epic action movie director Ridley Scott, a frequent collaborator with Russell Crowe, directs his take on the Robin Hood story.  Brian Helgeland, author of this year's Matt Damon thriller "Green Zone," pens the screenplay for this film.    
WHO SHOULD SEE IT:  Fans of Ridley Scott's big budget action movies like "Black Hawk Down" and "Gladiator" will want to see his vision of Robin Hood's struggle against tyranny.  If you appreciate collaborations between Scott and Russell Crowe then you should see "Robin Hood."
A young woman (Amanda Seyfried) on vacation in Verona, Italy uncovers an unanswered "letter to Juliet," one of thousands left at the fictional lover's courtyard.  Inspired by other volunteers who respond to the notes, she embarks on an adventure to reunite the author of the letter (Vanessa Redgrave) with her beloved. 
Gary Winick, the director of 2009's romantic comedy "Bride Wars," helms this romantic dramedy.  Jose Rivera and Tim Sullivan join forces for the first time to write the screenplay for "Letters to Juliet."        
WHO SHOULD SEE IT:  Audiences searching for a tender romantic comedy about finding love at all ages should check out this movie.  If you liked the young actress Amanda Seyfried in her other films released this year "Dear John" and "Chloe," then you should catch her in "Letters to Juliet."   
Leslie Wright (Queen Latifah), a physical therapist, falls for the basketball player (rapper Common) she is helping recover from a career-threatening injury.  Unfortunately for Leslie, he is drawn to her best friend (Paula Patton), who only has her sights set on being an NBA trophy wife.
Sanna Hamri, the woman behind the sequel to "The Sisterhood of the Traveling Pants," directs this romantic comedy written by African American screenwriter Michael Elliot. 
WHO SHOULD SEE IT:  Moviegoers interested in a romantic comedy that involves a woman defies gender stereotypes should see this movie.  If you enjoy Queen Latifah's comedic roles then you should watch her in "Just Wright."