Trailer Talk: This Week In Movies - 'Rise Of The Planet Of The Apes,' 'The Change-Up,' & More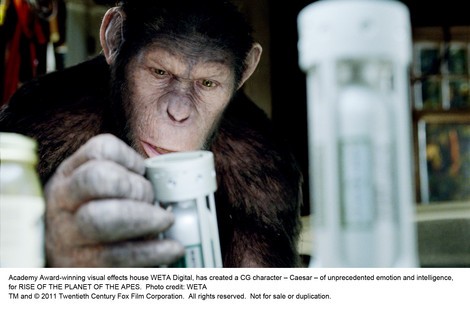 I was anxiously anticipating last week's "Cowboys & Aliens," hoping that it would effectively mix action and humor in the same way as director Jon Favreau's "Iron Man" films.  Favreau takes a more serious approach though, creating a stiff western that happens to include science fiction elements.  While his idea is admirable, the movie is marred by poorly written dialogue and slow pacing.  For more of my thoughts, check out my review. 
Coming to theaters this week are the sci-fi prequel "Rise of the Planet of the Apes," the body swapping comedy "The Change-Up," the international drama "The Whistleblower," the 60s era documentary "Magic Trip," and the apocalyptic-themed indie "Bellflower."  I've already had the opportunity to see "The Change-Up," so look out for a review later this week. 
RISE OF THE PLANET OF THE APES
In modern day San Francisco, a scientist (James Franco) strives to cure Alzheimer's by experimenting on a chimpanzee named Caesar (voice of Andy Serkis).  This testing has unexpected side effects, as Caesar rapidly develops unprecedented cognitive abilities.  The spread of intelligence to others of Caesar's species, bring about a war for supremacy between humans and apes.      
Brit Rupert Wyatt helms this sci-fi prequel to the famous "Planet of the Apes" series.  Previous collaborators Rick Jaffa and Amanda Silver team up again to pen the screenplay.  In addition to Franco and Serkis, the film's cast includes John Lithgow, Brian Cox, and "Harry Potter" alum Tom Felton.         
WHO SHOULD SEE IT:  Followers of the "Planet of the Apes" franchise should be first in line to see this.  If you love James Franco as an actor, and you've always wondered how the apes took over Earth in this universe, then you should view "Rise of the Planet of the Apes."           
After a night of drinking and a wish gone awry, family man Mitch (Jason Bateman) magically swaps bodies with his best friend Dave (Ryan Reynolds), an unemployed, single actor.  As the two guys grapple with the unexpected complications of each other's lives, they try to devise a plan to switch back.   
David Dobkin, the man responsible for "Wedding Crashers," directs this body swapping comedy.  "The Hangover" scribes Jon Lucas and Scott Moore write the screenplay.  Co-stars Leslie Mann, Alan Arkin, and Olivia Wilde are also present to add hilarity.         
WHO SHOULD SEE IT:  Audiences who laughed at comedies like "Wedding Crashers" and "The Hangover" will probably appreciate this film.  If you think Ryan Reynolds and Jason Bateman are a winning combination to play mismatched friends, then you should watch "The Change-Up." 
Nebraska police officer Kathryn Bolkovac (Rachel Weisz) accepts a one year contract as a peacekeeper in post-war Bosnia, where she battles to out the U.N. for covering up sex trafficking in the region.    
Relative newcomer Larysa Kondracki writes and directs this international drama.  Kondracki co-writes the screenplay, with Ellis Kirwan, a previous collaborator with her on the short "Little Christmas."          
WHO SHOULD SEE IT: Viewers that like films about whistle blowing cops who fight against corruption, should see this.  If you prefer movies which involve Americans trying to combat injustice overseas, then you should check out "The Whistleblower."               
"Magic Trip" is a whimsical portrait of author Ken Kesey and the Merry Prankster's fabled road trip across America, from La Honda, California to New York City for the 1964 World's Fair.     
Alex Gibney, the man behind last year's "Client 9: The Rise and Fall of Eliot Spitzer," co- writes and directs this documentary with help from his longtime editor Alison Ellwood.  Gibney and Ellwood assemble the documentary with words and recordings from Ken Kesey himself, selecting Stanley Tucci to narrate.    
WHO SHOULD SEE IT: History buffs who remember this famous road trip during the early 1960s will probably be most fascinated by this documentary.  If you're a fan of author Ken Kesey and you want to know more about him, you should catch "Magic Trip." 
Woodrow (Evan Glodell) and Aiden (Tyler Dawson) dedicate their time to building flame-throwers and weapons to survive the global apocalypse.  Their work is temporarily put on hold when Woodrow falls for Milly (Jesse Wiseman), but after their relationship goes south, the two guys begin to live out a darker, more violent fantasy.        
Indie filmmaker Evan Glodell both writes and directs this action-packed drama. 
WHO SHOULD SEE IT: Independent film aficionados that missed this film at festivals around the country should see this.  If you spend your own free time fantasizing about how you would handle the apocalypse, you should seek out "Bellflower."