Trailer Talk: This Week In Movies - 'Resident Evil Afterlife,' 'The Virginity Hit,' & More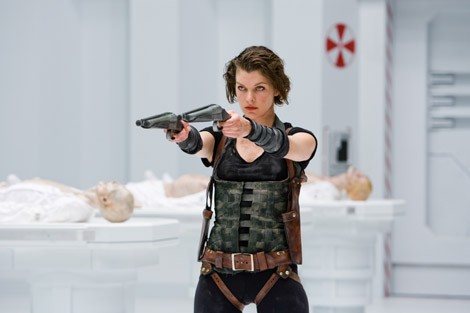 Over the Labor Day weekend, I caught Robert Rodriguez's action epic "Machete," which is bullet riddled, eye candy, not intended for the faint of heart.  Originally a fake movie trailer in the 2007 double feature "Grindhouse," it wowed audiences with its brutal subject matter and wild visuals.  It was not long afterward, that viewers demanded that "Machete" be made into a feature length film however it took Rodriguez a couple of years to make the project happen.
"Machete" is delightfully over-the-top with its many explosions and extensive gore that skillfully pay homage to the exploitation film genre.  In trademark fashion, Rodriguez's female characters are just as entertaining as his male ones.  The women of "Machete" Jessica Alba and Michelle Rodriguez can really kick ass.  While the pacing of the film lags in a few places, "Machete" is a wicked fun movie with enough blood, guns, and girls to satisfy fans of the Grindhouse genre.  My Grade: B+    
In theaters this week are Milla Jovovich's 3-D zombie flick "Resident Evil Afterlife," the sophomoric humor of "The Virginity Hit," the Joaquin Phoenix documentary "I'm Still Here," the wedding themed romcom "The Romantics," the French romance "Heartbreaker," the sports drama "Legendary," and the musical "Bran Nue Dae." 
RESIDENT EVIL AFTERLIFE (3D)
With the T-virus continuing to spread, Alice (Milla Jovovich) sticks with her mission to find survivors and keep them safe from the Undead.  As part of her secondary plan to take down the evil Umbrella Corporation, Alice reteams with Claire (Ali Larter) on a dangerous journey to a rumored safe haven from the chaos: Los Angeles. 
Paul W.S. Anderson directs his wife Milla Jovovich in the fourth film in the "Resident Evil" franchise.  Anderson helmed the first chapter in the series and has written the screenplays for all four movies.        
WHO SHOULD SEE IT:  Followers of the "Resident Evil" films will be anxious to see their heroine Alice in 3-D.  If you enjoy zombie movies and gratuitous action sequences then you should see "Resident Evil Afterlife." 
THE VIRGINITY HIT
Four teenage pals use a video camera and their Internet knowledge to chronicle their friend's endeavor to lose his virginity.   
Huck Botko and Andrew Gurland, the scribes for "The Last Exorcism" dip into documentary-esque style again but instead of horror they use humor.  The pair co-write and co-direct this coming-of-age comedy.
WHO SHOULD SEE IT:  Moviegoers that appreciate the sophomoric jokes of teenage sex comedies should see this one.  If mockumentaries are one of your favorite film genres, then you should watch "The Virginity Hit." 
I'M STILL HERE
This documentary follows Joaquin Phoenix's transition from the world of acting to the music industry where he becomes an aspiring rapper. 
Ben Affleck's brother Casey directs this window into Joaquain Phoenix's life post-acting.
WHO SHOULD SEE IT:  Those curious about what Phoenix's life has been like, since he left Hollywood, should see this film.  If you believe that this whole documentary is a mere publicity stunt by Casey Affleck and Joaquin Phoenix, then you should see the movie and judge for yourself.         
THE ROMANTICS
Seven old friends reunite for a seaside wedding; however a longstanding rivalry between the bride (Anna Paquin) and her maid of honor (Katie Holmes) re-emerges, placing the nuptials in jeopardy. 
Impressively Galt Niederhoffer directs this film and pens its screenplay, which is adapted from her own novel by the same name.    
WHO SHOULD SEE IT: Fans of the romcom genre will be interested to see Katie Holmes pit against Anna Paquin.  If you like romantic comedies about a woman trying to stop their lover from marrying the wrong woman, then you should see "The Romantics."    
HEARTBREAKER
Alex (Romain Duris) and his sister Mélanie (Julie Ferrier) own an unusual business; they break up unhappy relationships for a living.  When money is tight though, they decide to go against their principles to stop the daughter of a rich man from marrying her true love.  The biggest obstacle: the wedding is in one week.    
French television director Pascal Chaumeil, helms this romantic comedy.  Laurent Zeitoun, Jeremy Doner, and Yohan Gromb collaborate on the film's screenplay.   
WHO SHOULD SEE IT: Foreign film aficionados should catch this romcom in theaters.  If you enjoy when movies parody other films, like does with "Dirty Dancing," then you should see "Heartbreaker." 
LEGENDARY
The book-smart teen Cal Chetley (Devon Graye) joins his school's wrestling team as a way to bond with his brother (John Cena), who blames himself for their father's tragic death in a car accident years ago.
Television's Mel Damski, known most recently for his direction on the show "Psych," helms this sports drama starring WWE wrestler John Cena.  Actor John Posey pens his first feature length film with this screenplay.      
WHO SHOULD SEE IT: Sports lovers that appreciate stories about down and out guys who get a second chance through coaching are the type that should see this.  If you have enjoyed John Cena's other movies then you should see "Legendary." 
BRAN NUE DAE
Set in 1965, Willy (Rocky McKenzie) is an Aboriginal teen who enrolls at a Catholic boarding school at the request of his mother.  After immediately clashing with the school's strict headmaster Father Benedictus (Geoffrey Rush), Willy ditches school.  Teaming up with a hobo and two hippie travelers, he looks to make his way home; however Father Benedictus is in hot pursuit.
Rachel Perkins directs this colorful comedy filled with adventure and music.  Perkins works with Reg Cribb and Jimmy Chi to adapt the film from a stage musical by the same name. 
WHO SHOULD SEE IT: Musical theater lovers will appreciate this lighthearted adaptation.  If you like actor Geoffrey Rush and think he will make an excellent wacky priest, then you should catch "Bran Nue Dae."