Trailer Talk: This Week In Movies - 'Real Steel,' 'The Ides Of March,' & More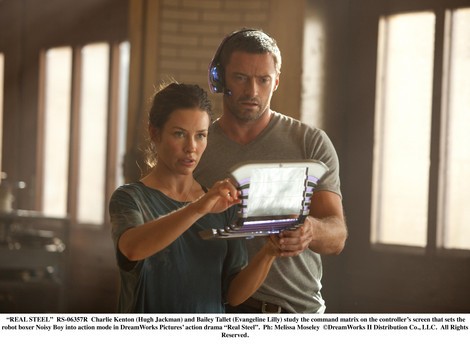 If you haven't had the opportunity to read my Seth Rogen interview from last week for "50/50," you should definitely check it out. 
The film itself is one of the best this year; definitely worth watching.  It impressively handles a dark subject like cancer by making light of it with humor.  To label "50/50" as a straight comedy though is disrespectful to what a poignant story it is, because it also remains sensitive to immense difficulty of coping with such a serious disease. 
In this way, Seth Rogen's sarcastic jokes are well balanced by Joseph Gordon-Levitt's uptight, neurotic character Adam.  From a length standpoint, the film is very tight, making every scene count, which provides a smooth and believable character arc for Adam.   I like it so much that I've already seen it twice, something I rarely do.  My Grade: A    
Coming to theaters this week are the science fiction drama "Real Steel," the political thriller "The Ides of March," the sick horror film "The Human Centipede Part II," the coming of age tale "Dirty Girl," and the western "Blackthorn." 
MY PICK FOR THE WEEK: The Ides of March
In a future where robot boxing has become a popular, a stressed promoter (Hugh Jackman) takes a risk by giving a discarded robot a second chance.  As he battles his way to the top, he discovers he has an 11-year-old son, who wants to know his father. 
"Date Night" director Shawn Levy, helms this science fiction drama.  Sports movie scribe John Gatins pens the screenplay for the film, basing it on a story by Dan Gilroy and Jeremy Leven. 
ORIGINALITY RATING: Medium.  The concept of robots doing battle in a ring isn't common, but this smells like your average inspirational sports movie with a dash of father-son bonding.        
WHO SHOULD SEE IT:  Sci-fi fans who like to see robots beating the crap out of each other, until only one is left standing.  If you dig Hugh Jackman, and you think he'll give a solid performance as this average Joe character, then you should watch "Real Steel."            
WHEN TO SEE IT: See it opening weekend.
WHERE TO SEE IT: Your local multiplex. 
A young staff member (Ryan Gosling) for a hot presidential candidate (George Clooney) learns all about the dark side of politics during his journey on the campaign trail.     
Actor George Clooney both writes and directs this political thriller.  Clooney gets help on the screenplay from Grant Heslov, as well as Beau Willimon, who wrote the play on which the film is based.  Numerous big names join Gosling and Clooney onscreen including Philip Seymour Hoffman, Paul Giamatti, Evan Rachel Wood, and Marisa Tomei.                   
ORIGINALITY RATING: Medium.  This trailer really plays on the famous actors present in the movie, building tension with its music and hints at a large scandal.  It seems like just another thriller testing a young person's loyalty and morals in a difficult ethical situation, but I'm hoping the strength of the actors' performances will outweigh this common theme.    
WHO SHOULD SEE IT: Political buffs who understand that to win a campaign, you frequently have to play dirty.  If you believe Clooney has proven himself as a director with work like "Good Night, and Good Luck" and that with this all-star cast the film has Oscar winning potential, then you should view "The Ides of March." 
WHEN TO SEE IT: See it opening night.
WHERE TO SEE IT: Your local multiplex. 
THE HUMAN CENTIPEDE II (FULL SEQUENCE)
Martin (Laurence R. Harvey) is a mentally disturbed loner who passes the time as a night security guard.  To escape from his sad life, he loses himself in the world of the cult horror movie "The Human Centipede (First Sequence)."  Inspired by the fictional Dr. Heiter in this film, he decides to attempt a 12-person centipede.    
Tom Six, the twisted mind behind the picture "The Human Centipede (First Sequence)," directs this horror story. 
ORIGINALITY RATING: High.  Making a centipede out of surgically attached humans was nasty and original enough, but the idea of someone being inspired by that movie to attempt it in the "real world" of this film, is even more frighteningly unique. 
WHO SHOULD SEE IT:  Horror junkies that don't even know the meaning of the term "gag reflex."  If you were brave enough to watch the first part and you actually enjoyed it, then you should test your stomach again with "The Human Centipede II (Full Sequence)."    
WHEN TO SEE IT:  Wait for DVD.
The year is 1987, and Danielle (Juno Temple) is the dirty girl of Norman High School.  Tired of her status as a misfit, she convinces the closeted Clarke (Jeremy Dozier) to run away with her on a road trip to California.  Along the way they discover themselves and form an unexpected friendship. 
Abe Sylvia makes his feature length directing debut with this coming-of-age tale, which he also writes.  Milla Jovovich, Mary Steenburgen, and William H. Macy star as some of the adults in Danielle's life.        
ORIGINALITY RATING: Low.  Crazy road trips, unlikely friendships, and BS inspirational lines like the ones in the trailer, have all been done to death in this genre.         
WHO SHOULD SEE IT: Audiences who like reliving the music and culture of the 80s on film.  If you appreciate road trip movies that are quirky and you're convinced after watching the trailer, that this movie has something new to say, then you should seek out "Dirty Girl."         
WHEN TO SEE IT:  Wait for DVD.
Butch Cassidy (Sam Shepard) has been living in Bolivia under the pseudonym James Blackthorn for years. The old man has grown tired of hiding though, and decides to journey home to the U.S.  Along the way he becomes involved in an adventure with a young robber, which makes the duo a walking target for both gangs and lawmen. 
Spanish filmmaker Mateo Gil helms this gritty western.  Miguel Barros pens the screenplay for the film. 
ORIGINALITY RATING: High.  You may have thought Butch Cassidy died when the Bolivian army surrounded him back in 1908, but who could have guessed the sly criminal survived in this storyline?  Now that he's grown to a ripe old age, it could be pretty interesting to see the character ride again into harm's way.         
WHO SHOULD SEE IT: Western aficionados who love the premise that Butch Cassidy is still alive and well.  If you appreciate actor Sam Shepard and you think he'll do a knock out job as Butch Cassidy in this film, then you should check out "Blackthorn."          
WHEN TO SEE IT:  Opening weekend.
WHERE TO SEE IT: Your local art house theater.