Trailer Talk: This Week in Movies - 'Rango,' 'The Adjustment Bureau' & More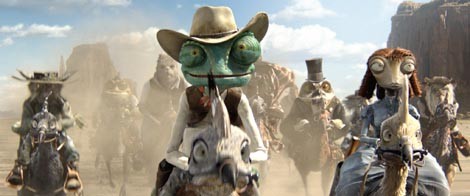 Not only did I see last week's comedy "Hall Pass" starring Owen Wilson and Jason Sudeikis, but I had the chance to interview its directors Peter and Bobby Farrelly.  If you haven't already, definitely check out my interview, and my review of "Hall Pass." 
I also hit theater to see the Ed Helms comedy "Cedar Rapids" which I thoroughly enjoyed.  Helms stars as Tim Lippe, a small-town Wisconsin guy who's dispatched to an insurance seminar in Cedar Rapids, Iowa.  The naïve Lippe is shocked when he arrives at the conference, where three of the wildest attendees Dean Ziegler (John C. Reilly), Joan Ostrowski-Fox (Anne Heche), and Ronald Wilkes (Isiah Whitlock Jr.) befriend him and take him under their wing. 
It's enjoyable to watch the adventure enlighten the emotionally immature Lippe, who undergoes a mid-life coming of age.  Ed Helms is spot on as Lippe, dorky and believably inexperienced in the ways of the world.  His friends are incredibly genuine and funny, but you'll probably find yourself laughing the most at John C. Reilly's blowhard Dean "Deansy" Ziegler.  My Grade: B+    
This week at the box office Johnny Depp plays an animated chameleon aspiring to greatness in "Rango," Matt Damon and Emily Blunt try to escape a shadowy organization trying to control their lives in "The Adjustment Bureau," Topher Grace embarks upon a wild 80s weekend in "Take Me Home Tonight," Kevin Smith mixes things up with the horror film "Red State," Alex Pettyfer is an ugly creature looking for love in "Beastly," and Josh Radnor tries his hand at parenting in "HappyThankYouMorePlease."     
RANGO
A chameleon (Johnny Depp) that dreams about being a swashbuckling hero, wanders into a desert town terrorized by bandits, where he is forced to assume the role in order to protect the citizens. 
"Pirates of the Caribbean" director Gore Verbinski helms this animated adventure.  Verbinski collaborates with James Ward Byrkit and John Logan on the story.  Logan, who is known for writing blockbusters like "The Last Samurai" and "Gladiator," pens the film's screenplay.  In addition to Depp, other actors lending their voices to "Rango" include Isla Fisher, Abigail Breslin, Ned Beatty, Alfred Molina, Bill Nighy, Timothy Olyphant, Ray Winstone, and Ian Abercrombie.      
WHO SHOULD SEE IT:  Audiences that enjoy Johnny Depp's quirky characters should see this film.  If you think the partnership between Gore Verbinski and Depp is a winning one, and you think the cast is too strong to disappoint, then you should watch "Rango."       
THE ADJUSTMENT BUREAU
An up-and-coming politician (Matt Damon) falls for a ballerina (Emily Blunt); however a mysterious organization seeks to keep them apart.     
George Nolfi, the scribe for action flicks like "The Bourne Ultimatum" and "The Sentinel," makes his directing debut with this thriller.  Nolfi also writes the screenplay for the film; basing it on a short story by author Philip K. Dick called "Adjustment Team."  
WHO SHOULD SEE IT:  Viewers that like science fiction thrillers, which involve elaborate conspiracies should see this tale.  If you appreciate film adaptations of the works of Philip K. Dick, then you should catch "The Adjustment Bureau."   
TAKE ME HOME TONIGHT
Over Labor Day Weekend in 1988, the normally shy Matt Franklin (Topher Grace) cons his way into a huge party in the hopes of impressing his high school crush (Teresa Palmer).   
Canadian filmmaker Michael Dowse directs this comedy set at the tail end of the 1980s.  "That 70s Show" scribes and executive producers Jeff and Jackie Filgo pen the screenplay for the movie, basing it on a story developed by Topher Grace and Gordon Kaywin. 
WHO SHOULD SEE IT: Those who prefer period piece comedies, especially ones that take place in the 80s, should see this film.  If you like narratives that involve one crazy night of partying and adventures then you should check out "Take Me Home Tonight."           
RED STATE
After a group of teens stumble upon an online invitation for group sex they readily accept, though they soon encounter Pastor Abin Cooper (Michael Parks), his followers, and their evil agenda.   
Comedy director Kevin Smith veers away from his usual genre to write and helm this horror movie.  
WHO SHOULD SEE IT: Fans of Kevin Smith's library from the early 1990s to present should be first in line to see this.  If you are interested to see Smith do something outside the normal realm of his experience then you should view "Red State."     
BEASTLY
Kyle Kingston (Alex Pettyfer) is has everything going for him: he's young, wealthy, and good looking.  His world comes crashing down though after he pranks the wrong classmate.  Kendra (Mary-Kate Olsen) casts a spell on him that turns him into a disfigured creature.  Kyle learns that the only way to break the curse is to find someone who will love him as he is.  After he bumps into Lindy (Vanessa Hudgens), Kyle hopes that she can literally and figuratively change his life. 
Daniel Barnz, the man behind 2008's "Phoebe in Wonderland," directs this modern day adaptation of the classic tale Beauty and the Beast.  Barnz pens the screenplay for the movie as well, basing it off a novel by Alex Flinn. 
WHO SHOULD SEE IT: Fairy tale aficionados that enjoy modern takes on classic stories should see this movie.  If you liked the novel on which this film is based, then you should see "Beastly." 
HAPPYTHANKYOUMOREPLEASE
This story follows the lives and relationships of six friends in New York City, and how their existence changes when struggling writer Sam (Josh Radnor) finds himself the custodian of a boy who becomes separated from his mother on the subway. 
"How I Met Your Mother" star Josh Radnor makes his feature film writing and directing debut with this dramedy.
WHO SHOULD SEE IT: Independent film junkies should definitely see this movie, which received the Audience Award in the Dramatic category at 2010's Sundance Film Festival.  If you like Radnor on "How I Met Your Mother" and you're curious about his writing and directing abilities then you should seek out "HappyThankYouMorePlease."