Trailer Talk: This Week in Movies - 'Prince of Persia: The Sands of Time,' 'Sex and the City 2,' & More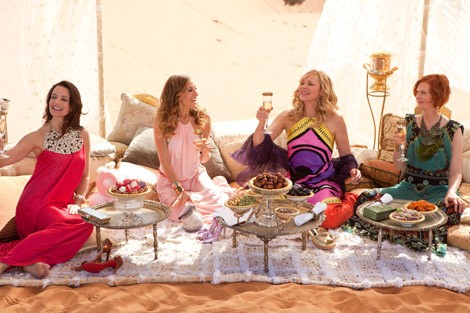 The Museum of Fine Arts in Boston screened the independent film "Holy Rollers" last week so I had the chance to check it out. Based on a true story, "Holy Rollers" stars Jesse Eisenberg and Justin Bartha as Hasidic Jews who become drug smugglers. Eisenberg is fantastic as a man of faith conflicted by his new lifestyle, but the rest of his character Sam Gold is his standard awkward type casting. Justin Bartha is also believably sleazy and conniving as Sam's mentor Yosef. While its plot is intriguing, my overall opinion of it is brought down by the uninspired dialogue between its characters. My Grade: B
This week at the movies fans of "Sex and the City" will be delighted to see the ladies in a new adventure, video game junkies will receive an adaptation of "Prince of Persia," independent film connoisseurs will have the opportunity to view "Micmacs," and George Romero followers will get a new zombie movie called "Survival of the Dead."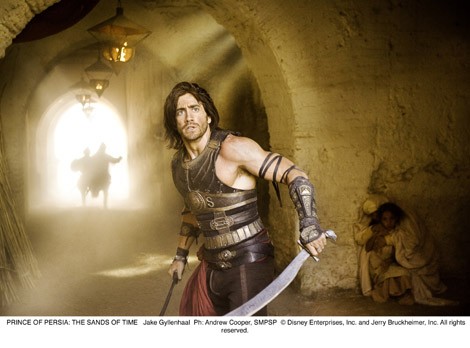 PRINCE OF PERSIA: THE SANDS OF TIME
In medieval Persia, a rogue prince (Jake Gyllenhaal) joins a mysterious princess (Gemma Atherton) in order to keep a dark force from seizing an ancient dagger that allows its handler to control the world.
The man behind 2005's mystical outing "Harry Potter and the Goblet of Fire," Mike Newell, visits another world of magic by directing this video game adaptation. Boaz Yakin, Doug Miro, and Carlo Bernard pen its screenplay, which is based on the video game series written by Jordan Mechner.
WHO SHOULD SEE IT: Those addicted to the Prince of Persia video game franchise should be the first ones in line to see this movie. If you think that Disney can do justice to adapting this video game for the big screen then you should watch "Prince of Persia: The Sands of Time."
SEX AND THE CITY 2
While dealing with the standard pressures of life, love, and work in Manhattan, Carrie (Sarah Jessica Parkers), Miranda (Cynthia Nixon) and Charlotte (Kristin Davis) follow Samantha (Kim Cattrall) on a trip to Morocco, where Samantha's ex is filming a new movie.
Michael Patrick King, a central figure behind the series, follows up his work on the previous film by writing, directing, and producing the sequel as well. In addition to his work on both movies, Patrick King produced the show, directed it at various points, and wrote 31 episodes.
WHO SHOULD SEE IT: This should be fairly obvious, but anyone that loves the television show should see the movie. If you liked the last film and you are anxious to see Carrie, Miranda, Charlotte and Samantha again then you should catch "Sex and the City 2."
MICMACS
After being released from the hospital with a bullet lodged in his brain, Bazil (Dany Boon) is taken in by a band of junkyard dealers who assist him in plotting his revenge against the weapons manufacturers responsible for his injury.
Jean-Pierre Jeunet, the visionary that brought us 2001's "Amelie" and 1995's "The City of Lost Children," directs and writes this quirky comedy. Pierre Jeunet is aided by Guillame Laurant in penning its screenplay.
WHO SHOULD SEE IT: Foreign film aficionados who appreciate Jean-Pierre Jeunet's colorful visual style should see this bizarre comedy. If you are the type of person that enjoys the French sense of humor, then you should see "Micmacs."
SURVIVAL OF THE DEAD
Thinking that they have found a refuge from a zombie army on an island off the coast of Delaware, a group of national guardsmen instead realize they have wedged themselves between two warring families who disagree on what should become of the undead.
Zombie movie king George Romero writes and directs his latest addition to the genre with this film. It becomes the seventh movie he has directed with a title ending in the word "dead."
WHO SHOULD SEE IT: Zombie movie fanatics should definitely check out this most recent offering from George Romero. If you like the direction he has taken since 2005's "Land of the Dead" you should watch "Survival of the Dead."