Trailer Talk: This Week in Movies - 'Pirates of the Caribbean: On Stranger Tides,' & 'Midnight in Paris'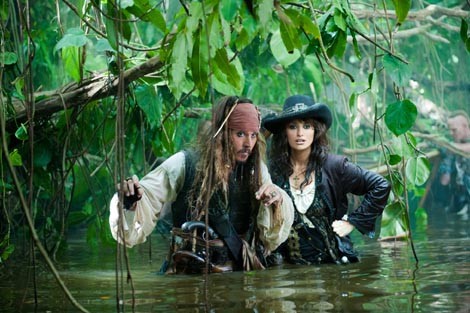 I still have not had the opportunity to see the much talked about "Thor," which seems to be receiving mixed reviews from everyone I know.  Some people I've spoken to have loved it, while others have despised it, so I will have to see it for myself soon.
Last week though, I checked out the indie drama "Hesher" starring Rainn Wilson, Natalie Portman, and Joseph Gordon-Levitt which I loved.  It's definitely not your typical story of recovery from grief, mainly because of the character Hesher, played by Gordon Levitt.  The squatter invites himself into the home of Paul (Wilson) and his son TJ (Devin Brochu), leaving physical and emotional destruction in his wake. 
Even though Hesher is a complete a-hole, he still manages to deliver laughs and maintain likability with Gordon-Levitt's commitment to the character.  His presence stirs up a number of emotions within Paul and TJ, most notably anger, which knocks them out of their funk and allows them to confront their grief so that they can start living again.  My Grade: A-
It's strange to say it this early, but summer movie season is in full swing with high-budget action films like "Fast Five" and "Thor" dominating ticket sales at the moment.  This week is a quiet one in terms of releases though with the return of Captain Jack Sparrow in "Pirates of the Caribbean: On Stranger Tides," and Woody Allen's latest romantic comedy "Midnight in Paris." 
PIRATES OF THE CARIBBEAN: ON STRANGER TIDES
After reconnecting with a woman from his past (Penélope Cruz), Captain Jack Sparrow (Johnny Depp) finds his way aboard the Queen Anne's Revenge, the ship of the notorious pirate Blackbeard (Ian McShane), on a surprise quest to find the fabled fountain of youth. 
Rob Marshall steps in for Gore Verbinski, to helm Captain Jack Sparrow's latest pirate adventure.  Series scribes Ted Elliot and Terry Rossio return however to pen the screenplay for the movie.  While the tale introduces two new characters played by Cruz and McShane, Jack's comedic foil Barbossa (Geoffrey Rush) will be back as well as his father (Keith Richards).                       
WHO SHOULD SEE IT:  "Pirates of the Caribbean" fans who loathed the extremely long running time of the last couple of chapters should catch this one, since the story has been reduced to a more reasonable 137 minutes.  If you were happy Will (Orlando Bloom) and Elizabeth (Keira Knightley) were written out with the previous movie and you're just looking forward to a Jack-centric story, then you should watch "Pirates of the Caribbean: On Stranger Tides."    
MIDNIGHT IN PARIS
In this romantic comedy, a family travels to the French capital of Paris on business.  The emphasis is on a young engaged couple (Owen Wilson and Rachel McAdams) that is forced to confront the illusion that life away from one another is a better one.   
Veteran filmmaker Woody Allen revisits familiar romantic comedy territory, both writing and directing this film in his usual fashion.  Joining Wilson and McAdams on screen is a talented cast of supporting actors which includes Marion Cotillard, Michael Sheen, Adrien Brody, and Kathy Bates.    
WHO SHOULD SEE IT:  Woody Allen followers, who see every one of his creative works, are the ideal audience for this movie.  If you are curious to find out how Owen Wilson does as an actor under Allen's direction, then you should catch "Midnight in Paris."