Trailer Talk: This Week in Movies - 'Paranormal Activity 2,' 'Hereafter,' & More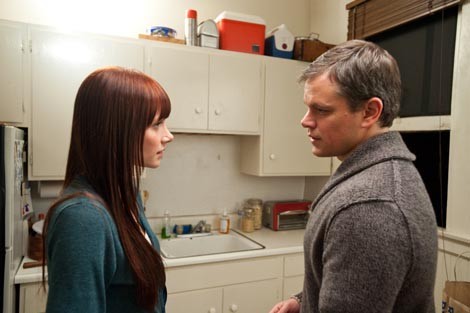 I saw last week's action film "Red" starring Bruce Willis, Mary-Louise Parker, Morgan Freeman, John Malkovich, Helen Mirren, and Brian Cox.  While it's not the most exciting in terms of special effects, the cast of the movie alone more than makes up for it.  They all have an incredible rapport that makes them actually seem like old friends.  Check out my review here if you haven't already. 
Hitting the box office this week are the highly anticipated sequel "Paranormal Activity 2," the supernatural Clint Eastwood drama "Hereafter," and the life or death thriller "Inhale." 
PARANORMAL ACTIVITY 2
In this sequel to Oren Peli's low-budget blockbuster, an entire family is increasingly disturbed by a nightly demonic presence in their home.     
Indie filmmaker Tod Williams takes the reins from the creator of "Paranormal Activity" Oren Peli, to direct this documentary style horror film.  Television writer/producer Michael R. Perry pens the screenplay based on characters generated by Peli.   
WHO SHOULD SEE IT:  Viewers that loved the first "Paranormal Activity" and its high adrenaline scares should see its sequel.  If you have a firm appreciation for documentary-esque horror movies because of their realism then you should check out "Paranormal Activity 2." 
HEREAFTER
This supernatural drama tells the story of three people touched by death in different ways: a blue-collar American, a French journalist, and an English school boy.   
Veteran Hollywood actor/director Clint Eastwood helms this drama starring Matt Damon, Cécile de France, and Bryce Dallas Howard.  Peter Morgan, the scribe for critically acclaimed hits like "Frost/Nixon" and "The Last King of Scotland," pens the screenplay for the film. 
WHO SHOULD SEE IT:  Fans of Clint Eastwood's directing should be the first in line for this movie.  If you liked Eastwood and Damon's collaboration "Invictus" then you should watch "Hereafter."     
INHALE
After his daughter is diagnosed with a terminal condition for which she will need a lung transplant, a father travels to Mexico to consult with a doctor, although he soon learns this doctor's practices will test his ethical boundaries.   
The Icelandic actor/director Balthasar Kormákur leads this thriller.  Walter A. Doty III and John Claflin write the screenplay based on a story by Christian Escario.  Rosanna Arquette, Diane Kruger, Dermot Mulroney, and Sam Shepard lend their talents in the central roles.           
WHO SHOULD SEE IT:  Audiences engrossed by films where ordinary people bend their morals to achieve a vital goal, should catch this independent movie.  If you like to see parents make truly hard choices to save their children, then you should see "Inhale."