Trailer Talk: This Week in Movies - 'Our Idiot Brother,' 'Don't Be Afraid of the Dark,' & More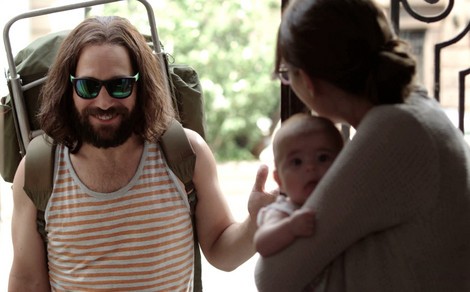 This week, you'll find a new format for Trailer Talk.  First, you'll see "My Pick for the Week," which is the film I recommend most out of the ones debuting.  Next, you'll also notice further criticism based on the trailers, including an originality rating for each film coming out, and my advice on where and when to see each of the movies.
Hitting theaters are the Paul Rudd comedy "Our Idiot Brother," the horror Guillermo del Toro remake "Don't be Afraid of the Dark," the Zoe Saldana action thriller "Colombiana," the Iranian drama "Circumstance," and the Vera Farmiga faith-based tale "Higher Ground." 
MY PICK FOR THE WEEK: "Our Idiot Brother."
When the lovable dimwit Ned gets entrapped for marijuana possession, the poor guy is thrown in jail.  Thankfully he's quickly released for good behavior, but after arriving home to discover his girlfriend has taken off with his dog, he's devastated.  Unemployed and homeless, Ned seeks refuge in the homes of his three sisters (Elizabeth Banks, Zooey Deschanel, and Emily Mortimer).  Ned's presence however creates a great deal of havoc in each of their lives.   
Jesse Peretz, director of the 2006 romcom "The Ex," helms this comedy about family and relationships.  Peretz's sister Evgenia makes her writing debut penning the screenplay with David Schisgall. 
ORIGINALITY RATING: Medium.  We've seen idiotic black sheep before, but perhaps Rudd can bring his own unique charm to the role of Ned. 
WHO SHOULD SEE IT:  Audiences that thrive on the awkward humor of good intentioned characters like Ned, accidentally screwing up others' lives.  If you think Paul Rudd has what it takes to pull off lovable, yet dumb Ned, and you buy Elizabeth Banks, Zooey Deschanel, and Emily Mortimer as his messed up sisters then you should watch "Our Idiot Brother."
WHEN TO SEE IT: See it opening weekend.
WHERE TO SEE IT: Your local multiplex. 
A little girl (Bailee Madison) is traumatized after moving in with her father (Guy Pearce) and his new girlfriend (Katie Holmes), when she discovers creatures in her new house who want her to join their ranks. 
Troy Nixey makes his feature film debut, directing this remake of a 1973 made-for-TV horror movie.  "Hellboy" director Guillermo del Toro pens the screenplay, teaming up again with Matthew Robbins, his partner on 1997's "Mimic," to adapt it from the 1973 version.      
ORIGINALITY RATING: Low.  Not only is this a remake, it actually rips off lines from other haunted house movies in the trailer like "Come play with us," in "The Shining."   
WHO SHOULD SEE IT: People satisfied with formulaic horror stories that take place in haunted houses.  If you think that Guillermo del Toro is a talented writer and you believe he will help this movie transcend its expected clichés, then you should catch "Don't Be Afraid of the Dark."
WHEN TO SEE IT: Wait for DVD.
Cataleya Restrepo (Zoe Saldana) is a beautiful, deadly assassin with a score to settle.  Trained and raised by her uncle in the U.S. to be a killing machine, Cataleya's returns to her native Colombia to exact revenge on the drug lord who executed her parents when she was a child.           
French filmmaker Olivier Megaton directs this action thriller.  Luc Besson, the man behind awesome flicks like "The Professional," and "The Fifth Element," pens the screenplay with assistance from his frequent collaborator Robert Mark Kamen, who is best known for writing "Taken."                   
ORIGINALITY RATING: Medium.  We've seen deadly female assassins plenty of times; however Zoe Saldana proved her action star credentials in "The Losers," and Luc Besson's script may give her some great one-liners.
WHO SHOULD SEE IT:  Action movie junkies who dig strong, violent female characters like the ones in "Salt," "Hannah," and "La Femme Nikita."  If you get a particular thrill from revenge films, and you enjoy the fast pacing of Luc Besson's stories then you should check out "Columbiana."
WHEN TO SEE IT:  Opening weekend.
WHERE TO SEE IT: Your local multiplex. 
Atafeh and her brother Mehran come from a privileged Iranian background, filled with intellectual stimulation by music and the arts.  Their wealth and freedom though, challenges their family, as they try to contain Atafeh's growing sexual rebellion and Mehran's dangerous obsession that he develops.
Iranian writer/director Maryam Keshavarz helms this cultural drama which won the Dramatic Audience Award at the 2011 Sundance Film Festival. 
ORIGINALITY RATING: High.  We don't have that many glimpses into Iranian culture, especially ones that follow the struggle of their youths to defy cultural standards. 
WHO SHOULD SEE IT: Foreign film aficionados who cast off mainstream fare, and relish the intense drama that comes from violation of social and cultural norms.  If you don't mind subtitles and you are particularly interested in Iranian culture, then you should see "Circumstance." 
WHEN TO SEE IT: Wait a week, so that you don't have to fight the crowds. 
WHERE TO SEE IT: Your local art house theater.
A community of evangelical Christians receive a shock, when one of their own (Vera Farmiga), starts to question her faith.  
Actress Vera Farmiga makes her directing debut with this faith-based drama.  Newcomer Carolyn Briggs pens the screenplay with assistance from veteran scribe Tim Metcalfe. 
ORIGINALITY RATING: Medium.  Hollywood has explored issues of faith many times on screen, though it often portrays evangelical Christians in an exaggerated light.  Based on its trailer, this movie appears to take a more balanced, fair approach to religion.      
WHO SHOULD SEE IT: Fans of actress Vera Farmiga who are interested in seeing her first directorial effort.  If you like tales that explore the trials and tribulations of questioning faith in a religious environment, then you should view "Higher Ground."    
WHEN TO SEE IT: Wait a week, to avoid the crowds. 
WHERE TO SEE IT: LA/NYC