Trailer Talk: This Week In Movies - 'Nanny McPhee Returns,' 'Piranha 3D' & More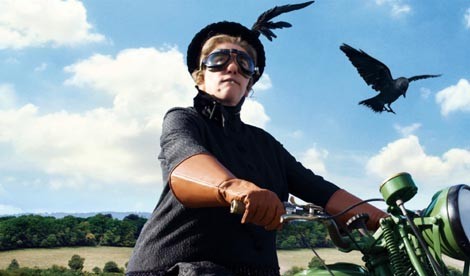 Comparing last week's films "Scott Pilgrim vs. the World," and "The Expendables," I personally prefer Edgar Wright's comedy to Stallone's attempt at an action spectacular.  For me "Scott Pilgrim" is the perfect combination of fight scenes, video game references, rock music, and sarcastic humor.  If you have not read my review of it yet, check it out here.   
"The Expendables" lacks the very minimal character development I think belongs in an action movie.  Giant questions remain unanswered such as who these people are, why they are friends, what they have been through together, and why they continue do what they do.  The only characters that get development are arguably second string: Jason Statham's Lee Christmas and Mickey Rourke's Tool.  Statham's romantic story is bland and uninteresting; however Rourke's remorseful soldier actually has some weight.
Before anyone argues that good action movies don't need character development, I will say another reason "The Expendables" disappoints, is the lack of jaw dropping action sequences.  It does not really deliver the epic explosions and the high body count I wanted consistently, waiting until the final act.  Even then the battle is not well shot or cut, amounting to a shaky mess.  My Grade: C-       
Films hitting the box office this week include the sequel "Nanny McPhee Returns," the campy horror movie "Piranha 3D," the spoof "Vampires Suck," the African American comedy "Lottery Ticket" and the Jason Bateman/Jennifer Aniston dramedy "The Switch."    
NANNY MCPHEE RETURNS
Nanny McPhee (Emma Thompson) comes to aid a struggling young mother, Mrs. Green (Maggie Gyllenhaal), with managing the family farm while her husband is away at war.  Since Mrs. Green's children are waging another war against their two spoiled cousins, Nanny McPhee uses her magic to teach them five critical new lessons about cooperation.
Television director Susanna White helms this sequel to the 2005 family comedy "Nanny McPhee."  Actress Emma Thompson, who pens the screenplay for this film, is also responsible for writing the previous movie.  Both films are adapted from literary characters created by author Christianna Brand. 
WHO SHOULD SEE IT:  Children who enjoyed the magic of "Nanny McPhee" will be delighted to see the new tricks she has up her sleeve in this sequel.  If you are searching for an inoffensive family film then you should see "Nanny McPhee Returns."      
PIRANHA 3D
A seismic tremor under the surface of Lake Victoria releases thousands of prehistoric piranhas, forcing a group of strangers to band together with the local sheriff (Elizabeth Shue) in order to keep themselves from becoming fish food. 
With experience remaking "The Hills Have Eyes" in 2006, Alexandre Aja revitalizes the "Piranha" movie franchise which also started in the late 1970s.  Scribes Pete Goldfinger and Josh Stolberg, the men responsible for 2009's "Sorority Row," team up again to write this horror film's screenplay. 
WHO SHOULD SEE IT:  Horror buffs that appreciate tons of gore and cliché aspects of the genre should see this movie.  If you like campy horror movies that hearken back to the style that became popular during the 1970s and 1980s then you should watch "Piranha 3D."     
VAMPIRES SUCK
In this spoof of vampire-themed movies (mainly "Twilight"), the teenager Becca finds herself torn between two boys.  As she and her friends struggle with a number of different dramas, everything comes to a head at their prom. 
Spoof movie gurus Jason Friedberg and Aaron Seltzer, co-write and co-direct this vampire farce.  Friedberg and Seltzer's previous lampooning credits include "Scary Movie," "Date Movie," "Epic Movie," "Meet the Spartans," and "Disaster Movie."    
WHO SHOULD SEE IT:  Audiences that have been laughing at Jason Friedberg and Aaron Seltzer's parodies for the last ten years should be the first ones in line for this film.  If you prefer spoofs that mock the most recent year of pop culture then "Vampires Suck" is for you.     
LOTTERY TICKET
Over the Fourth of July weekend, Kevin Carson (Bow Wow) has to guard his new prize possession, a lottery ticket worth $370 million, from his scheming neighbors.
Music video director Erik White makes his feature length film debut with this comedy.  White developed the story for the movie with Abdul Williams, who earns his first writing credit for penning the screenplay.  A number of prominent African American actors appear in the film including Ice Cube, Keith David, Terry Crews, Mike Epps, Charlie Murphy, and Bill Bellamy.          
WHO SHOULD SEE IT: Viewers that love African American comedies should watch this film.  If you are excited to see this many talented actors together in the same movie then you should catch "Lottery Ticket."    
THE SWITCH
An unmarried 40-year-old woman (Jennifer Aniston) turns to artificial insemination to become pregnant.  Seven years later, she crosses paths with her best friend (Jason Bateman), who has been living with a secret: he swapped her chosen sperm sample with his own.   
Josh Gordon and Will Speck, the directors 2007's "Blades of Glory," reunite to helm this unusual comedy together.  Allan Loeb, a writer for this year's "Wall Street: Money Never Sleeps," adapts a short story written by Jeffrey Eugenides for the big screen.
WHO SHOULD SEE IT: Fans of Jason Bateman in other off color comedies will be the most excited to see him in this film.  If you are curious to see the chemistry of Bateman and Jennifer Aniston then you should check out "The Switch."