Trailer Talk: This Week In Movies - 'Monsters,' 'Saw 3D,' & More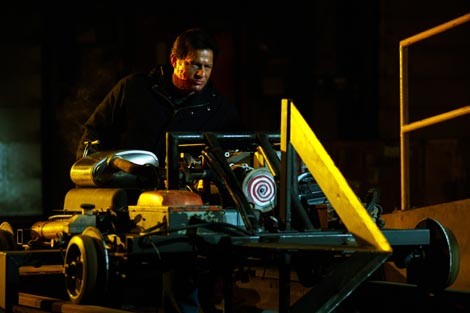 Last year I criticized Clint Eastwood's film "Invictus" for trying too hard to be inspirational, but after seeing his latest work "Hereafter," I'm convinced it suffers from the exact opposite problem.  "Hereafter" does not work hard enough to be upbeat, concentrating on all the most depressing aspects of death, rather than focusing on the positive concept of afterlife that it introduces.  If you have not had the chance, check out my full review here. 
Two horror movies and an action thriller will be opening in theaters this Halloween weekend.  You'll have the chance to see the sci-fi horror film "Monsters," the latest chapter in the "Saw" franchise "Saw 3D," and the conclusion to the Stieg Larsson series about Lisbeth Salander "The Girl Who Kicked the Hornet's Nest." 
MONSTERS
Six years after an alien invasion, half of Mexico serves as an alien quarantine zone.  An American journalist (Scoot McNairy) heads across the border into this hazardous territory on a mission to find his boss's daughter (Whitney Able) and bring her home.
Wearing numerous hats on this low-budget film, Gareth Edwards is responsible for writing, directing, visual effects, and production design. 
WHO SHOULD SEE IT:  Viewers who appreciate movies that achieve impressive special effects on a budget should see this film.  If you like sci-fi horror films about evil giant creatures then you should see "Monsters."   
SAW 3D
In the midst of a lethal battle over Jigsaw's dastardly legacy, a group of Jigsaw survivors gathers to seek the support of self-help guru Bobby Dagen (Sean Patrick Flanery), a man whose own dark past unleashes a new outbreak of terror.   
The director of the previous "Saw" film, Kevin Greutert, returns to helm this most recent entry in the franchise.  Scribes Patrick Melton and Marcus Dunstan, who have been working on the series since "Saw IV," co-write the screenplay. 
WHO SHOULD SEE IT:  Fans of the "Saw" franchise should definitely be the first in line for this movie.  If you are excited about the concept of a brutal horror film like this one using 3-D technology to up the scare factor, then you should see "Saw 3D."     
THE GIRL WHO KICKED THE HORNET'S NEST
Following the events of "The Girl Who Played with Fire," Lisbeth Salander (Noomi Rapace) fights for her life in an intensive care unit while at the same time facing murder accusations.  As she works with journalist Mikael Blomkvist (Michael Nyqvist) to prove her innocence, Lisbeth seeks to condemn the government forces that nearly destroyed her life.   
Daniel Alfredson, the man behind "The Girl Who Played with Fire," directs this thriller.  Jonas Frykberg and Ulf Ryberg adapt the story from the popular novel with the same name by the late author Stieg Larsson.           
WHO SHOULD SEE IT:  Readers hooked by Stieg Larsson's novels and those that have enjoyed the Swedish films preceding this one should catch this action thriller.  If you want to see the original movie adaptation of this novel before there is a Hollywood remake, then you should watch "The Girl Who Kicked the Hornet's Nest."