Trailer Talk: This Week In Movies - 'Moneyball,' 'Abduction,' & More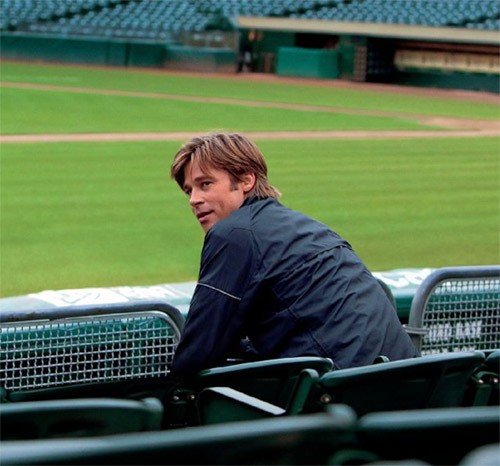 Last week I didn't screen any new movies, but I had a chance to conduct some awesome interviews.  I talked with Jonah Hill on Monday about his role in "Moneyball" and Seth Rogen on Wednesday for his upcoming film "50/50."  Look out this week for my Jonah Hill interview and the next for mine with Seth Rogen. 
Hollywood loves movies inspired by true stories this week, since they represent four of the six opening in theaters.  You'll have the opportunity to see the Brad Pitt baseball vehicle "Moneyball," the Taylor Lautner espionage thriller "Abduction," the Gerard Butler redemption tale "Machine Gun Preacher," the Jason Statham/Clive Owen action flick "Killer Elite," the Chris Evans legal thriller "Puncture," and the inspirational animal story "Dolphin Tale." 
MY PICK FOR THE WEEK: "Killer Elite"
I still haven't seen last week's "Drive" yet, but I'm going to try this week. 
Due to their extremely limited budget, the Oakland A's struggled to compete with powerhouses like the Yankees and the Red Sox, who bought players out from underneath them.  That is until general manager Billy Beane (Brad Pitt) implements a radical style of recruiting players on a budget, which catapults the team toward a record breaking win streak.       
Bennett Miller, the man responsible for 2005's "Capote," directs this sports drama based on a true story.  Oscar winning writers Steven Zaillian and Aaron Sorkin team up to pen the screenplay for the film, basing their work on a book by journalist Michael Lewis, called Moneyball: The Art of Winning an Unfair Game.   
ORIGINALITY RATING: High.  Even though we've seen baseball movies before, this one is about real people who shook things up and made a significant impact on the game.    
WHO SHOULD SEE IT:  Baseball aficionados who truly celebrate Beane's success and support his use of sabremetrics.  If you dig stories about underdogs that challenge traditional mentalities, and you love Aaron Sorkin's amusing banter, then you should see "Moneyball."   
WHEN TO SEE IT: See it opening weekend.
WHERE TO SEE IT: Your local multiplex. 
Nathan (Taylor Lautner) has always felt like he didn't belong, especially with his parents.  His suspicions are confirmed though, when he learns that he was kidnapped a child, unraveling a massive conspiracy, that will put his life in jeopardy.   
African American filmmaker John Singleton returns from a long hiatus to direct this espionage thriller.  Shawn Christensen writes his first feature length project with this screenplay.  Lautner is joined onscreen by Lily Collins, Jason Issacs, Maria Bello, and Alfred Molina.              
ORIGINALITY RATING: Low.  In terms of plot, "Abduction" seems like a teenage version of "Bourne Identity."  Rogue spies on the run are a common movie premise these days.  Since he's new to the genre, Taylor Lautner has to convince us he's an action hero.  Hopefully he won't disappoint. 
WHO SHOULD SEE IT: Viewers willing to overlook the cliché premise and give a young actor like Taylor Lautner a chance as the lead in a thriller.  If you liked John Singleton's last action film "Four Brothers," then you should try "Abduction." 
WHEN TO SEE IT: Wait a week, so you don't have to fight the crowds.
WHERE TO SEE IT: Your local multiplex. 
After leaving his criminal life for God, Sam Childers (Gerard Butler) travels as a missionary to Africa, where he crusades for Sudanese children being forced into military service.             
"Quantum of Solace" director Marc Forster, helms this tale about one man's attempt at redemption.  Television movie scribe Jason Keller makes his first foray into cinema by penning this film's screenplay.  Michelle Monaghan and Michael Shannon star alongside Gerard Butler. 
ORIGINALITY RATING: High.  Sam Childers's story is definitely a unique one.  Instead of using words to guide his efforts, this guy fights fire quite literally with fire (RPGs) in the trailer.  He's not your traditional spiritual guy, combating injustice, which makes this movie interesting.    
WHO SHOULD SEE IT:  Audiences that think sometimes radical steps (including violence) need to be taken to make a difference.  If you think Gerard Butler has what it takes to carry his dramatic weight and you like director Marc Forster's previous works "Kite Runner" and "Monster's Ball," then you should view "Machine Gun Preacher."    
WHEN TO SEE IT:  Wait a week, so you don't have to fight the crowds.
WHERE TO SEE IT: Your local multiplex. 
A retired special ops agent (Jason Statham) is forced back into action after his mentor (Robert De Niro) is captured.  He launches a rescue mission, but along the way he must also kill three assassins sent by the leader of a secret military society (Clive Owen). 
Newcomer Gary McKendry writes and directs this action flick about warring hitmen.  McKendry pens the screenplay with help from Matt Sherring, and the pair adapts the story from a novel called The Feather Men by Ranulph Fiennes.      
ORIGINALITY RATING: Low.  I don't think anyone is surprised to see Jason Statham, Clive Owen, or Robert De Niro playing assassins.  With an epic song like "Rock You like a Hurricane" in the trailer though, it's clear this movie wants to hark back to 80s style action flicks.  It's about having fun and enjoying an awesome cast like "The Expendables" was supposed to be.  Let's hope they do a better job with that idea.    
WHO SHOULD SEE IT: Action buffs that are thrilled to see big names like Statham, Owen, and De Niro all in the same project.  If you like pure escapism and ample amounts of gunfire then you should catch "The Killer Elite."   
WHEN TO SEE IT:  Opening night.
WHERE TO SEE IT: Your local multiplex. 
This legal drama focuses on Mike Weiss, a drug-addicted lawyer (Chris Evans) who takes on a health supply giant, while attempting to fight his own demons.  Initially the case appears to be a simple one about a nurse pricked with an infected needle; however a dangerous conspiracy emerges to threaten the Mike's life and his career.    
Brothers Adam and Mark Kassen direct this thriller, with Mark starring as Evans's legal partner.  Chris Lopata develops the screenplay from a story written by Paul Danziger and Ela Thier.    
ORIGINALITY RATING: Medium.  When lawyers tangle with big business, there's usually some sort of conspiracy at play.  A drug addict fighting a pharmaceutical company does sound like a more interesting conflict.  It's nice to see Chris Evans try a more serious role, but the trailer doesn't really sell you on his believability in the part.     
WHO SHOULD SEE IT: Chris Evans fans who think he'll do an excellent job in the title role.  If you like unorthodox lawyers like Matthew McConaughey in "The Lincoln Lawyer," then you should seek out "Puncture."        
WHEN TO SEE IT:  Wait for DVD. 
A boy's friendship with a dolphin that lost her tail leads those around him to help create her a prosthetic appendage.  In turn, her story becomes an inspiration to people with special needs. 
"Air Bud" director Charles Martin Smith helms this tale about nursing an injured animal back to health.  Karen Janszen, the scribe for "Free Willy 2: The Adventure Home," pens the screenplay with help from first-time writer Noam Dromi.  Big names like Morgan Freeman, Ashley Judd, Kris Kristopherson, and Harry Connick Jr. lend their talent to the film as well.    
ORIGINALITY RATING: Medium.  A dolphin struggling to survive without what would normally be an essential body part is fairly original.  The themes seem very humanitarian and mushy much like "Free Willy," which is logical considering one of the screenwriters did the second film in that series.      
WHO SHOULD SEE IT: Parents looking for safe family fare at the theater.  If you appreciate stories about people helping animals like the "Free Willy" films, then you should check out "Dolphin Tale."   
WHEN TO SEE IT:  Wait a week, so you don't have to fight the crowds.
WHERE TO SEE IT: Your local multiplex.