Trailer Talk: This Week In Movies - 'Megamind,' 'Due Date,' & More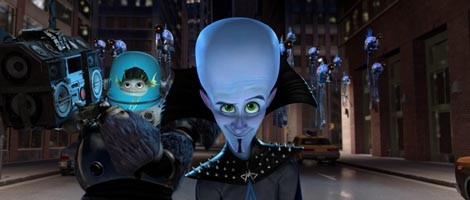 I'm writing this week's column on Halloween, so I wish my readers a happy and safe holiday.  There are two things I'm looking forward to later tonight: a special Halloween screening of the cult classic "Evil Dead 2" at one of my local theaters and the premiere of the AMC television show "The Walking Dead."  As a zombie aficionado I'm curious to see how they will be able to stretch out the concept into an entire series.  I'm hopeful that it will be entertaining.
Arriving this week in theaters are the Will Ferrell animated comedy "Megamind," the roadtrip movie "Due Date," the true life thriller "127 Hours," the Tyler Perry drama "For Colored Girls," and the biographical thriller "Fair Game."  Tomorrow I will be attending a screening of "Due Date," so look out for a review later this week.    
MEGAMIND
The super-villain Megamind (Will Ferrell) finally defeats his nemesis Metro Man (Brad Pitt), however he discovers that life without a foe is incredibly boring.  This prompts him to invent a new enemy, named Titan (Jonah Hill), who is bent on taking over the world.   For the first time though, Megamind is forced to use his powers for good. 
Writer/director Tom McGrath, the man behind the Madagascar franchise, helms this new Dreamworks animated adventure.  Newcomers Alan J. Schoolcraft and Brent Simons collaborate to pen the screenplay for the film.  Other celebrities that lend their voices to "Megamind" include Tina Fey, David Cross, Justin Theroux, Ben Stiller, and J.K. Simmons.     
WHO SHOULD SEE IT:  Dreamworks animation fans should be the first in line to see this movie.  If you think the presence of Will Ferrell, Brad Pitt, Jonah Hill, and Tina Fey is a winning combination, then you should watch "Megamind." 
DUE DATE
A tightly wound father-to-be Peter Highman (Robert Downey Jr.) is forced to travel with a wacky aspiring actor Ethan Tremblay (Zach Galifianakis) on a road trip so that he can make it in time for his child's birth.   
Todd Philips, the person responsible for the 2009 hit "The Hangover," directs this road trip comedy.  Philips teams up with Alan R. Cohen, Alan Freedland, and Adam Sztykiel to write the screenplay for the film.    
WHO SHOULD SEE IT:  Lovers of juvenile humor and zany comedies should see this movie.  If like previous works by Todd Philips like "The Hangover," "Road Trip," and "Old School" then "Due Date" is right up your alley.       
127 HOURS
Based on a harrowing true story, a mountain climber named Aron Ralston (James Franco) becomes trapped under a boulder while hiking near Moab, Utah and must turn to desperate measures in order to survive.   
English filmmaker Danny Boyle, known most recently for his award winning movie "Slumdog Millionaire," directs and writers this thriller.  Boyle receives assistance on the screenplay with Simon Beaufoy, who wrote "Slumdog Millionaire."  Boyle and Beaufoy adapt the story from Aron Ralston's own book Between a Rock and a Hard Place.
WHO SHOULD SEE IT:  Viewers hoping to see James Franco flex his talent in a more dramatic role should see this film.  If you are a Danny Boyle aficionado that also enjoys movies based on true stories, then you should watch "127 Hours."    
FOR COLORED GIRLS
This drama focuses on a group of African American women whose lives and experiences traverse at a 12-step healing program.
The African American auteur Tyler Perry directs and writes the screenplay for this drama.  Normally Perry writes his own original story, however in this instance he adapts a play by Ntozake Shange by the same name.  Perry's cast includes famous actresses like Janet Jackson, Thandie Newton, Whoopi Goldberg, Phylicia Rashad, Anika Noni Rose, Kimberly Elise, and Loretta Devine.   
WHO SHOULD SEE IT: Audiences that consistently appreciate Tyler Perry's storytelling ability should see this movie.  If you are a fan of the play by Ntozake Shange, and you're interested to see how all of the talented actresses portray the characters on screen, then you should see "For Colored Girls."   
FAIR GAME
While probing the existence of Weapons of Mass Destruction in Iraq, CIA operative Valerie Plame (Naomi Watts) finds out her identity has been allegedly revealed by the government as retaliation for an article by her husband (Sean Penn) criticizing the Bush administration. 
Spy movie producer Doug Liman, directs this real life inspired drama about Valerie Plame.  Jez Butterworth and John-Henry Butterworth create the screenplay for the film, which is based on Joseph Wilson's book The Politics of Truth and Plame's own book Fair Game. 
WHO SHOULD SEE IT: Those who followed the story of Valarie Plame closely when her identity was leaked to the press should see this biographical drama.  If you appreciate conspiracy films set against actual events then you should catch "Fair Game."