Trailer Talk: This Week In Movies - 'Little Fockers,' 'True Grit,' & More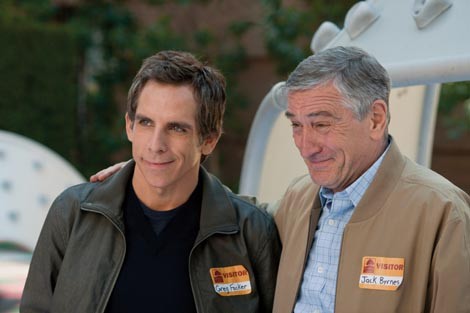 Hopefully you have finished most of your Christmas shopping by now, but if you still need to brave the crowds for a few last minute gifts, I wish you the best of luck. If you do not celebrate Christmas though, and you'll be looking for something to do on December 25th, fear not, because there are plenty of movies coming out this week for you to see.
In preparation for the sequel, last week I released a review of the original "Tron" film which you can find here if you haven't checked it out yet. I also had the chance to watch the new movie "Tron: Legacy" which is visually stimulating and sports a great soundtrack. For more of my thoughts, check out the full review here.
Landing in theaters for the Christmas weekend are the Ben Stiller comedy "Little Fockers," the Coen Brothers western "True Grit," the Sofia Coppola drama "Somewhere," the French animated film "The Illusionist," the silly fantasy "Gulliver's Travels," and the country music tale "Country Strong."
When Jack Byrnes (Robert De Niro) comes to town for the birthday of Greg (Ben Stiller) and Pam's (Teri Polo) twins, the dreaded father-in-law becomes suspicious after Greg starts moonlighting for a drug company. Through the usual series of comic misunderstandings and espionage, Greg must prove to Jack that he's capable as the man of the house or he risks breaking the circle of trust between them.
"American Pie" director Paul Weitz helms the third film about Greg Focker's search his father-in-law's approval. John Hamburg, who penned the previous two films, returns to write the screenplay with the assistance of newcomer Larry Stuckey.
WHO SHOULD SEE IT: Audiences that have been following Greg Focker faithfully through the years should see his latest set of trials and tribulations. If you appreciate comedies that derive humor from awkward situations that are always misinterpreted, then you should watch "Little Fockers."
 After her father is murdered in cold blood, a young girl (Hailee Steinfeld) recruits a tough-as-nails U.S. Marshall (Jeff Bridges) to track down the man who killed him.
Brothers Ethan and Joel Coen write and direct this remake of a John Wayne western, which is based on the Charles Portis novel by the same name. The Coens' version has Matt Damon and Josh Brolin co-starring.
WHO SHOULD SEE IT: Viewers that love the films of the Coen brothers should definitely be the first in line to see this western. If you think that Jeff Bridges will bring something fresh to the role which John Wayne originally played, then you should catch "True Grit."
A rough and tumble actor (Stephen Dorff) who spends his time holed up in the Chateau Marmont, receives a reality check, when his 11-year-old daughter (Elle Fanning) drops in to stay with him.
Sofia Coppola, the daughter of filmmaker Francis Ford Coppola and the woman behind 2003's "Lost in Translation," directs and writes this drama.
WHO SHOULD SEE IT: Those looking for a bit more serious fare this holiday weekend should see this motion picture. If you like Coppola's previous works "Lost in Translation," "Marie Antoinette," and "The Virgin Suicides," then you should check out "Somewhere."
 Set at the end of the vaudeville era, this film concentrates on a stage magician who finds his talents in increasingly less demand. While performing at a village pub off the coast of Scotland, he encounters Alice, a young girl who gives him a renewed interest in his work.
Award-winning French auteur Sylvain Chomet directs this animated movie. Chomet adapts a story originally conceived by late French director Jacques Tati.
WHO SHOULD SEE IT: Foreign film aficionados should seek out this animated movie wherever they can find it playing. If you are a fan of Sylvain Chomet or Jacques Tati, then you should view "The Illusionist."
The shipwrecked travel writer Lemel Gulliver (Jack Black) awakens on an island in the middle of the Bermuda Triangle, where he is a giant among the natives, the Lilliputians. Gulliver becomes an honored guest among the people, and helps them come up with a way to defeat their rivals, the Blefuscudians.
"Monsters vs Aliens" and "Shark Tale" director Rob Letterman helms this silly fantasy. "Shrek" scribe Joe Stillman teams up with "Get him to the Greek" director Nicholas Stoller to pen the screenplay for the movie, which is based on a book by author Jonathan Swift.
WHO SHOULD SEE IT: Parents looking for a lighthearted comedy to take their children to should check this one out. If you appreciate Jack Black's antics and sense of humor then you should see him in "Gulliver's Travels."
This drama centers on a rising country musician (Garrett Hedlund) who sparks with a fallen star (Gwyneth Paltrow). Together they mount a tour which makes him famous and helps her mount a comeback, however this leads to romantic complications involving her husband/manager (Tim McGraw) and a younger singer (Leighton Meester).
Shana Feste, the woman responsible for last year's drama "The Greatest," writes and directs this country music tale.
WHO SHOULD SEE IT: Country music fans who liked last year's "Crazy Heart" will probably enjoy this tale of an artist's struggle to regain stardom. If you're interested to see Gwyneth Paltrow actually play guitar and sing her own songs then you should watch "Country Strong."