Trailer Talk: This Week In Movies- 'Kick-Ass,' 'Death At A Funeral' & More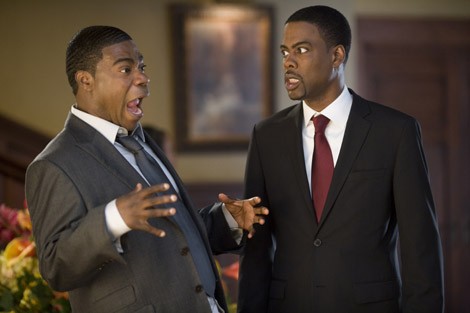 Thursday night I had the opportunity to see the rock n roll biopic "The Runaways" about the female 70s rock band featuring Joan Jett and Cherie Currie.  The film effectively establishes the era with all its drug-addled and grungy glory.  It paints the rise of the band as a whirlwind experience that ends almost as quickly as it starts.  This concept is well-conveyed through Floria Sigismondi's Dutch angles and spinning shots.   
Where the film falters however is giving its characters enough depth for the audience to relate to them.  They do not work hard enough to show us the girls are from broken homes, paying more lip service to it than screen time.  For this reason, it's hard to believe the band is like a family to each of its members. 
Dakota Fanning and Kristen Stewart lack chemistry as a pair, adding to the difficulty of sympathizing with them.  Michael Shannon is brilliant as their wacky music producer and musically the film is fun, but it doesn't get you to care about its protagonists.  My grade: B
Hitting movie theaters this week are the sarcastic super hero movie "Kick-Ass," the African American remake "Death at a Funeral," the documentary "Exit Through the Gift Shop," the foreign crime thriller "The Secret in Their Eyes," the dark comedy "The Joneses," and the sports drama "The Perfect Game."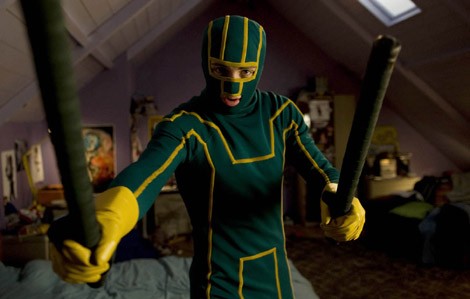 Even though he has no superpowers, teenage comic nerd Dave Lizewski (Aaron Johnson) dons a costume and decides to fight crime as a superhero called Kick-Ass.  The ramifications of this decision are far greater than he expects, as he inspires a series of copycats, puts his life in danger, and meets similarly minded father-daughter duo (Nicolas Cage and Choloe Moretz).    
English filmmaker Matthew Vaughn, the man responsible for 2007's "Stardust" and 2004's "Layer Cake," directs this action packed comic book film based on a series by Mark Millar.  Vaughn pens the screenplay with Jane Goldman who collaborated with him on "Stardust." 
WHO SHOULD SEE IT:  Comic book junkies obsessed with the Mark Millar series will be ecstatic to see their young heroes on screen in this film.  If you like superhero movies that operate outside the normal clichés then you should check out "Kick-Ass."    
The death of a patriarch creates a series of family arguments which uncover dark secrets and take everyone by surprise. 
Neil LaBute directs this remake of a 2007 film by the same title.  Dean Craig adapts his own previous screenplay to suit the talents of African American comedians Chris Rock, Martin Lawrence, and Tracy Morgan.   
WHO SHOULD SEE IT:  Fans of Chris Rock and Martin Lawrence should be the first in line to see the pair play off each other.  If you liked the original and you're interested to see the change in dynamic with a new cast then you should see "Death at a Funeral."
EXIT THROUGH THE GIFT SHOP
In his effort to locate and interview the well-known street artist Bansky, documentation Thierry Guetta has his camera turned back on himself in what becomes a chronicle of the proliferation of street art. 
The documentary's original subject, Bansky, directs this glimpse into the world of subversive art. 
WHO SHOULD SEE IT:  Artists and other creative types will want to see this documentary on a subject that is often overlooked by the mainstream.  If you want to see a film that delves into a generally unexplored area in the public eye then you should catch "Exit Through the Gift Shop."
THE SECRET IN THEIR EYES
Determined to revisit a case that still deeply haunts him, a retired court criminal investigator (Ricardo Darín) starts writing a novel based on the 25-year-old unsolved murder. 
Television director Juan José Campanella helms this crime thriller set in Argentina.  Campanella assists Eduardo Sacheri in adapting his novel entitled El Secreto de sus Ojos for the big screen.
WHO SHOULD SEE IT: Moviegoers looking to see this year's Oscar winner for Best Foreign Film should check out this movie.  If you seek out thrillers no matter what language they are in, then you should watch "The Secret in Their Eyes."
A picture-perfect family moves into a gated community, where they are a big hit with the neighbors, but this new family has a dark secret; they are really employees of a marketing firm seeking to turn a profit off these impressionable folks.
German newcomer Derrick Borte directs and pens the screenplay for this dark comedy.  Borte wrote the screenplay based on a story developed by Randy T. Dinzler, a collaborator with Borte on 2002's independent film "The End of the Bar."  David Duchovny and Demi Moore star is the parents of this illegitimate family, with Amber Heard and Ben Hollingsworth playing their children. 
WHO SHOULD SEE IT:  Viewers who appreciate David Duchovny's twisted humor on the show "Californiacation" will probably be most excited about this movie.  However if you like films that generate serious social commentary about our lifestyle as Americans, then you should see "The Joneses."
In 1957, an underdog squad from Monterrey, Mexico struggles to become the first non-U.S. team to win the Little League World Series. 
William Dear, the man behind the heartwarming Disney baseball flick "Angels in the Outfield," returns to the baseball diamond again to helm this inspirational story.  W. William Winokur adapts his novel which bears the same title for the screen. 
WHO SHOULD SEE IT: Baseball aficionados who enjoy the sport at all levels of play should be the first ones to see this movie.  If you like inspirational sports dramas that involve ragtag teams no one believes in doing the seemingly impossible, then you should watch "The Perfect Game."