Trailer Talk: This Week in Movies - 'Just Go with It,' 'Gnomeo and Juliet' & More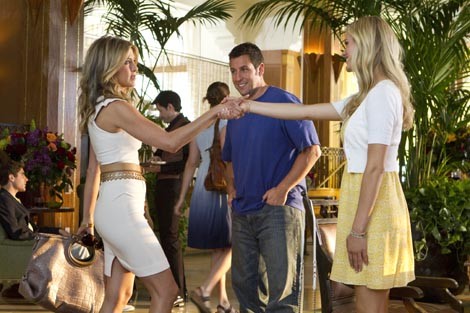 Last week I did not catch anything new in theaters, but I had the opportunity to see Ben Affleck's Boston crime thriller "The Town" and the noir drama "Winter's Bone" on Netflix.  Both turned out to be quite enjoyable, although I found "Winter's Bone" slightly more captivating than "The Town."
Despite some obvious similarities to Michael Mann's "Heat," Affleck manages to spin this tale about robbers from the working-class neighborhood of Charlestown into a compelling movie.  His focus on the people from this community is what propels the story.  There are frantic bank heists, memorable characters, and a classic rivalry between the crooks and the FBI agent (Jon Hamm) on their trail.   My Grade: B+
The gritty indie drama "Winter's Bone" takes the classic film noir template and tweaks it to suit the backwoods of Missouri quite adeptly.  A desperate girl (Jennifer Lawrence) takes on the role of investigator, as she attempts to find her drug addict father in time for his court date.  She meets with nothing but contempt from her secretive family members, who discourage her from asking questions about her father's whereabouts.  Jennifer Lawrence wows as the stalwart Ree Dolly, a teenager with interminable strength of character.   Her quest takes you on a dark journey you won't be able to look away from.  My Grade: A                         
Fare at the box office this week is mostly lighthearted with comedies like "Just Go with It," "Gnomeo and Juliet," and "Cedar Rapids," as well as the documentary "Justin Bieber: Never Say Never."  The only really serious film premiering is Channing Tatum's Roman battle flick "The Eagle." 
For years, Danny (Adam Sandler) has pretended to be an unhappy husband in order to engage in casual affairs with single women.  His usual plan backfires though, when his new girlfriend (Brooklyn Decker) is outraged after finding his wedding ring.  In order to convince her that he's on the level, Danny asks a mother of two (Jennifer Aniston) to pose as his soon-to-be-divorced wife. 
Frequent Adam Sandler collaborator Dennis Dugan directs this goofy romantic comedy.  Allan Loeb, the scribe behind recent films like "The Dilemma" and "The Switch," teams up with "Role Models" writer Timothy Dowling to pen the screenplay for this movie.  The two borrow from the story of 1969's "Cactus Flower," which in turn is based a French play.              
WHO SHOULD SEE IT:  Followers of Adam Sandler's style of comedy should see this film.  If you enjoy previous collaborations between Dugan and Sandler like "Big Daddy" and "Happy Gilmore" then you should view "Just Go with It."            
This animated version of Shakespeare's famous play, is about star-crossed lovers Gnomeo (voice of James McAvoy) and Juliet (voice of Emily Blunt), from rival garden gnome families.     
The man behind "Shrek 2," Kelly Asbury, writes and directs this animated adaptation of Shakespeare.  Asbury writes the screenplay with the assistance of Mark Burton, Kevin Cecil, Emily Cook, Kathy Greenberg, and Andy Riley.  In addition to the voices of James McAvoy and Emily Blunt, you will hear the talents of Michael Caine, Jason Statham, Maggie Smith, Ozzy Osbourne, Patrick Stewart, Hulk Hogan, and Dolly Parton.         
WHO SHOULD SEE IT:  Audiences that appreciate silly animated films should see this movie.  If you like Shakespeare adaptations in all forms, then you should catch "Gnomeo and Juliet."                     
Tim Lippe (Ed Helms), a naïve small-town guy, is sent to Cedar Rapids, Iowa to represent his company at an insurance convention.  Once he arrives, Tim quickly finds three convention veterans who are anxious to show him the ropes and bring him along on a series of adventures.   
"Youth in Revolt" director Miguel Arteta helms this comedy about self-discovery and new opportunities.  Short writer Phil Johnston pens the screenplay for this film. 
WHO SHOULD SEE IT: Viewers that have grown attached to actor Ed Helms on television's "The Office," and from his role in "The Hangover," should be first in line to see this.  If you are a fan of fish out of water style comedies then you should definitely check out "Cedar Rapids."        
In 140 AD, the Roman soldier Marcus Aquila (Channing Tatum) leaves on a quest to repair his father's reputation.  Marcus hopes to track down his father, the one-time commander of Rome's Ninth Legion, who vanished in the mountains of Scotland twenty years earlier. 
Scottish director Kevin Macdonald, the man responsible for the 2009 thriller "State of Play," directs this ancient action adventure.  Jeremy Brock, a previous collaborator with Macdonald on "The Last King of Scotland," adapts the screenplay for the film from a novel called The Eagle of the Ninth by Rosemary Sutcliff. 
WHO SHOULD SEE IT: Period piece aficionados that prefer tales set during the Roman Empire should see this movie.  If you think Channing Tatum will excel in his lead role, then you should watch "The Eagle."   
JUSTIN BIEBER: NEVER SAY NEVER
This documentary focuses on musician Justin Bieber's early life, his rise to fame, while taking you behind the scenes of his 2010 tour.
Jon Chu, the director of dance heavy flicks like "Step Up 2: The Streets" and "Step Up 3D," runs this look glimpse into Justin Bieber's life.  Celebrities that appear in the film include Boys II Men, Miley Cyrus, Sean Kingston, Ludacris, Jaden Smith, and Usher. 
WHO SHOULD SEE IT: Young viewers that love Justin Bieber's music will probably be the most excited about this 3D documentary.  If you're interested to see how Bieber grew up and got his start, then you should see "Justin Bieber: Never Say Never."