Trailer Talk: This Week In Movies - 'Jackass 3-D,' 'Conviction,' & More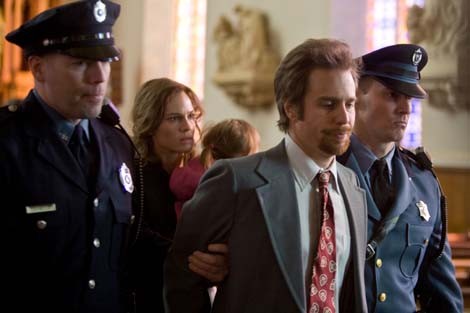 Robert De Niro and Edward Norton's latest collaboration "Stone" turned out to be a serious disappointment.  While both of the actors turn in decent performances in their respective roles, the film's writing and directing are seriously lacking.  "Stone" dabbles in several concepts such as morality, spirituality, and loyalty; however it does not pay enough attention to any of them to make a cohesive story.
Norton plays Stone, a convict seeking parole, who employs his attractive wife (Milla Jovovich) to seduce his parole officer (De Niro).  Over the course of the film it's never quite clear Stone's exact motivations, whether they are a devious conman at work, or simply a misunderstood character seeking a second chance. 
De Niro's Jack is equally puzzling, since he's a churchgoing man, dedicated to his career that too easily falls prey to Stone's scheme.  Aside from the unclear intentions of its characters, the pacing of the movie is laboring, dragging you through uninspiring and banal activities of the characters' lives.  My Grade: D    
Fans of Johnny Knoxville and company will be delighted to see "Jackass 3-D" in theaters this week, alongside the Sam Rockwell/ Hilary Swank drama "Conviction," the lighthearted action film "Red," and the independent crime thriller "Down Terrace." 
JACKASS 3-D
Johnny Knoxville, Steve-O, and Bam Margera return for the third chapter in their TV show spin-off, promising more dangerous stunts and ridiculous public behavior.   
Jeff Tremaine, the man behind the previous two "Jackass" films, returns to helm this 3-D spectacle.  Preston Lacy, another collaborator on the other movies, pens the screenplay
WHO SHOULD SEE IT:  Fans of the "Jackass" franchise should be the first people in line to see this wild debauchery.  If you are thrilled by the concept of intense stunts and raunchy pranks in three dimensions then you should see "Jackass 3-D."  
CONVICTION
A single mother (Hilary Swank) takes nearly two decades to put herself through law school in order to help get her brother's (Sam Rockwell) false murder conviction overturned.   
The actor Tony Goldwyn, steps behind the camera to direct this drama based on an incredible true story.  Pamela Gray, the scribe for 1999's "Music of the Heart," writes the screenplay for this film.
WHO SHOULD SEE IT:  Audiences that appreciate movies based on real-life events should see this emotional drama.  If you enjoy both Hilary Swank and Sam Rockwell then you should watch "Conviction."   
RED
After his quiet life is threatened by the assassinations of former comrades, former black-ops agent Frank Moses (Bruce Willis) reassembles his old team in one last shot at survival.   
German-born filmmaker Robert Schwentke directs this exciting action film.  The team behind 2009's "Whiteout," Jon Hoeber and Erich Hoeber, adapt the story from a graphic novel by Warren Ellis and Cully Hammer.  Joining Bruce Willis on screen are the talents of Morgan Freeman, John Malkovich, Helen Mirren, Mary-Louise Parker, and Brian Cox.       
WHO SHOULD SEE IT:  Followers of the graphic novel "Red" will be excited to see it receive a big screen adaptation.  If you think the combination of actors in this film is a recipe for success then you should catch "Red." 
DOWN TERRACE
Freshly released from prison, a father and son team (Robin and Robert Hill) struggle to keep their crime family together, while attempting to root out the police informant in their midst.  
British television director Ben Wheatley helms his first feature length film with this dark comedy.  Wheatley collaborates on the screenplay with one of the stars, Robin Hill. 
WHO SHOULD SEE IT: Mafia movie aficionados will be the most interested in seeing this British crime comedy.  If you like seeing films about the complications of working with your family then you should check out "Down Terrace."