Trailer Talk: This Week In Movies - 'Immortals,' 'J. Edgar,' & More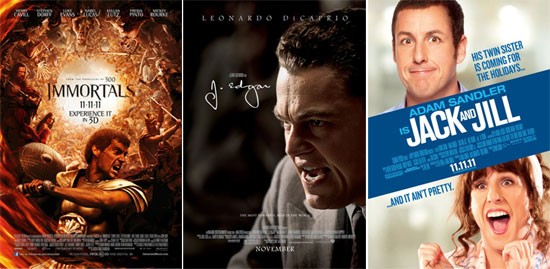 Recently I had the opportunity to speak with Todd Strauss-Schulson, the director of last week's comedy "A Very Harold and Kumar 3D Christmas."  I had fun speaking one-on-one with the fellow Emerson alum about his experiences directing his first major feature length film. Check out my interview here.   
Dropping in at the box office this week are the Tarsem Singh Greek epic "Immortals," the Clint Eastwood biopic "J. Edgar," the Lars Von Trier apocalyptic drama "Melancholia," the Adam Sandler comedy "Jack and Jill," the William Monahan gangster flick "London Boulevard," the Werner Herzog documentary "Into the Abyss," and the Darren Lynn Bousman horror/thriller "11-11-11."             
MY PICK FOR THE WEEK: London Boulevard
Driven to insanity by his power, the cutthroat King Hyperion (Mickey Rourke) tears Greece apart in search of the legendary Epirus Bow, a weapon capable of destroying the Gods and raining destruction upon all mankind.  Since the divine are unable to meddle in human affairs, Zeus (Luke Evans) secretly charges the mortal Theseus (Henry Cavil) with defeating Hyperion's bloodthirsty army. 
Director: Tarsem Singh ("The Fall," "The Cell")
Writers:  Newcomer Charley Parlapanides and Vlas Parlapanides ("Everything for a Reason")    
ORIGINALITY RATING: Low.  Epic battle films set in ancient Greece have been done to death.  "Immortals" specifically looks like a combination of the new "Clash of the Titans" and "300."  The only aspect of the movie that really excites me is Tarsem Singh in the director's chair. I'm hoping he carries over the vibrant colors and excellent art direction that made his last project "The Fall," such a visual feast. 
WHO SHOULD SEE IT:  Action buffs who like large bloody conflicts fought on ancient battlefields.  If you like hyper stylized movies that have comic book like characters and palettes then you should seek out "Immortals."                        
WHEN TO SEE IT: Wait a week so you don't have to fight the crowds.