Trailer Talk: This Week in Movies - 'I Am Number Four,' 'Unkown' & More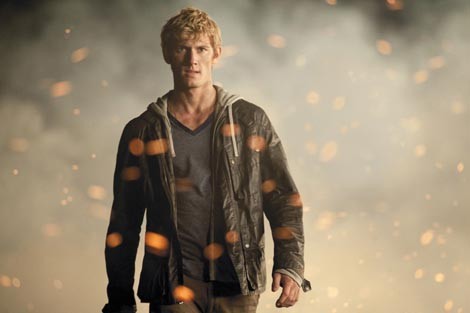 The latest Best Picture Oscar nominee I've had the chance to watch is "The King's Speech," starring Colin Firth, Geoffrey Rush, and Helena Bonham Carter. This period piece, which takes place in the 1930s leading into World War II, follows the soon-to-be crowned King George VI (Colin Firth), a man who suffers from a stammer. 
George's speech impediment severely limits him in the numerous public speaking engagements he must attend, and leaves him without confidence as a leader. When traditional speech therapy fails him, his wife Elizabeth (Helena Bonham Carter) seeks out the unorthodox Lionel Logue (Geoffrey Rush) to aid her husband. At first, Logue's informal methods clash with the king's royal upbringing, but over time the two form a strong bond.
Colin Firth gives a convincing performance as the King George VI, showing us a character who legitimately struggles with demons from his past that created his impediment. While normally Bonham Carter plays outlandish roles, she reins herself in skillfully to play quietly caring Elizabeth. Geoffrey Rush excels as the unflinching speech therapist Lionel Logue, proving that tough love can be the most fruitful way to help patients. The solid performance of the main actors is further supported by director Tom Hooper's ability to create anxiety around public speaking. He accomplishes this through his use of high and low shots with a wide angle lens that make each event feel nerve wracking. My Grade: A
Thrillers dominate the lineup of movies debuting this week. You'll have the chance to see the sci-fi thriller "I Am Number Four," the Liam Neeson action thriller "Unknown," and the horror thriller "Vanishing on 7th Street." Rounding out the list are the Martin Lawrence comedy "Big Mammas: Like Father, Like Son," and the Tom Shadyac documentary "I Am."
I AM NUMBER FOUR
Nine alien teenagers escape to Earth after their planet is destroyed by an enemy species. Once on Earth though, they discover their nemesis has followed them. Three of the nine have been tracked down and murdered but John (Alex Pettyfer), who is Number Four, lives on the run hoping to avoid the same grisly fate as his peers.
D.J. Caruso, the man behind "Disturbia" and "Eagle Eye," directs this sci-fi thriller. Frequent collaborators Alfred Gough and Miles Millar team up with "Buffy the Vampire" series producer Marti Noxon to pen the screenplay for the film. The three base their story on a novel James Frey and Jobie Hughes.
WHO SHOULD SEE IT: Viewers that enjoy their sci-fi films mixed with action and thriller elements should see this movie. If you're a fan of D.J. Caruso's previous work like "Disturbia," "Eagle Eye," and "Taking Lives" then you should see "I Am Number Four."
UNKNOWN
Dr. Martin Harris (Liam Neeson) comes out of a coma to discover that another man has assumed his identity. When he accuses the man of being an imposter, no one believes him, not even his wife (January Jones). With the help of a young woman (Diane Kruger), Harris hopes to prove who he is.
Jaume Collet-Serra, the director of the 2009 horror film "Orphan," helms this mysterious thriller. Oliver Butcher joins forces with Stephen Cornwell to write its screenplay, which is based on a novel called Out of My Head by Didier Van Cauwelaert.
WHO SHOULD SEE IT: Audiences that appreciate the iron will and angry stare of Liam Neeson's vengeful characters, will be the most excited about this movie. If you loved him as the tough as nails father in "Taken," then you should definitely watch "Unknown."
BIG MAMMAS: LIKE FATHER, LIKE SON
FBI agent Malcolm Turner (Martin Lawrence) and his son Trent (Brandon T. Jackson) are forced undercover at an all-girls performing arts school after Trent witnesses a murder. Disguised as Big Momma and Charmaine, they must find the killer before he finds them.
John Whitesell directs his second "Big Momma" film, after running 2002's "Big Momma's House 2." Matthew Fogel writes the screenplay for the comedy, basing it on a story he developed with Don Rhymer, who has worked on all three movies in the series.
WHO SHOULD SEE IT: Followers of Martin Lawrence should probably be first in line to see this goofy comedy. If you've laughed along with the previous entries in this series, then you should catch "Big Mommas: Like Father, Like Son."
VANISHING ON 7TH STREET
After a massive power blackout leads to the disappearance of a city's population, a small resistance group huddles inside a tavern to survive as the darkness closes in on them.
Brad Anderson, the filmmaker responsible for "The Machinist," directs this horrifying thriller. Television movie scribe Anthony Jaswinski pens the screenplay for the film. Hayden Christensen, John Leguizamo, and Thandie Newton star as three of the survivors hoping to escape death.
WHO SHOULD SEE IT: Those who crave large scale disaster type thrillers should see this film. If you think the combination of Hayden Christensen, John Leguizamo, and Thandie Netwon will be an excellent one, then you should check out "Vanishing on 7th Street."
I AM
In this documentary, Tom Shadyac interviews intellectual and spiritual leaders about what's wrong with our world and how we can improve it.
Tom Shadyac, who is known best for directing comedies like "Ace Ventura" and "Bruce Almighty," steps into the world of documentary filmmaking. After experiencing a brush with death, Shadyac decided to embark on a deeply personal journey to find out how we all can make the world a better place.
WHO SHOULD SEE IT: Academics that teach about the similarities we all share as human beings will probably be most interested in seeing this film. If you like to watch thought provoking documentaries that examine human nature in depth, then you should catch "I Am."