Trailer Talk: This Week In Movies-'How To Train Your Dragon,' 'Greenberg,' & More

On Thursday night I finally went to see "Crazy Heart" since it was still playing at one of my local theaters.  While it's not always the happiest film, it is grounded and real, like you're actually following the life of a country musician addicted to the rock star lifestyle, despite being past his prime.
Jeff Bridges gives a deep and nuanced performance as the lead character Bad Blake, convincingly portrays a washed up country singer riding on fumes.  Blake's selfish behavior and penchant for the bottle alienate him from other characters in the film, but Bridges' kind face and sense of humor make him an endearing schlub to the viewer.
Maggie Gyllenhaal provides a strong supporting performance as a young journalist and mother who becomes Blake's love interest and impetus to succeed in music again.  Normally I do not like Colin Farrell; however he is surprisingly credible as Blake's protégé Tommy Sweet, who has become more famous than Blake himself.
The story for "Crazy Heart" is well written, and throughout some of its darker moments it still maintains a sense of humor.  Music written for the film and performed by the actors is both catchy and entertaining, adding to the enjoyment factor of the overall product.  My Grade: A   
The last full week of March brings us the animated adventure "How to Train Your Dragon," the Ben Stiller dramedy "Greenberg," the thriller "Chloe," and the outrageous comedy "Hot Tub Time Machine."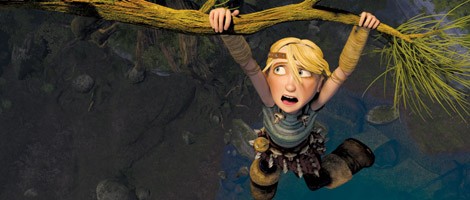 The young Viking Hiccup Horrendous Haddock the Third (the voice of Jay Baruchel) is sent to the Isle of Berk to tame a dragon as his rite of passage. 
Dean DeBlois and Chris Sanders, the minds at Disney who collaborated on "Mulan" and "Lilo and Stitch," team up again to direct "How to Train Your Dragon."  Sanders and DeBlois also pen the screenplay with the assistance of Cressida Cowell, Adam F. Goldberg, and Peter Tolan.
WHO SHOULD SEE IT:  Fans of the Dreamworks animation team's previous outings "Kung Fu Panda" and "Madagascar" should see this movie.  If you are looking for a family-friendly film to take your children to, then you should see "How to Train Your Dragon."
An unemployed New Yorker (Ben Stiller) moves to Los Angeles to reevaluate his life plan while he looks after his brother's house.  He quickly forms a connection with his brother's assistant (Greta Gerwig), a musician and fellow lost soul. 
Noah Baumbach, who wrote and directed 2005's "The Squid and the Whale," helms this dramedy.  Baumbach's wife, actress Jennifer Jason Leigh, helped develop the story with him, and stars in the film as well.
WHO SHOULD SEE IT:  Viewers hoping to see Ben Stiller portray a more serious character for a change of pace should watch this movie.  If you liked the sense of humor that Noah Baumbach brought to the screenplays for "The Fantastic Mr. Fox" and "The Life Aquatic with Steve Zissou" then "Greenberg" is your type of film.
A doctor (Julianne Moore) who suspects her husband of infidelity hires an escort named Chloe (Amanda Seyfried) to seduce her husband in order to test his loyalty; however the doctor soon becomes doubtful of her ability to trust Chloe as well. 
Canadian filmmaker Atom Egoyan directs this thriller adapted from the Anne Fontaine film "Nathalie."  Erin Cressida Wilson, the woman behind the screenplay for 2002's "Secretary," adapts the picture for American viewers. 
WHO SHOULD SEE IT:  Audiences that appreciate the acting chops of Julianne Moore and Liam Neeson, are the primarily ones who should watch this film.  If you're engrossed by thrillers that involve deceit and love triangles then you should see "Chloe."
Four guy pals, bored with their adult lives, are transported back to their respective 1980s heydays thanks to a time traveling hot tub. 
Steve Pink, the writer behind the John Cusack comedies "Grosse Point Blank" and "High Fidelity" directs Cusack for the first time in this comedy.  Sean Anders and John Morris, the two guys behind 2008's "Sex Drive" reunite to pen the screenplay for "Hot Tub Time Machine" with the help of Josh Heald.   
WHO SHOULD SEE IT: Those that enjoy ridiculous buddy comedy films should be the first ones in line to see this movie.  If you watched John Cusack growing up and you'd like to see him poke fun at his heyday in the 1980s then you should check out "Hot Tub Time Machine."