Trailer Talk: This Week In Movies - 'Harry Potter And The Deathly Hallows: Part 2,' 'Winnie The Pooh' & More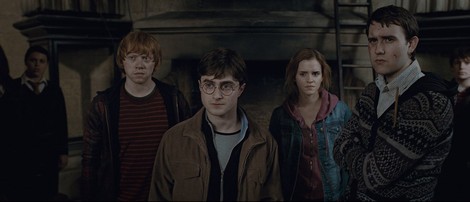 Last week I took a break from the theater while I was on vacation, so I didn't catch anything new.  However I did watch the Nick Cassavetes crime drama "Alpha Dog."
"Alpha Dog" squanders a talented cast of young actors including Anton Yelchin, Justin Timberlake, Emile Hirsch, Olivia Wilde, and Ben Foster with poorly developed character relationships and atrociously written dialogue. 
Cassavetes throws in lots of curses to make the young punks seem like hard asses, but instead it makes them seem like ridiculous caricatures of the supposed real life people they're based on.  The only believable moments in the film come from the bond formed between Justin Timberlake and Anton Yelchin; gifted actors who seem like have an easier time overcoming the limitations of the script.  My Grade: D
The long-awaited conclusion to the "Harry Potter" series "Harry Potter and the Deathly Hallows: Part 2" arrives in theaters this weekend.  If Harry Potter is not your thing though you'll have the opportunity to see the family friendly "Winnie the Pooh," the Chinese drama "Snow Flower and the Secret Fan," the Errol Morris documentary "Tabloid," the South African tale "Life, Above All," the Argentine thriller "Phase 7," and the religious satire "Salvation Boulevard."   
HARRY POTTER AND THE DEATHLY HALLOWS: PART 2
Harry, Ron, and Hermione resume their mission to destroy Lord Voldemort's three remaining Horcruxes, the items that give him immortality.  As they discover more about the Deathly Hallows and Voldemort learns of their plan though, Harry must confront the Dark Lord in one last epic battle.    
David Yates, director of the last three "Harry Potter" films, returns to helm the second part to the series finale.  Scribe Steve Kloves, the writer for all of the movies aside from "Order of the Phoenix," comes back as well, to adapt J.K. Rowling's popular novels for the screen.      
WHO SHOULD SEE IT:  Harry Potter addicts who have been following him since "Harry Potter and the Sorcerer's Stone," should be first in line for this.  If you've read the Harry Potter books recently and you really enjoy them, you should capitalize on the chance to see the last chapter "Harry Potter and the Deathly Hallows: Part 2," while it's in theaters.   
Winnie the Pooh is having an ordinary day searching for honey in the Hundred Acre Wood, when he discovers Christopher Robin is missing.  Misinterpreting a note written by the boy, Pooh convinces all his pals that their young friend has been captured by a creature called "Backson," and that they must save him.    
Previous Disney collaborators Stephen J. Anderson and Don Hall team up again to co-write and direct this traditional animation adventure.  Anderson and Hall have help on the story from Clio Chiang, Don Dougherty, Brian Kesinger, Nicole Mitchell, and Jeremy Spears. 
WHO SHOULD SEE IT:  Parents, whose children are too young for "Harry Potter and the Deathly Hallows: Part 2," should bring their family to see this film.  If you have always loved Winnie the Pooh and other characters from the Hundred Acre Wood, you should watch them in their latest story "Winnie the Pooh." 
SNOW FLOWER AND THE SECRET FAN
"Snow Flower and the Secret Fan" is a two-tiered tale set in present-day Shanghai and 19th century China.  Longtime friends Nina and Sophia try to balance careers, husbands, and families, as they attempt to understand their connection through a fan decorated with mysterious writing.  The narrative follows the creation of the fan by Nina and Sophia's ancestors Snow Flower and Lily, two seven-year-old girls matched as laotong, friends bound together for eternity. 
Chinese filmmaker Wayne Wang directs this drama set in two time periods.  Angela Workman, Ronald Bass, and Michael Ray join forces to pen the screenplay for the film, which they adapt from a novel by Lisa See.    
WHO SHOULD SEE IT: Audiences that enjoyed Wayne Wang's film "The Joy Luck Club," should see this, since it focuses on similar themes of relationships between Asian female characters.  If you like dramas that jump between different time periods like "The Red Violin," then you should view "Snow Flower and the Secret Fan."      
This documentary focuses on Joyce McKinney, a former Miss Wyoming, charged with the 1978 kidnapping of a Mormon missionary with whom she became smitten. 
Veteran documentarian Errol Morris directs this glimpse into tabloid coverage of Joyce McKinney's story. 
WHO SHOULD SEE IT: Those alive during the 1970s who were perplexed by this kidnapping case should see this documentary to learn more.  If you are fascinated with how gossip papers distort the truth and wreak havoc on those they report on, then you should catch "Tabloid."    
As she struggles to deal with her infant sister's death, young Chanda (Khomotso Manyaka) must combat a painful rumor which causes her mother to flee their village near Johannesburg.  Gathering all her strength, Chanda sets out in search of her mother and the truth.    
South African director Oliver Schmitz helms this drama set in his native country.  Dennis Foon pens the screenplay, adapting it from a novel by Allan Stratton.    
WHO SHOULD SEE IT: Foreign film aficionados that appreciate South African cinema should see this.  If you appreciate Allan Stratton's book Chanda's Secrets then you should seek out "Life, Above All."       
PHASE 7
With a pandemic spreading across Buenos Aires, Coco (Daniel Hendler) attempts to protect his pregnant wife Pipi (Jazmín Stuart) in their quarantined apartment building by teaming up with his neighbor Horacio (Yay Guridi), a suspicious man armed to the teeth with weapons. 
Editor Nicolás Goldbart takes his first stab at writing and directing with this sci-fi thriller. 
WHO SHOULD SEE IT: Viewers that dig foreign thrillers should definitely check this film out.  If you enjoy conspiracy theories like the trailer seems to be hinting at, and you're not afraid to read subtitles then you should see "Phase 7."       
Former hippie-turned-Born-Again-Christian Carl Vanderveer (Greg Kinnear) is framed for murder by his town's pastor (Pierce Brosnan), who accidentally shoots his rival, Dr. Paul Blaylock (Ed Harris) and leaves him for dead.
George Ratliff, the man behind the 2001 religious documentary "Hell House," directs this religious satire.  Ratliff co-writes the screenplay with Douglas Stone, adapting it from a book by Larry Beinhart. 
WHO SHOULD SEE IT: People who enjoy laughing at religious stereotypes should see this.  If you don't take religion seriously, and you are a fan of Larry Beinhart's book, then you should find "Salvation Boulevard" wherever it is playing.