Trailer Talk: This Week in Movies - 'Grown Ups,' 'Knight and Day,' & More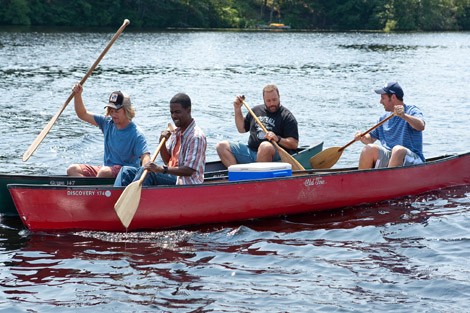 I saw two films from last week's line up: "Toy Story 3" and "Jonah Hex."  As expected "Toy Story 3" was absolutely amazing.  Pixar continues to surprise me by making entertaining films that are both funny and poignant at the same time.  I'm always impressed by their ability to create a story that appeals to people of all ages.
The latest installment in the franchise has Woody, Buzz, and the gang struggling to figure out what to do now that Andy is leaving for college.  When they are accidentally donated to a local day care center, the pals plan an escape back to their owner.  On the way they grapple with themes of aging and abandonment, however there is still a great deal of humor despite the heavy subject matter.  Michael Keaton is hilarious as Ken, the well-dressed egotistical doll from Barbie fame.  My Grade: A 
"Jonah Hex" in many ways reminds me of "Wild Wild West," which in my opinion is a better blend of the sci-fi and western genres.  Josh Brolin is amusing as the cold-hearted gunslinger Jonah Hex and John Malkovich plays a dastardly villain.  There is not much depth however to Megan Fox's character.  At 81 minutes, I find its tight running time respectable since the writers do not drag out the material, but it leaves you wanting more action, cool weapons, and supernatural events.  My Grade: B-
Opening in theaters this week is the comedy "Grown Ups," the Tom Cruise action film "Knight and Day," the gritty war documentary "Restrepo," and the French romantic tale "Wild Grass."
GROWN UPS
After their childhood basketball coach passes away, five good friends reunite for the Fourth of July holiday weekend. 
Dennis Dugan, the man who directed Adam Sandler's previous films "I Now Pronounce You Chuck and Larry" and "You Don't Mess With the Zohan," collaborates with Sandler again for this comedy starring several "Saturday Night Live" alums.  Adam Sandler pens the screenplay with the assistance of former "SNL" writer Fred Wolf.  The cast for "Grown Ups" includes Adam Sandler, Salma Hayek, David Spade, Chris Rock, Rob Schneider, and Kevin James    
WHO SHOULD SEE IT:  Fans of "Saturday Night Live" from the early 90s will appreciate the reunion of their favorite cast members in this movie.  If you enjoy the humor of Adam Sandler and his former "SNL" cohorts then you should see "Grown Ups."   
KNIGHT AND DAY
Ordinary citizen June Havens (Cameron Diaz) has her average existence disrupted by a secret agent (Tom Cruise), who realizes that he is not supposed to survive his latest assignment.  As they hop around the globe to stay alive, they learn that they can only count on each other.   
Filmmaker James Mangold follows up his 2007 effort "3:10 to Yuma," by directing this action movie.  Actor Patrick O'Neill's first screenplay credit comes from writing "Knight and Day."        
WHO SHOULD SEE IT:  Audiences searching for a fast-paced thriller with goofy humor should look no further than this film.  If you love Tom Cruise as an action hero, then you should watch "Knight and Day."
RESTREPO
Documentary filmmakers Tim Hetherington and Sebastian Junger, spend a year alongside a U.S. army platoon in Afghanistan's Korengal Valley, an enemy stronghold considered to be one of the most dangerous places in the country. 
Hetherington and Junger won the Sundance Film Festival's Grand Jury prize for directing this emotionally charged film. 
WHO SHOULD SEE IT:  Army documentary enthusiasts should be the first in line to see this movie.  If you feel it's necessary to see the atrocities of war in order to prevent them, then you should see "Restrepo."   
WILD GRASS
Marguerite's lost wallet leads her to Georges, the man who finds it, however neither of them is ready for the romantic consequences of their meeting.    
Seasoned French director Alain Resnais helms this romantic drama.  Alex Reval and Laurent Herbiet adapt this story from the novel L'incident.      
WHO SHOULD SEE IT: Foreign film aficionados should try to catch this drama.  If you appreciate the work of Alain Resnais then you should see "Wild Grass."