Trailer Talk: This Week In Movies - 'Green Lantern,' 'Mr. Popper's Penguins,' & More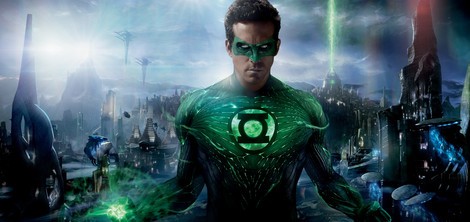 I was impressed last week by the J.J. Abrams picture "Super 8," which pays skillful homage to the craft of film's executive producer on the project, Steven Spielberg.  Abrams takes his own trademark intrigue and mashes it up with themes present in classic Spielberg stories like "E.T.: The Extra-Terrestrial" and "Jaws," to create a movie that is both visually impressive and possesses heart.  For more of my thoughts, check out my review if you haven't already.    
Hitting the box office this week are the Ryan Reynolds comic book vehicle "Green Lantern," the Jim Carrey comedy "Mr. Popper's Penguins," the indie romance "The Art of Getting By," the documentary on animal trainer Buck Brannaman simply titled "Buck," and the documentary on the inner workings of a famous newspaper "Page One: Inside the New York Times." 
After receiving a mystical green ring that bestows him with super powers, test pilot Hal Jordan (Ryan Reynolds) becomes the first human inducted into an intergalactic organization charged with keeping peace throughout the universe.  As part of his new duties, Jordan must stop an enemy known as Parallax, which threatens to destroy the balance of power between good and evil.    
Martin Campbell, the man behind awesome Bond films like "GoldenEye" and "Casino Royale," directs this epic superhero adaptation.  A team of television writers and producers associated with superhero programs like "No Ordinary Family" and "Heroes" join forces to pen the screenplay for this movie.  The team includes Greg Berlanti, Michael Green, Marc Guggenheim, and screenwriter Michael Goldberg.      
WHO SHOULD SEE IT:  Followers of Ryan Reynolds, who appreciate his sarcastic sense of humor, should see this.  If you are a big fan of the Green Lantern comics, then you should judge whether Martin Campbell does the character justice by watching "Green Lantern."    
Businessman Mr. Popper (Jim Carrey) receives a penguin as a gift, but one isn't enough, and he soon finds himself taking care of five more.  This requires him to make significant changes to his home and his lifestyle in order to accommodate his flightless friends.   
Mark Waters, a director known for comedies like "Mean Girls" and "Freaky Friday," steps up to helm this Jim Carrey tale.  Frequent collaborators Sean Anders and John Morris, team up with Jared Stern for the first time, in order to adapt this story for the screen from a Richard and Florence Atwater novel by the same name. 
WHO SHOULD SEE IT:  Parents seeking a safe comedy to take their children to this weekend should check this film out.  If you or your kids enjoyed the book Mr. Popper's Penguins, then you should definitely see the movie adaptation "Mr. Popper's Penguins." 
George (Freddie Highmore) is a lonely slacker who has somehow coasted through high school without doing any real work.  Things change for him dramatically in his senior year though, when he is befriended by Sally (Emma Roberts), a popular but complicated girl that causes George to question his priorities.    
Newcomer Gavin Wiesen writes and directs this independent romance.  Blair Underwood, Rita Wilson, Alicia Silverstone, and Michael Angarano co-star alongside Highmore and Roberts. 
WHO SHOULD SEE IT: Independent film aficionados with a preference for quirky romance should see this.  If you appreciate coming of age stories where love causes someone to grow and change for the better, then you should seek out "The Art of Getting By." 
BUCK
This documentary focuses on Buck Brannaman, a well-known "horse whisperer," who helps people connect with their animals. 
Cindy Meehl directs and produces her first feature length film by taking on this project. 
WHO SHOULD SEE IT: Horse lovers and trainers who are fascinated by the art of taming the animals should see this documentary.  If you've heard about Buck Brannaman before, and you've always wanted to learn more about his life, then you should catch "Buck."    
PAGE ONE: INSIDE THE NEW YORK TIMES
"Page One: Inside the New York Times," is a documentary shot over the course of one year at the New York Times, which concentrates on a group of reporters at the paper's newly created media desk.  These employees, tasked with keeping the paper up to date with the transforming media landscape, encounter a number of trials and tribulations along the way.   
Andrew Rossi, the documentarian responsible for films like "Le Cirque: A Table in Heaven" and "Eat This New York," directs and writes this look into the New York Times.  Rossi receives help writing the script from Kate Novack, his producer and previous collaborator.    
WHO SHOULD SEE IT: Journalists struggling to keep up with the changes necessary to survive in the world of internet reporting should see this film to learn about how they can improve their own reporting.  If you're a regular reader of the New York Times, and you're interested in seeing the people behind the paper, then you should view "Page One: Inside the New York Times."