Trailer Talk: This Week in Movies - 'Ghost Rider: Spirit of Vengeance,' 'This Means War,' & More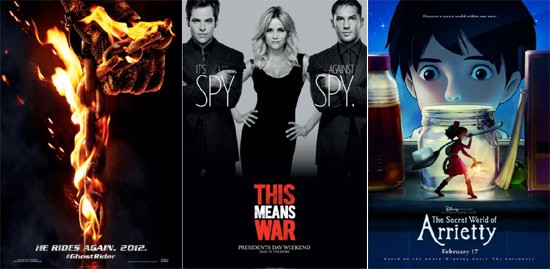 Last week I got to see three of the films coming out: "Safe House," "The Vow," and "Rampart."  I didn't absolutely love any of them, but the one I found most enjoyable was "Safe House."  If you haven't read my thoughts already, check out my review.  I haven't had a chance to write up ones for the others yet, so keep a look out for those later this week. 
Arriving in theaters this week are the unnecessary Nicolas Cage sequel "Ghost Rider: Spirit of Vengeance," the romantic spy comedy "This Means War," the inspirational documentary "Undefeated," the anime adventure "The Secret World of Arrietty," the dark crime dramedy "Thin Ice," and the Alaskan indie drama "On the Ice."
MY PICKS FOR THE WEEK: This Means War
GHOST RIDER: SPIRIT OF VENGEANCE
While Johnny Blaze (Nicolas Cage) is laying low in Eastern Europe, he is summoned to stop the devil from taking human form.             
Co-Directors: Mark Neveldine and Brian Taylor ("Crank," "Gamer,")
Co-Writers: David S. Goyer, Seth Hoffman, and Scott M. Gimple producers and writers on "FlashForward"
Notable Supporting Actors: Ciarán Hinds, Idris Elba, Christopher Lambert, Violante Placido
ORIGINALITY RATING: Low. The first "Ghost Rider" movie was pretty terrible, so I was surprised when I heard another one was coming out.  It's very likely that money was the motivator that brought Cage back to the franchise.  Cage starts out strong in the trailer with his solemn narration, but things quickly devolve as we hear Violante Placido struggling to maintain her accent.  The only moments that catch my attention are things that Ghost Rider (not Cage) does, like turning a combine into flames and firing flaming bullets out of his skull.  I'm slightly hopeful those portions are the visual influence of directors Neveldine and Taylor, who I think are this film's only shot at being halfway decent.                     
WHO SHOULD SEE IT: Viewers still like Nicolas Cage regardless of his tendency toward quantity over quality with his movies.  If you enjoy the zany quality of Neveldine and Taylor flicks like "Crank" and "Gamer," then you should watch "Ghost Rider: Spirit of Vengeance."      
WHEN TO SEE IT: Wait a week, so you don't have to fight the crowds.