Trailer Talk: This Week In Movies - 'Fright Night,' 'Conan The Barbarian' & More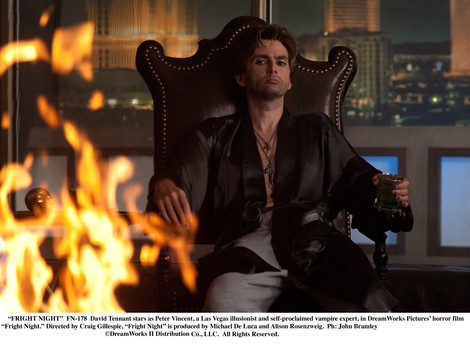 If you missed my interview last week, with Jesse Eisenberg and Nick Swardson for the action comedy "30 Minutes or Less," definitely check it out.   The superbly cast film, which is helmed by "Zombieland" director Ruben Fleischer, is loaded with hilarious pop culture references, entertaining action sequences, and great improvisational humor.  If you liked what "Zombieland" did for horror comedies, you'll love what "30 Minutes or Less" does for the action genre.  My Grade: B+
This week is all about 80s remakes with the horror comedy "Fright Night" and the action epic "Conan the Barbarian" hitting theaters.  In addition, you'll have the chance to see the romantic drama "One Day," the latest Spy Kids adventure "Sky Kids: All the Time in the World in 4D," the superhero indie "Griff the Invisible," and the historical drama "Amigo." 
After a string of disappearances, teenager Charley Brewster (Anton Yelchin) starts to suspect that his new neighbor Jerry Dandrige (Colin Farrell) is not only a vampire, but that he's the one responsible.  Since nobody believes Charley, he's forced to seek out Peter Vincent (David Tennant), the opportunistic host of his favorite TV show, to help him defeat Jerry. 
Craig Gillespie, the man behind 2007 films like "Mr. Woodcock" and "Lars and the Real Girl," helms this remake of a 1980s cult hit by the same name.  "Buffy the Vampire Slayer" series scribe Marti Nixon pens the screenplay, adapting it from Tom Holland's 80s version. 
WHO SHOULD SEE IT:  Vampire haters, who appreciate a dark teenage tale like "The Lost Boys," and the creepy neighbor factor of a film like "Disturbia."  If you like explosions and chases but more story than vampire movies like "Blade," you should watch "Fright Night."    
Buff warrior Conan the Cimmerian (Jason Mamoa) sets out on a quest across the continent of Hyboria to avenge the murder of his father and the slaughter of his village.      
He remade "The Texas Chainsaw Massacre" in 2003 and "Friday the 13th in 2009.  Now Marcus Nispel re-imagines the 80s action epic that made Arnold Schwarzenegger famous.  Writing pair Thomas Dean Donnelly and Joshua Oppenheimer join forces with Sean Hood to take on the screenplay.  Starring alongside Mamoa are Stephen Lang, Rachel Nichols, Ron Perlman, and Rose McGowan.     
WHO SHOULD SEE IT: Fantasy junkies, who want to see warriors fighting mythical CG creatures like in "Clash of the Titans," but with less shaky cam and more bloody revenge.  If you like the concept of a lone indestructible warrior combating tyrannical villains, then "Conan the Barbarian" is for you.                     
Emma (Anne Hathaway) and Dexter (Jim Sturgess) meet on the eve of their college graduation on July 15th, 1989.  We follow them for the next two decades, as every July 15th shows us how they are doing in both life and in love.          
She impressed us in 2009 with her coming of age tale "An Education;" now Lone Scherfig directs this romantic drama spanning 20 years.  Author David Nicholls adapts his own novel for the big screen.               
WHO SHOULD SEE IT:  People who can tolerate slow-moving romantic films where the couple repeatedly falls in and out of love.  If you think you can suspend your disbelief, while characters only change haircuts instead of aging over 20 years, then you might be able to put up with "One Day."                       
SPY KIDS: ALL THE TIME IN THE WORLD IN 4D
A former spy turned mother (Jessica Alba), is forced back into her old job in order to stop a nefarious villain known as the Timekeeper (Jeremy Piven).  To take care of business, she enlists the assistance of her two stepchildren (who had no idea of her past), and some veteran spy kids (Alexa Vega and Daryl Sabara).     
Robert Rodriguez continues his trend of making family friendly fluff every other film.  He writes and directs this fourth "Spy Kids" tale, as he has with the others. 
WHO SHOULD SEE IT: Parents who show their children lighthearted movies with underlying messages of empowerment.  If you don't mind ham-ish overacting, silly banter, outlandish gadgets, and ample amounts of CG effects, then you should catch "Spy Kids: All the Time in the World in 4D."       
An eccentric office employee (Ryan Kwanten) who moonlights as a superhero finds good company, when he meets a scientist (Maeve Dermody), who also shares his love for the impossible.   
Australian actor Leon Ford takes his first stab at writing and directing a feature length film with this indie dramedy.      
WHO SHOULD SEE IT: Independent film fans that enjoy quirky humor and love stories about two unusual individuals who don't quite fit into traditional society.  If you appreciate characters that believe they have super powers but probably don't, like Ben in "Cashback," then you might get a kick out of "Griff the Invisible."                 
AMIGO
A village mayor (Joel Torre) attempts to keep the peace, as U.S. troops led my Colonel Hardacre (Chris Cooper) try to fortify his settlement, during the Philippine-American War at the turn of the 1900s. 
Filmmaker John Sayles, a man who never shies away from tough historical dramas with political commentary, writes and directs this period piece.
WHO SHOULD SEE IT: History buffs that aren't afraid to watch films which criticize American involvement overseas and emphasize its mistakes.  If you don't mind watching emotionally heavy movies which focus on depressing themes of graphic violence and human rights abuse, then you shouldn't have a problem with "Amigo."