Trailer Talk: This Week in Movies - 'Fast Five,' 'Prom,' & More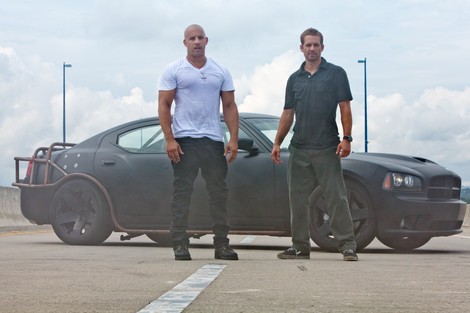 Last week I took a breather from the theater, because I knew things would be incredibly busy for me this week.  From Thursday April 28 through Sunday May 1, I will be covering Independent Film Festival Boston, bringing you the inside scoop on what indie films to catch this summer when they hit your area, and speaking with the filmmakers behind them.  Stay tuned for my festival coverage, which will include reviews and interviews.     
Opening this week in theaters are the high octane "Fast & Furious" follow-up "Fast Five," the Disney teen drama "Prom," the sci-fi detective story "Dylan Dog: Dead of Night," and the CG-animated adventure "Hoodwinked Too! Hood Vs Evil."  Tuesday night, I'll be attending a screening of "Fast Five," so look out for my thoughts in a couple of days.     
Former cop Brian O'Conner (Paul Walker) and ex-con Dom Toretto (Vin Diesel) team up again to pull one last job in Rio de Janeiro, with the hope of gaining their freedom.  Unfortunately, their mission is complicated by a ruthless drug lord and a relentless federal agent (Dwayne Johnson), bent on taking them out. 
"Fast & Furious" director Justin Lin returns to helm this fast-paced sequel, which is the fifth film in the franchise.  Lin's scribe on the previous movie in the series, Chris Morgan, returns the pen the screenplay.  Stars returning to help out Walker and Diesel include Tyrese Gibson, Ludacris, Matt Schulze, and Sung Kang.             
WHO SHOULD SEE IT:  Action junkies that crave slick cars and high-speed chase sequences should see this film.  If you got a kick out of the fourth entry in the franchise, and you think Walker and Diesel work well together, then you should catch "Fast Five." 
This Disney tale follows a group of high school students as they prepare for prom.   
Joe Nussbaum, the man behind American Pie's "The Naked Mile," directs this Disney drama about the pressures of high school prom.  Television writer Katie Wech pens her first feature length screenplay with this film.        
WHO SHOULD SEE IT:  Parents looking for something a little more adult, but still safe for preteens, should pick this PG movie at the theater.  If you're in high school, and you enjoy Disney content, you may want to check this out "Prom" to see if you relate to its themes.      
In a dark neighborhood in New Orleans, Dylan Dog (Brandon Routh), a private investigator for the undead, seeks out a sacred artifact in order to prevent war between his werewolf, vampire, and zombie clients. 
Kevin Munroe, the filmmaker responsible for 2007's "TMNT," directs this lighthearted sci-fi adventure.  Frequent collaborators Thomas Dean Donnelly and Joshua Oppenheimer adapt Tiziano Sclavi's comic book series Dylan Dog for the big screen. 
WHO SHOULD SEE IT: Sci-fi genre lovers that appreciate campy films should see this.  If you dig the comic book series on which the story is based, and you liked Brandon Routh in "Scott Pilgrim vs. The World," then you should view "Dylan Dog: Dead of Night."          
In their second adventure together, Red Riding Hood (voice of Hayden Panettiere) and the Wolf (Patrick Warburton) try to solve the disappearance of Hansel and Gretel. 
Animator Mike Disa delves into a more complex role, writing and directing this computer animated tale.  Disa receives assistance on the screenplay from "Hoodwinked!" scribes Cory Edwards, Todd Edwards, and Tony Leech.  Aside from Panettiere and Warburton, other celebs lending their voices to the film include Glenn Close, Cheech Marin, Joan Cusack, Bill Hader, Amy Poehler, Martin Short, Andy Dick, Tommy Chong, Phil LaMarr, and David Allen Grier. 
WHO SHOULD SEE IT:  Families with children too young to see "Prom," should go see this animated comedy.  If you thought the previous film in the series "Hoodwinked!" was hilarious, you should watch the follow-up "Hoodwinked Too! Hood Vs Evil."