Trailer Talk: This Week in Movies - 'Drive,' 'I Don't Know How She Does It,' & More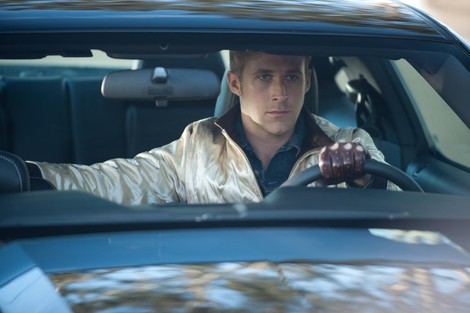 Faithful readers, I apologize that we didn't have a Trailer Talk column last week.  I just moved into a wonderful new apartment and got pretty wrapped up in the packing/unpacking process.  Now that I'm settled though, we're back to business as usual. 
I watched Steven Soderbergh's "Contagion" last week, which I really enjoyed.  It's an infectious whodunit with fantastic casting, eerie electronic music that effectively builds tension, and solid character development.  My Grade: A 
Arriving in theaters this week are the Ryan Gosling crime thriller "Drive," the Sarah Jessica Parker dramedy "I Don't Know How She Does It," the re-imagined "Straw Dogs," and the quirky indie love story "Restless." 
MY PICK FOR THE WEEK: "Drive."
If any of this week's movies don't interest you, definitely check out "Contagion." 
A Hollywood stuntman (Ryan Gosling), who moonlights as a wheelman for the criminal underworld, is forced on the run after he botches a job.  His neighbor (Carey Mulligan) and her child become accidentally entangled in his world, which creates even more challenges for our hero.   
Danish filmmaker Nicolas Winding Refn, known for the "Pusher" series, directs this graphic crime thriller.  Iranian screenwriter Hossein Amini pens the screenplay based on a novel by James Sallis.  Bryan Cranston, Albert Brooks, Christina Hendricks, and Ron Perlman co-star alongside Mulligan and Gosling.    
ORIGINALITY RATING: Medium.  Gosling isn't the first wheelman to turn against his employers; Jason Statham did it in the "Transporter" films.  What makes Gosling's character interesting is that he has a legitimate day job as a cover.  Additionally, it seems like "Driver" trades martial arts for straight up brutal violence.    
WHO SHOULD SEE IT:  Gearheads who enjoy high octane chases and crazy car stunts in their crime thrillers.  If you think Ryan Gosling has what it takes to be a convincing action hero, despite his background in more series drama, then you should check out "Drive."
WHEN TO SEE IT: See it opening weekend.
WHERE TO SEE IT: Your local multiplex. 
Kate Reddy (Sarah Jessica Parker) is an overstressed finance executive, who brings home the bacon for her husband (Greg Kinnear) and two children.  A new account at work adds to her already frantic schedule, but also provides romantic temptation from a new business associate (Pierce Brosnan).    
Douglas McGrath, the man responsible for 2006's "Infamous," directs this dramedy.  Aline Brosh McKenna, the scribe for 2010's "Morning Glory," writes the screenplay for the film, basing it on a novel by Allison Pearson.        
ORIGINALITY RATING: Medium.  Sarah Jessica Parker's character in this film seems to share common workaholic characteristics with Aline Brosh McKenna's protagonist in "Morning Glory."   The trailer makes this movie seem more self-aware and fun though, with Parker's "Sex and the City" style narration.    
WHO SHOULD SEE IT: Working moms who empathize with the pressure of trying to balance a career and raising a family.  If you like the narrative voice of "Sex and the City," but you're looking to see Sarah Jessica Parker play a different character, then you should watch "I Don't Know How She Does It." 
WHEN TO SEE IT: Wait a week, so you don't have to fight the crowds.
WHERE TO SEE IT: Your local multiplex. 
Los Angeles screenwriter David Sumner (James Marsden) packs up with his wife Amy (Kate Bosworth), and moves to her hometown in the Deep South.  Once they arrive though, marital problems ensue, while simultaneously, a rapidly escalating conflict with the locals becomes a threat to them both.             
Former critic turned filmmaker Rod Lurie, both writes and directs this remake of the infamous 1971 Sam Pekinpah film by the same name. 
ORIGINALITY RATING: Medium.  It's a remake but it appears Lurie is trying to change some of the plot points: swapping the English countryside for the American South, changing Sumner's career, and giving Amy a history with the antagonists.  Also based on the trailer, it seems like Lurie is pushing for more graphic violence than the original. 
WHO SHOULD SEE IT:  Audiences that dig fish out of water thrillers, where out of towners must brave unfamiliar surroundings to face powerful locals.  If you like stories where good men are pushed to violent behavior they wouldn't normally engage in, then you should view "Straw Dogs." 
WHEN TO SEE IT:  Wait a week, so you don't have to fight the crowds.
WHERE TO SEE IT: Your local multiplex. 
Enoch Brae is not like other teenagers his age.  He attends the funerals of strangers and hangs out with the ghost of a Japanese kamikaze pilot (Ryo Kase) from World War II.  Enoch's life changes though when he falls for a terminally ill girl Annabel Cotton (Mia Wasikowska) he meets at a funeral.   
"Milk" director Gus Van Sant helms this indie love story written by newcomer Jason Lew.    
ORIGINALITY RATING: Low.  A guy who sees a dead Japanese pilot is pretty darn original, but the rest smells of generic indie romance.    
WHO SHOULD SEE IT: Indie film fans who never tire of quirky love at first sight, no matter how odd the characters are.  If you like actress Mia Wasikowska, and you think she'll deliver a fine performance as the terminally ill love interest, then you should catch "Restless."   
WHEN TO SEE IT: Wait for DVD.