Trailer Talk: This Week in Movies - 'Drive Angry 3D,' 'Hall Pass,' & More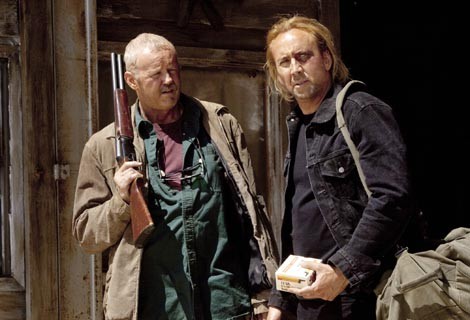 I watched "The Fighter" last week, which was the final Best Picture Oscar nominee that I needed to see before the Academy Awards.  Although I had heard mixed reviews of the David O. Russell drama, I was pleasantly surprised by how much I enjoyed the film. 
Even though the story centers around a boxer, part of what makes it interesting is that there is less focus on the actual matches themselves and more on the main character Mickey Ward's (Mark Wahlberg) struggle to separate himself from the people trying to control his life: his mother (Melissa Leo), his brother (Christian Bale), and his girlfriend (Amy Adams). 
What really gives the movie its strength is the complex performances of Christian Bale, Melissa Leo, and Amy Adams.  The other part of the knockout punch is the awesome music selection, which aside from the Red Hot Chili Peppers song "Strip My Mind," is just spot on.  Probably the weakest acting in the film came from the star himself, Mark Wahlberg, who seemed mentally vacant throughout the story.  This unfortunately created a significant hole in the movie and made his character pretty hard to root for.  My Grade: B+       
This week in movies Nicolas Cage is behind the wheel in "Drive Angry 3D," Owen Wilson and Jason Sudeikis take a hilarious week off from marriage in "Hall Pass," a group of monks try to survive war-torn Algeria in "Of Gods and Men," friends become caught in a love triangle in "Heartbeats," and a pastor who also works as a cop tries to help his partner cope with grief in "The Grace Card."   
Milton (Nicolas Cage), a former criminal, breaks out of hell in order to accomplish a crucial mission: he must prevent the cult who murdered his daughter from sacrificing his grandchild.  With the help of a young waitress (Amber Heard) and her ex-boyfriend's muscle car, the duo takes on the cult's leader, the police, and a killer known as "The Accountant" (William Fichtner) who's hoping to return Milton to the Devil.
Patrick Lussier, the director of 2009's "My Bloody Valentine," helms this high octane action film.  Lussier co-writes the screenplay with Todd Farmer, his scribe for "My Bloody Valentine."    
WHO SHOULD SEE IT:  Audiences that enjoy Patrick Lussier's work as an editor and director in the horror genre should see his transition to action thrillers with this movie.  If you love Nicolas Cage no matter what he's in, you should watch "Drive Angry 3D."     
Two married men (Owen Wilson and Jason Sudeikis) are granted a week off from marriage to engage in whatever affairs they desire, though once they realize their wives have the same opportunity too, they start to rethink the decision.     
Sibling team Peter and Bobby Farrelly, the minds behind twisted comedies like "Dumb and Dumber" and "There's Something About Mary," return to co-write and direct this comedy.  The Farrellys pen the screenplay with the assistance of Pete Jones and Kevin Barnett.    
WHO SHOULD SEE IT:  Those who appreciate buddy comedies should watch as hilarity ensues when these two married men attempt to pick up women.  If you're a fan of the slapstick humor and gross-out gags that make the Farrelly Brothers famous, then you should view "Hall Pass." 
Eight French Christian monks residing in a Muslim community in North Africa, grapple with whether to leave their village as a fundamentalist group invades the region. 
French filmmaker Xavier Beauvois directs and co-writes this fact-based drama.  He pens the story with the aid of first time scribe Etienne Comar.    
WHO SHOULD SEE IT: Foreign film aficionados should be first in line to see this historical drama.  If you appreciate stories where the characters struggle to maintain their faith in the face of adversity, then you should check out "Of Gods and Men."          
HEARTBEATS
Two close friends, Francis (Xavier Dolan) and Marie (Monia Chokri) meet Nicolas (Niels Schneider) at a dinner party, and the trio starts to spend a lot of time together.  With each passing day though, Nicolas becomes more remote, which causes Francis and Marie to battle for his attention. 
Indie auteur Xavier Dolan writes, directs, and stars in this story about three friends trapped in a love triangle.   
WHO SHOULD SEE IT: Independent film fans that enjoy when an actor writes and directs a movie should see this.  If you particularly prefer to watch foreign titles in French then you should catch "Heartbeats."     
THE GRACE CARD
This drama focuses on the potentially explosive partnership between a veteran cop (Michael Joiner) anguished by the loss of his son, and a rising star on the force (Mike Higgenbottom) who is also a part-time pastor. 
David G. Evans earns his first film credit directing this spiritual drama, which is written by Howard Kalusner, the scribe for 2000's "Space Cowboys."  Veteran actor Louis Gossett Jr. co-stars in the movie.    
WHO SHOULD SEE IT: Viewers searching for a drama about friendship and overcoming loss should see this movie.  If you're interested to something with a deeper spiritual message than the average fare then you should seek out "The Grace Card."