Trailer Talk: This Week in Movies - 'Dr. Seuss' The Lorax,' 'Project X,' & More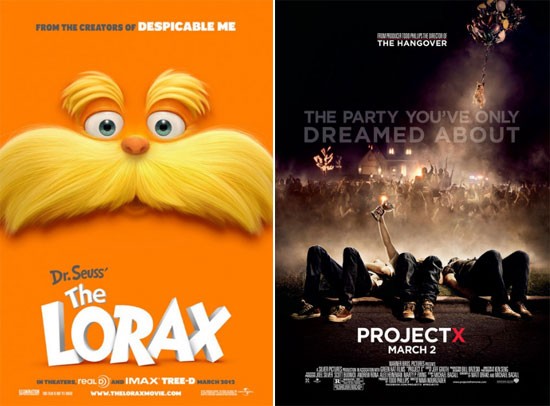 In the week leading up to last night's Academy Awards, I managed to watch the remaining Best Picture nominees that I had not seen: "The Artist," "Hugo," "Extremely Loud and Incredibly Close," "The Help," and "Midnight in Paris." 
My favorite of the bunch was "The Artist," which I thought definitely deserved its Best Picture win.  For me personally, Alexander Payne's "The Descendants" was a close second, followed by Woody Allen's quirky, yet romantic "Midnight in Paris."  "Hugo" and "The Help" were incredibly overrated and "Extremely Loud and Incredibly Close" was too long and morose for my taste. 
In theaters this week are the computer animated adventure "Dr. Seuss' The Lorax," the found footage high school party flick "Project X," the Paul Dano/Robert De Niro dramedy "Being Flynn," the wacky Adult Swim comedy "Tim and Eric's Billion Dollar Movie," the Australian crime drama "Snowtown," the 1980s New Zealand coming-of-age picture "Boy," and the Italian romantic comedy "The Salt of Life." 
MY PICK FOR THE WEEK: Project X
A 12-year-old boy (voice of Zac Efron) hunts for the single thing he needs to win over the girl of his dreams (voice of Taylor Swift).  In order to find it, he must become friendly with the Lorax (voice of Danny DeVito), a grumpy yet surprisingly charming creature fighting to protect his world.                  
Co-Directors: Chris Renaud ("Despicable Me") and former Pixar animator Kyle Balda
Co-Writers: Ken Daurio and Cinco Paul ("Despicable Me" and "Horton Hears a Who!")
Notable Supporting Voice Actors: Ed Helms, Betty White, Rob Riggle
Based on: Dr. Seuss' book by the same name
ORIGINALITY RATING: Medium.  Visually, this trailer stimulates with its vibrant colors and animation style that looks like it's pulled straight from the pages of a Dr. Seuss book.  This particular trailer however doesn't vow you with any particularly humorous moments.  Danny DeVito seems like the perfect actor to portray the short, fuzzy Lorax so there is potential for this movie to be fun.  Largely the filmmakers seem poised to cash in on the success that they had with 2008's "Horton Hears a Who!" though.        
WHO SHOULD SEE IT: Parents looking for something family-friendly at the box office this weekend should take their kids to see this.  If you enjoyed the dialogue in Cinco Paul and Ken Daurio's previous Dr. Seuss adaptation "Horton Hears a Who!", then you should see "Dr. Seuss' The Lorax."          
WHEN TO SEE IT: Wait a week so you don't have to fight the crowds.