Trailer Talk: This Week In Movies - 'Despicable Me,' 'Predators,' & More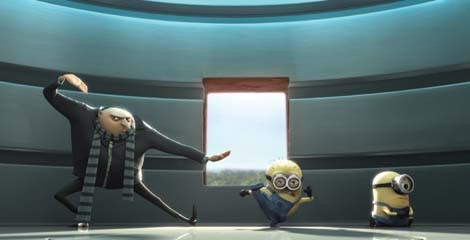 Last week I was supposed to see "The Last Airbender," however I was not able to make the screening as I originally planned.  I'm starting to think that I was rather fortunate though given all of the negative things that I hear about M. Night Shyamalan's latest outing.  A fellow critic called "The Last Airbender" Shyamalan's worst film so far.     
Coming to theaters this week are the animated film "Despicable Me," the reboot "Predators," the dramedy "The Kids Are All Right," the second movie about Stieg Larsson's computer hacker Lisbeth "The Girl Who Played With Fire," the horror charged "Rec 2," and finally the re-release of the classic musical "Grease."
DESPICABLE ME
The super villain Gru (Steve Carell) has a wrench thrown into his evil plot to steal the moon after he becomes the caretaker of three orphan girls.
Pierre Coffin and Chris Renaud come together to direct their first feature length film.  Renaud has a background as an artist for other animated films like "Ice Age: Dawn of the Dinosaurs" and "Horton Hears a Who!," while Coffin worked on 1993's "We're Back! A Dinosaur's Story."     The writing team behind "Horton Hears a Who!" Cinco Paul and Ken Daurio collaborate to pen the screenplay for this movie.
WHO SHOULD SEE IT:  Now that school is out, parents looking for something to do with their kids should take them to see this film.  If you have already caught "Toy Story 3," then "Despicable Me" would be the next logical animated adventure to watch.          
PREDATORS
A collection of elite killers are dropped on a foreign planet so a ruthless alien race can test its hunting skills.  These warriors are forced to stalk their captors or become prey themselves. 
Last year he gave us the heist film "Armored," and now Nimród Antal directs this reboot to the "Predator" franchise.  Newcomers Alex Livtak and Michael Finch write the screenplay based on characters originally developed by Jim and John Thomas.   
WHO SHOULD SEE IT:  Audiences that prefer "Predator" to "Alien" should see this restart to the sci-fi/horror series.  If you enjoy watching the sadistic title aliens terrorizing their human prey, then you should watch "Predators."    
THE KIDS ARE ALL RIGHT
This drama focuses on lesbian parents Nic (Annette Bening) and Jules (Julianne Moore), who each had a child through artificial insemination.  Their alternative family's dynamics are tested when their youngest child, Laser (Josh Hutcherson) convinces his college-bound sister Joni (Mia Wasikowska), to look up their mothers' donor. 
Lisa Cholodenko writes and directs this dramedy starring Julianne Moore, Annette Bening, and Mark Ruffalo.  She has assistance with the screenplay from Stuart Blumberg, who penned 2004's "The Girl Next Door." 
WHO SHOULD SEE IT:  Viewers that appreciate stories about lesbian characters and non-traditional families should see this movie.  If you think Julianne Moore and Annette Bening can convincingly play a married couple then you should catch "The Kids Are All Right."     
THE GIRL WHO PLAYED WITH FIRE
While computer hacker Lisbeth (Noomi Rapace) and journalist Mikael (Michael Nyqvist) investigate a sex-trafficking ring, Lisbeth is framed for three murders.  She must go on the run, so that Mikael has time to clear her name.
Swedish filmmaker Daniel Alfredson helms this adaptation of the second novel in Stieg Larsson's popular book series.  Jonas Frykberg modifies the novel for the screen, and is responsible penning the following sequel "The Girl Who Kicked the Hornet's Nest" as well.    
WHO SHOULD SEE IT:  Fans of the book series on which this film is based, should be the first ones in line to see it.  If you saw "The Girl with the Dragon Tattoo" and you thoroughly enjoyed it, then you should check out "The Girl Who Played with Fire."
REC 2
Resuming 15 minutes after "Rec" ends, a medical officer and a SWAT team equipped with video cameras enter the quarantined apartment building with the goal to contain the virus that has transformed residents into violent monsters.
The team behind the first "Rec," Jaume Balagueró and Paco Plaza, co-write and co-direct this follow up to their 2007 horror film.  They receive aid with the screenplay from Manu Díez, who was not affiliated with the previous chapter.
WHO SHOULD SEE IT: Horror junkies that appreciated the first "Rec" should see its sequel.  If you like documentary style horror films, that create fear based on their realistic footage, then "Rec 2" is for you.  
GREASE SING ALONG
In this re-release of the classic musical, a good girl Sandy (Olivia Newton-John) and a greaser Danny (John Travolta) fall in love over the summer, but part ways wondering if they will ever see each other again.  When they end up at the same high school unexpectedly, they struggle against pressure from their friends to rekindle their romance.
Randal Kleiser directed this 1978 film based on a musical theater production.   Jim Jacobs and Warren Casey are responsible for the musical aspects of this movie, while Bronte Woodard is behind its screenplay.
WHO SHOULD SEE IT: People, who saw this film in theaters and loved it when it was released in 1978, will probably be back in line to see this wherever it's playing.  If you grew up watching "Grease" and you've always wanted to see it in theaters, grab some friends and attend a screening, where you'll be able to laugh and sing along.