Trailer Talk: This Week In Movies - 'Date Night,' 'After.Life' & More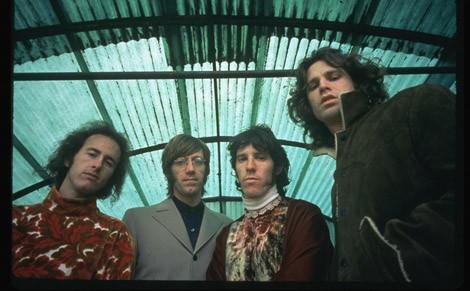 If I could make a recommendation about going to see "Clash of the Titans," it would be not to see it in 3-D.  While most viewing experiences are enhanced by of 3-D, its use in this film largely detracts from the product.  Director Louis Leterrier's closely pinned shots are unsteady and jarring to the viewer in 3-D, resulting in a headache inducing experience.
The art direction in "Clash of the Titans" is thorough, creating a vivid portrait of ancient Greece and the mythological figures that were part of everyday lore.  Corny dialogue and cliché story weigh down this adventure film though.  Its screenwriters tried too hard to include action movie one-liners, but not hard enough to convey Perseus' (Sam Worthington) conflict between his human upbringing and his divine heritage.  My grade: C-   
In theaters this week are the romantic comedy with Steve Carell and Tina Fey "Date Night," the horror/thriller "After.Life," the rockumentary "When You're Strange," and the inspirational drama "Letters to God."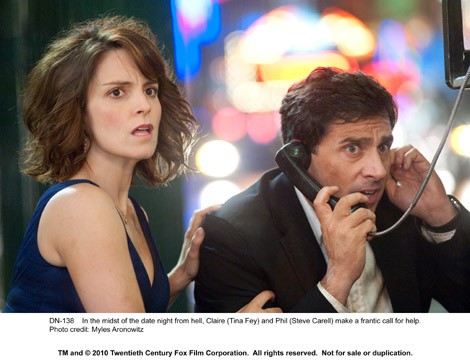 DATE NIGHT
A case of mistaken identity turns a New York City married couple's (Steve Carell and Tina Fey) effort at a flashy and romantic evening into something more thrilling and dangerous than they bargained for. 
"Night at the Museum" series director Shawn Levy, helms this romantic action comedy.  Josh Klausner who penned "Shrek the Third" and the upcoming "Shrek Ever After," is the author of the screenplay to "Date Night." 
WHO SHOULD SEE IT:  Fans of the television powerhouse programs "The Office" and "30 Rock" will be anxious to see their favorite stars Steve Carell and Tina Fey as an on-screen couple.  If you like movies that involve comic misunderstanding due to mistaken identity then you should see "Date Night."
AFTER.LIFE
Following a horrific car accident, Anna (Christina Ricci) wakes up to find the local funeral director Eliot Deacon (Liam Neeson) preparing her body for her funeral.  Anna is confused and terrified because she still feels very much alive despite Deacon's reassurances that she is merely in transition to the afterlife.  Trapped inside the funeral home, Anna is forced to accept her fears and accept her own death, but her grief-stricken boyfriend Paul (Justin Long) can't shake the suspicion that Anna is not actually dead.
Agnieszka Wojtowicz-Vosloo directs this horror thriller and assists in penning its screenplay as well.  She collaborates on the screenplay with Paul Vosloo, who worked with her on her short "Pâté" and with newcomer Jakob Korolczuk.
WHO SHOULD SEE IT:  Viewers that appreciate dark thrillers that keep you guessing about what's real and what's imagined, are the type that should see this movie.  If you like the idea of Liam Neeson playing a sneaky villain, then you should watch "After.Life."
WHEN YOU'RE STRANGE
This definitive documentary chronicles the rise of the popular rock band The Doors, which became prominent during the 1960s and 1970s.  It includes exclusive behind the scenes footage of the band and its famous front man Jim Morrison in action. 
The man behind 2006's dramedy "Delirious," Tom DiCillo, writes and directs this rockumentary about The Doors.  Actor Johnny Depp provides some extra character to the documentary with his narration.   
WHO SHOULD SEE IT:  Religious followers of The Doors will be thrilled to see new footage that they may not have seen in other programs about the band.  If you're casually interested in The Doors and you'd like to learn more about them, then you should check out "When You're Strange."     
LETTERS TO GOD
A young boy writes letters to God as he fights cancer, showing tremendous strength and courage that inspires many around him including a postal worker tasked with "delivering" the boy's letters.
David Nixon, the co-producer of 2008's romantic drama "Fireproof," co-directs this tender drama with Patrick Doughtie.  Doughtie developed the story and helped pen the screenplay alongside Sandra Thrift, Cullen Douglas, and Art D'Alessandro.
WHO SHOULD SEE IT: Moviegoers looking for an inspirational story lined with Christian values should see this film.  If you enjoyed 2008's "Fireproof" starring Kirk Cameron, then you will probably appreciate David Nixon's latest effort "Letters to God."